Unihertz has unveiled its latest offering called the 8849 Tank 3. It is the direct successor to the Tank 2, and it comes with bells and whistles of improved specifications and performance.
From a monstrous 23,800mAh battery to a cutting-edge 200-megapixel camera, and the Dimensity 8200 CPU, the 8849 Tank 3 is indeed aiming for the title of the world super rugged phone. This article will contain everything you need to know about the device.
Design and Durability
The Unihertz Tank 3 boasts a robust design with dimensions measuring 179 x 86 x 31mm. Weighing 666 grams, it may be hefty, but its toughness is unquestionable.
The device features a front glass and plastic body construction and is certified with IP68 and IP69K water and dust resistance, making it suitable for outdoor adventures and challenging environments.
Display
The Tank 3 sports a 6.79-inch IPS LCD touchscreen with a 120Hz refresh rate, offering vibrant and smooth visuals. With a resolution of 1080 x 2640 pixels, you can expect crisp and clear imagery, perfect for viewing your photos and videos.
The display structure aligns with it predecessor, the Unihertz Tank 2, utilizing a centralized notch, instead of the older Tank 1, that came with a sided notch cutout.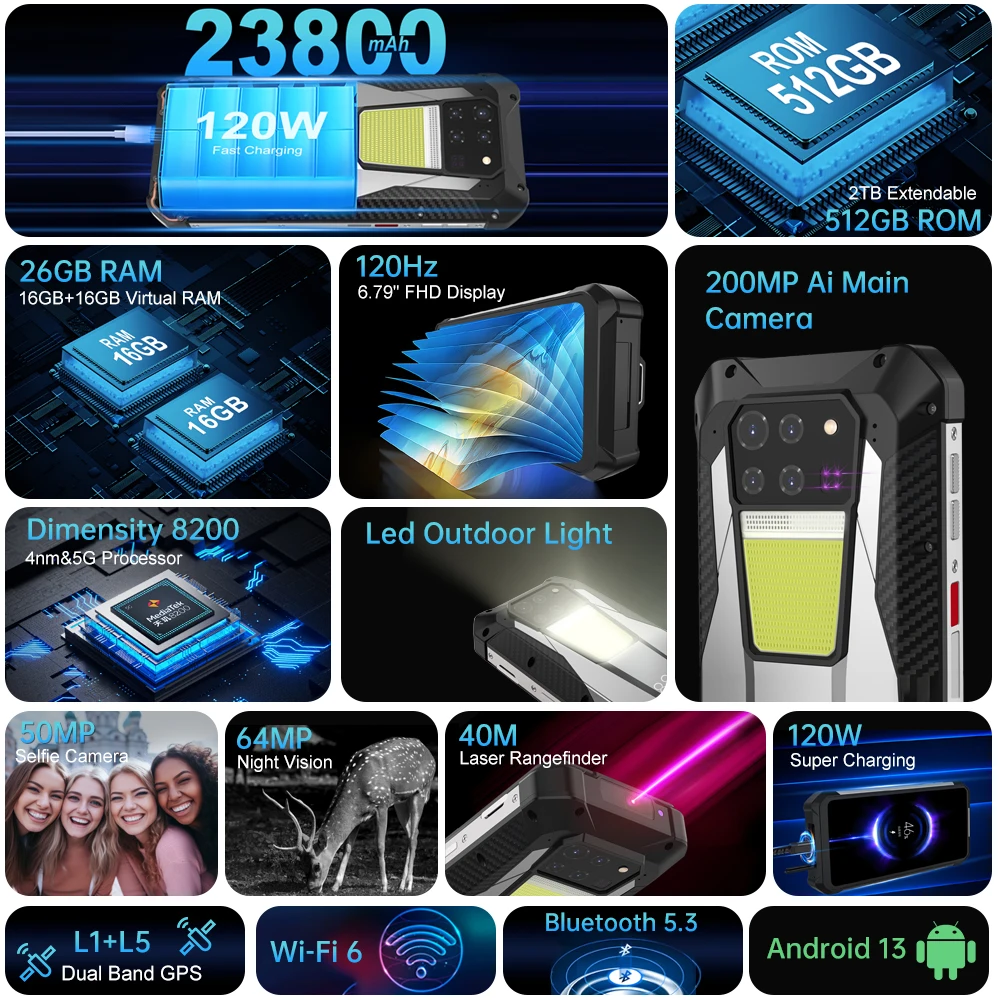 Performance
Under the hood, the Unihertz Tank 3 runs on Android 13 and is powered by the MediaTek Dimensity 8200 5G CPU. This makes it the first 5G-enabled device in the Tank series.
The device comes with a whopping 16GB of RAM, and it also boasts 16GB of virtual RAM for a seamless multitasking experience. You'll have ample storage with the built-in 512GB, and if that's not enough, you can expand it further by up to 2TB using a microSD card.
Camera System
One of the standout features of the Unihertz Tank 3 is its impressive camera system. The main camera is a 200MP sensor with PDAF and an aperture of f/1.8.
This means the 8849 Tank 3 is now the third rugged smartphone to offer such a large sensor, joining the ranks of IIIF150 B2 Ultra and the recently announced Doogee V30 Pro. The device is poised to deliver stunning high-resolution photos and videos.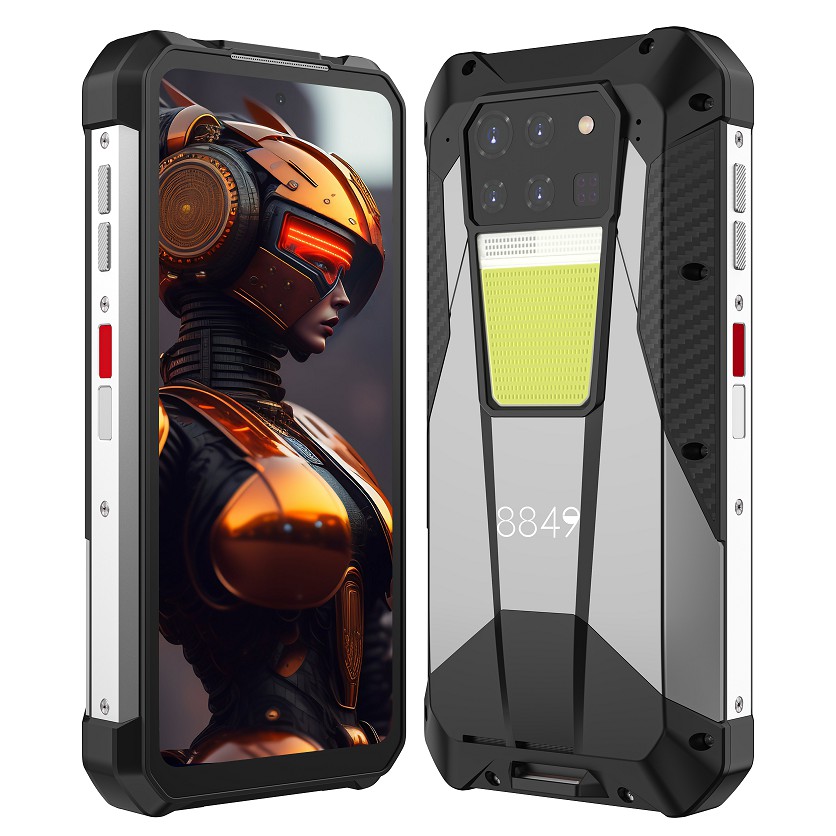 Additionally, the 8849 Tank 3 features a dedicated 64MP night camera for low-light photography, a 50MP ultrawide sensor, and a 50MP front-facing selfie camera.
Additional Features
The Unihertz 8849 Tank 3 doesn't stop at its impressive camera and performance specs. It also comes with a host of other features, including:
A 40M Laser Rangefinder for precise distance measurement.
A powerful 1200-lumen LED camp lamp for outdoor activities.
L1+L5 Dual Band GPS, Wi-Fi 6, and Bluetooth 5.3
And Google's latest Android 13 OS
Battery and Charging
The highlight of the Unihertz Tank 3 is its massive 23,800mAh battery, which is further complemented by a 120W fast charger. This is about 8,000mAh larger than the battery on the Tank 2, and about 1,800mAh more than the Tank 1.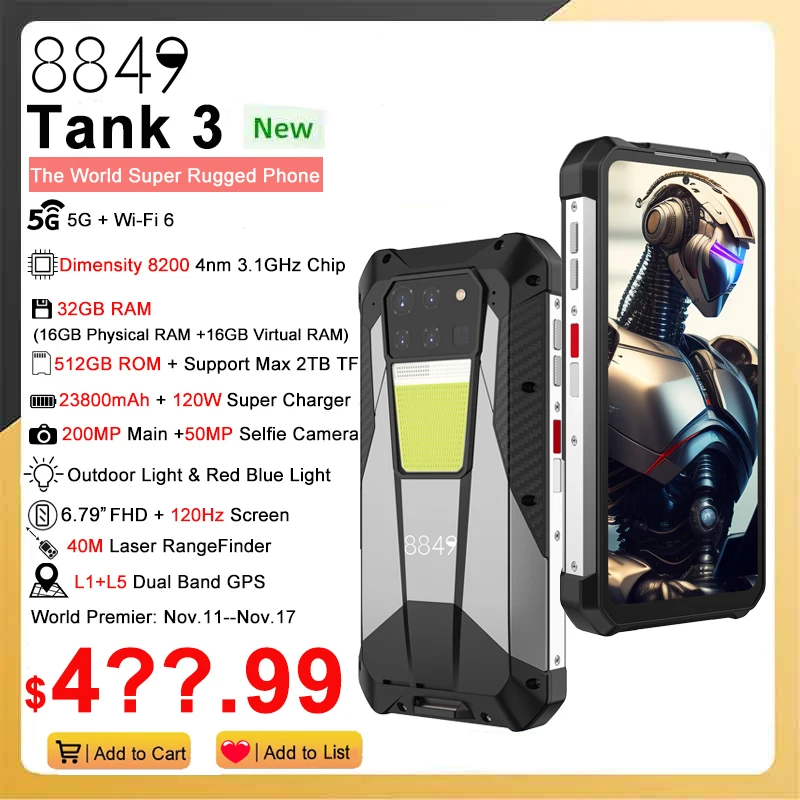 Unihertz claims that a 1 hour and 30 minute charge can take the Tank 3 from 0 to 90% with the included 120W fast charger. It also said that the Tank 3 can get up to 1800 hours of standby time, 118 hours of calling time, 38 hours of continuous gaming, 98 hours of music playback, and 48 hours of video playback.
Pricing and Availability
The Unihertz Tank 3 is available in a stylish black color. It is expected to be priced around $400 and will be premiered on Aliexpress from November 11 to November 17, 2023. We also have a dedicated specification page for the 8849 Tank 3, and you can read it right here.