ASUS wants to join the likes of other smartphone manufacturers to equip their devices with the latest Android 12 stable Update soon. The company has opened revealed their intentions on upgrading about six (6) of their smartphones to the latest Android 12.
It is not a new thing for smartphone brands to be working on providing the devices with latest updates in order enable them be more smarter.
Those who follow this brand would notice they have probably stoped releasing low budget and mid-range smartphone. That is to say, ASUS is bent on really top-notch devices with price tags worthy of the device. ASUS devices are specially limited to some regions and countries. Some of the high-end smartphones from this brand is the ZenFone and ROG phone models.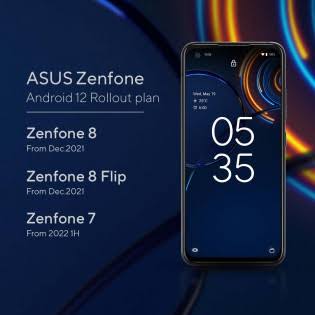 According to a few reliable reports, this expected software update (Android 12) will very the ZenUI that will have a particular changes and a battery performance tweaks. Other reports on this topic stated that the Upcoming Android 12 stable Update will start rolling out in the month of December.
The report further added that the first ASUS smartphones to receive this system update will be their previously launched ZenFone 8 Flip and the ZenFone 8. After that, they will also roll out for the ROG Phone 5, and so on.