November 9th has witnessed the launch of Blackview's first 8-inch tablet——Tab6 that brings good growth numbers and outsell many of its competitors. But Blackview apparently doesn't want to hold anything back to maintain its market position this November; Hence today Blackview is unveiling another 8-inch tablet——Tab6 Kids, exclusively designed for children under 12 years old, is claimed to be the safest kid tablet which mostly lies in parental control and technological breakthroughs in the way the tablet provide entertainment and practical help in learning. That makes children find the tablet not only delightful but also safe to play with. But actually how can a tablet realize that? To find out, a further look at what it offers is absolutely required.
What Makes Tab6 Kids a Tablet for Children?
Tab6 Kids is designed to be the best playmate that brings kids joy and fun. Hence, inside Tab6 Kids, children will be offered abundant kid apps to explore whether for learning or fun. There are also useful screen modes and beautiful themes they would love at the first sight. The details are listed below.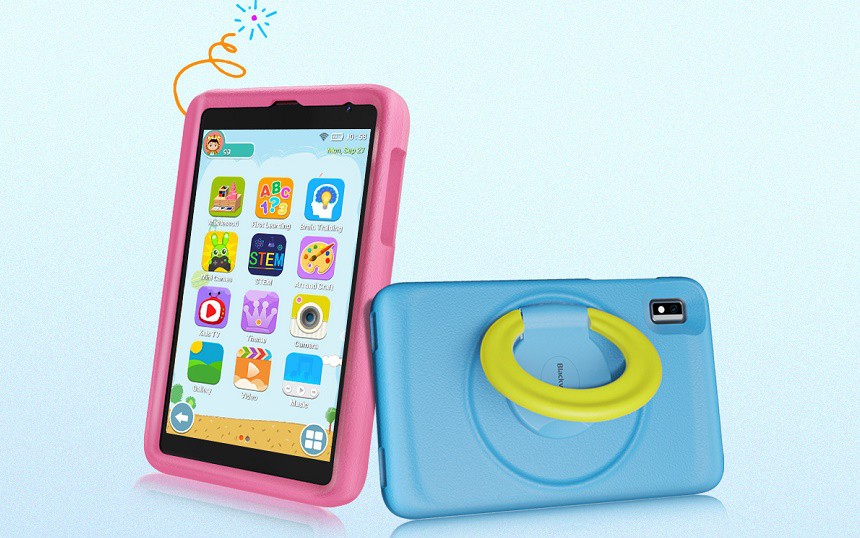 1) Educational Games or Entertaining Videos All in iKids
Inside Tab 6 Kids, Blackview has developed an app called iKids where there are a myriad of preinstalled apps with which kids can read fairy tales, listen to popular songs, watch educational and inspiring videos, write down their ingenious thoughts, etc.
2) Large 8'' Display & Practical Screen Modes
Tab6 Kids' 8-inch screen is especially made for children's little curious eyes, not too large yet expansive enough to present suitable viewing comfort. And such a compact screen even supports split view that allows kids to run two apps side by side. They can draw pictures while watching drawing lessons on Youtube or having online classes while taking notes with Memo. Additionally, to lessen the discomfort of eye strain due to long time use, Tab6 Kids' screen delivers eBook Mode that makes children feel like reading a paper book. It also offers Dark Mode that enables kids to relish bedtime stories themselves without the help from their parents.
3) Gorgeous Children-oriented Theme
To enhance children's concentration on Tab6 Kids, the tablet has a cartoon-style theme consisting of delicate wall paper and refined icons with attractive hues and patterns, making each sight of the interface delightful and inspiring.
What Makes Tab6 Kids Safest to Play?
Why is the Tab6 Kid the safest tablet? Because it not only supports parental control but also ships with features that help children be safe, including dual 4G, 4-in-1navigation system, powerful dual Box speaker, anti-shock case and efficient Unisoc T310. Here are some details about them.
1) Reliable Parental Control
As a kids tablet, parental control is a must-have feature as there are potential pril to children when it comes to surfing online. Therefore Tab6 Kids provides parental control via iKids. With the help of iKids, parents can restrict their kids to chosen safe apps and websites and limit them to an appropriate amount of tablet time or set break time to avoid addiction. Parents can also view statistical reports on what children do with the slate. In doing so, parents can forbid children access to bad information on the internet and ensure the safe use of the tablet.
2) Dual 4G & Dual Wi-Fi
The tablet supports dual band 2.4G and 5G Wi-Fi as well as dual 4G SIM card slots, meaning parent and kids can alway be in touch with  each other anywhere.
3) 4-in-1 Navigation
Shipping with a four-in-one navigation system, including GPS, GLONASS, Beidou and Galileo, Tab6 Kids will guide children home if they get lost in an unfamiliar place.
4) Dual Box Speakers
Equipped with dual Box speakers, Tab6 Kids provide clear and dulcet sound, which can reduce the risk of suffering from hearing damage due to long time use of earphones.
5) Protective Anti-shock Case
Tab6 Kids is paired with an anti-drop case that is made from high-density EVA, a  pliable and soft material that is often seen in iPad protective cases. The EVA case protects Tab6 Kids from breakage caused by any unexpected drops in most cases. Tab6 Kids will remain safe and new as kids grow. Furthermore, the case, which comes in two colours, namely, Donut Blue and Pudding Pink, is equipped with a support stand on the rear to help the tablet stand up so that children would not suffer neck pain or hand fatigue during use. 
6) Efficient Unisoc T310 
Tab6 Kids draws power from 4G quad-core Unisoc T310 that features a 12nm process and improved algorithm and faster processing speed.That can provide strong support for all the safe operation of Tab6 Kids.  
Battery & Operating System
1) 5580mAh Battery
Tab6 Kids ships with a 5580mAh battery that would provide enough juice through the whole day without the hassle of frequent charging. 
2) Upgraded Doke OS_P 2.0 Based on Android 11
Blackview has put much effort into the pursuit of its operating system fluidity, hence the Doke OS_P2.0 based on Android 11. Users would experience smoother operation as well as upgraded interfaces such as redesigned Clock and settings. 
Price & Availability 
Blackview is offering substantial discounts on Tab6 Kids which only costs 129.99 (down from 159.99) on this sale page from December 6th to 26th. Don't miss a chance to snap up one.
After such a detailed introduction, it is evident that Tab6 Kids truly lives up to what it is claimed to be——a safest and delightful kids tablet offered at a reasonable price. For those who are cash-strapped while wanting to buy a new tablet for their kids as a festival gift, Tab 6 Kids is  absolutely a decent choice.