Tecno has officially announced the Camon 19-series in Kenya just as promised. There are a total of four smartphones in the series, but three of the models made it to the country.
These includes the vanilla Camon 19, Camon 19 Pro and the Camon 19 Pro 5G. The launch event was also joined with the official arrival of the Spark 9-series in the country.
The Camon are the company's camera centric lineups, and with the Camon 19-series, Tecno took the camera prowess of the Camon lineup to a new level. It is also worth nothing that this is the very first time Tecno introduced a 5G enabled device under the Camon lineup.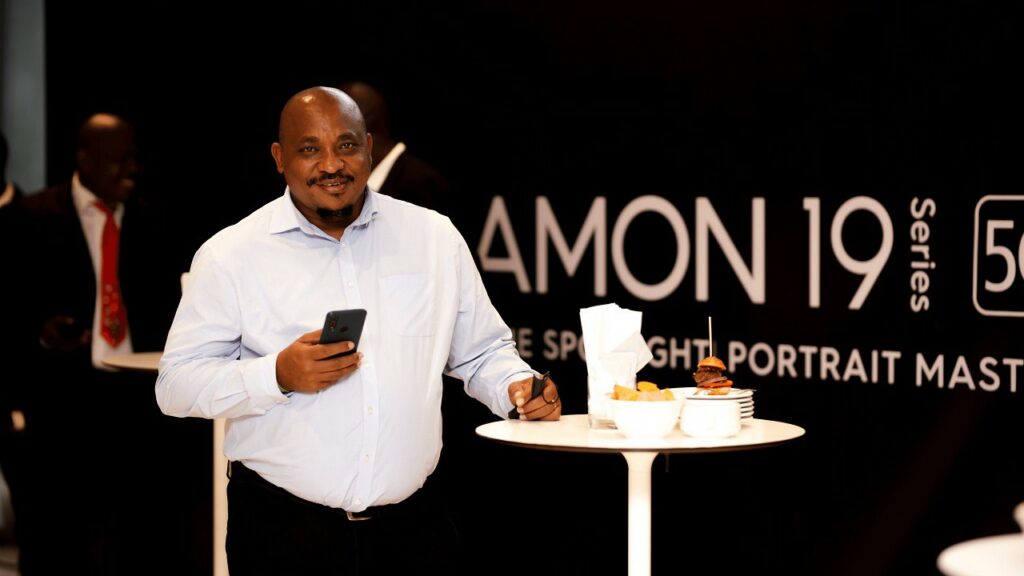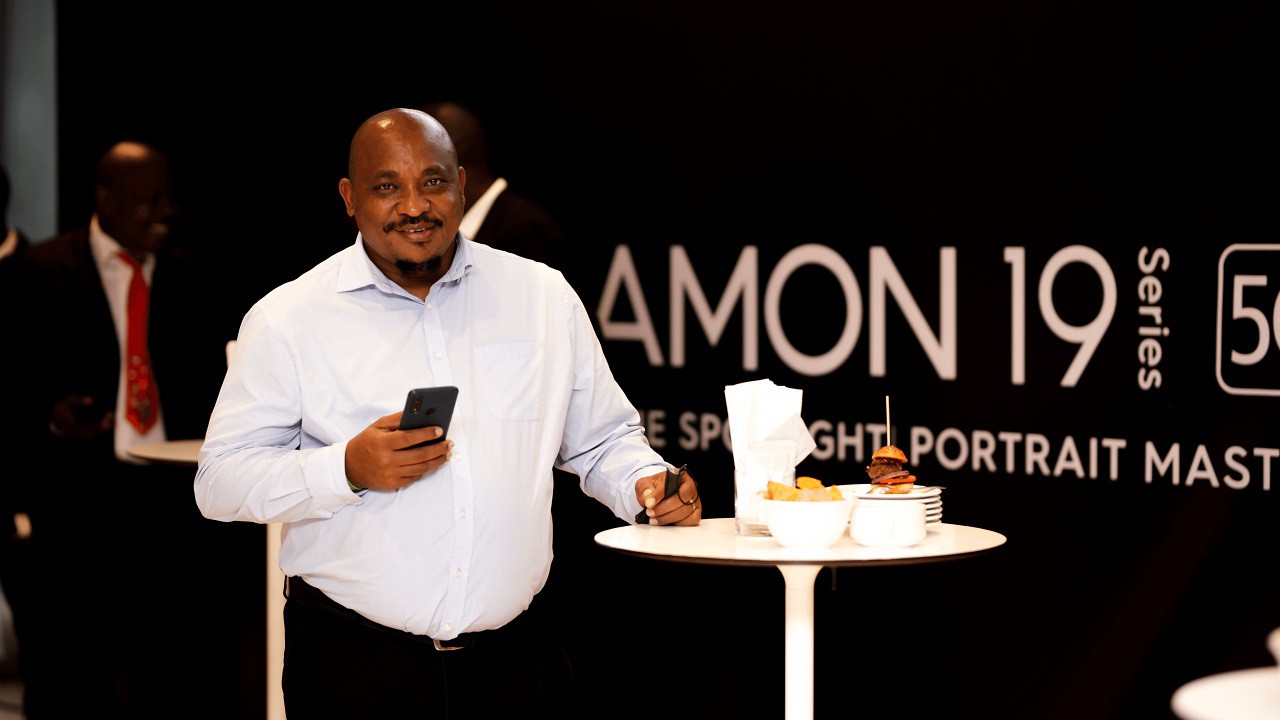 So far, Tecno has two 5G smartphones, the Camon 19 Pro 5G, and then, the POVA 5G. We know the company is also working on the POVA Neo 5G, but no official confirmations from Tecno yet.
And like we've mentioned in other previous articles, if you are planning on getting the Camon 19 for it camera abilities, you might want to pick the 19 Pro 4G model instead of it 5G counterpart.
The 4G model does not only come with a more pocket-friendly price tag, but it offers the best camera setup of all the three. This is due to an additional 50-megapixel portrait sensor, with up to 2x optical zoom.
This lens is an equivalent of 50 millimeter lens, which is where the whole portrait gymnastics of the Camon 19-series lies. The lens is however absent on the Pro 5G model, as well as other models of the 19-series, save for the Pro 4G.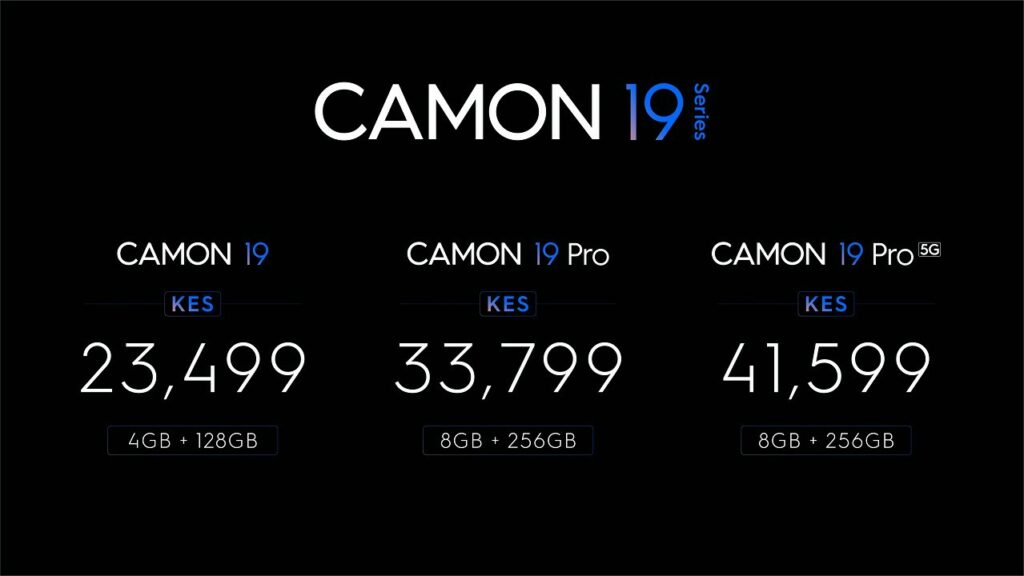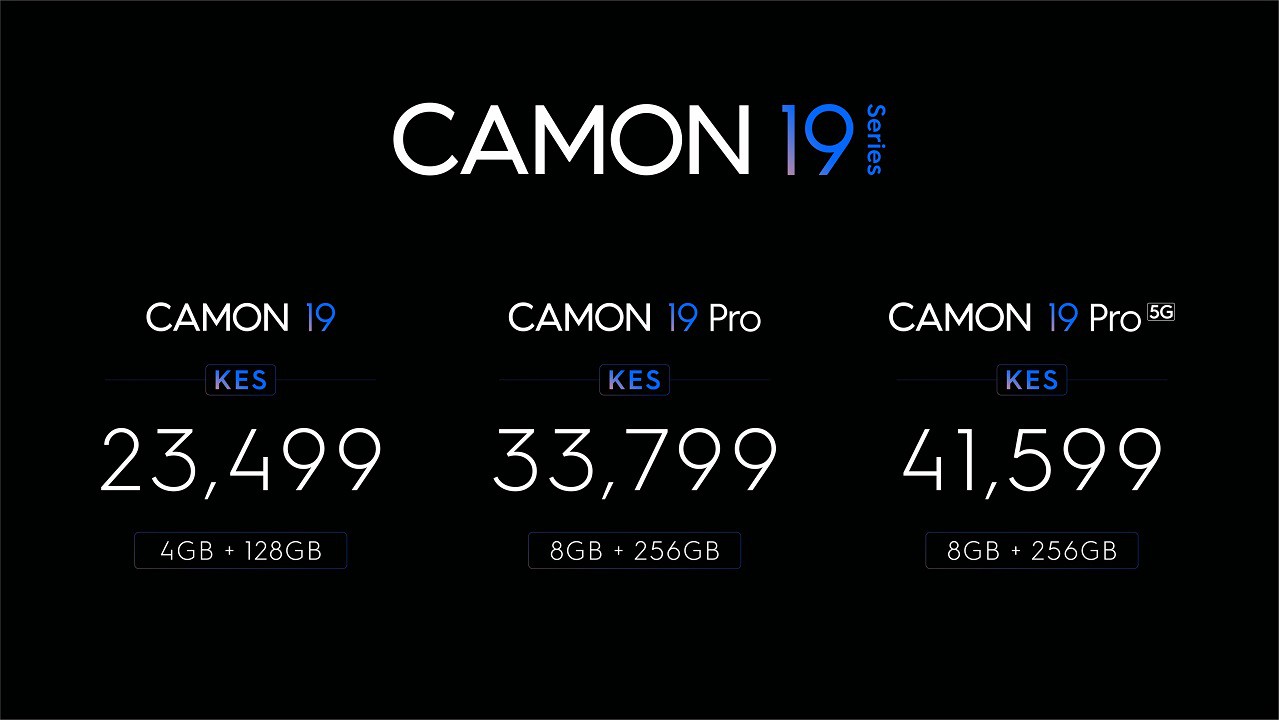 Tecno Camon 19-series pricing in Kenya
Coming to pricing, Tecno is yet to release the official pricing of the Spark 9-series in Kenya, but the three Camon 19 models are priced as follows;
Tecno Camon 19 | 4GB RAM + 128GB ROM = Kes. 23,499
Camon 19 Pro 4G | 8GB RAM + 256GB ROM = Kes. 33,799
Camon 19 Pro 5G | 8GB RAM + 256GB ROM = Kes. 41,599
All three smartphones are already available for purchase in Kenya. As for hardware, the standard Camon 19 and Camon 19 Pro are given Helio G85 and Helio G96 CPUs respectively, while the Camon 19 Pro 5G is got MediaTek Dimensity 810 5G CPU. All three models sports a 6.8-inches FHD+ screen and all are powered by a 5000mAh battery, while Google Android 12 with HiOS 8.6 is available across board.