The deadly COVID-19 coronavirus have brought a turbulent times upon the whole earth, and only God can save us all. But while we await His help, we must do our part to stay uninfected. Various preventive measures have been advised to curtail further spread of the virus of which hygiene is the center of them all. We've been told to stay at home, maintain social distancing and a clean environment, always sanitize our hands and even wear face masks and hand gloves when and were necessary, and lucky enough, I have seen many folks excelling well in these areas lately. But how about your smartphone, how often do you sanitize your phones, PCs (especially laptops) and other gadgets against the deadly COVID-19 coronavirus?
Do you know that the cell phone may be a dangerous source of the spread of the Corona virus?
I was in the bank yesterday to carry out some transactions. There I saw a woman in the banking hall wearing face mask and hand gloves, but at the same time, operating on her unprotected smartphone. A question started racing through my mind immediately: "when she takes of the face mask, and remove her gloves, what will she do to the phone?
How do you protect your phone and other gadgets from COVID-19 coronavirus?
The fact that mobile phones can aid further spread of COVID-19 can not be overemphasized. But what can you possibly do to keep yourself and your loved ones protected from contracting COVID-19 via smartphones? There are two laws that can help you here:
Law No. 1: As much as possible, avoid using your smartphones and other handy gadgets outdoors: While this sound very simple and easy, it might as well be the most difficult to do in a technological age like ours, where separation from ones gadget such as mobile phone could be a severe torture. If you can excel in this law number one, law 2 below could be needed-less.
Law No. 2: Always sanitize your phones and gadgets, ALWAYS!: The PC used to produce this post has received the touch of a combination of Ethanol, Glycerin and Hydrogen peroxide this morning, same applies to my smartphones, all thanks to my wife.
Don't just sanitize your hands and leave out your techs. In fact, sanitize your techs and gadgets more often than you sanitize your hands. And of course, any time your are sanitizing your phone using method one below, you are equally sanitizing your hands. Now, how do you sanitize your phone and handy gadgets?
Ways to Sanitize your smart phones against COVID-19 coronavirus
1- Same method used to sanitize your hands is enough:
If what you do currently is spray or rub some disinfectants to sanitize your hands, then it will interest you to know that same approach is good enough to sanitize you phone against COVID-19 coronavirus. Now don't go and deep your phone in some lava-like disinfectant gel in a bid to rid COVID-19 off your device, your device may not be liquid resistant, and that could damage your phone.
You could either drop a little of a working disinfectant in your palm, and rub them over your phones, tablets and PCs, or use a clean piece of material to same purpose as shown in the image above. However, you might still need rubbing the screen gently to avoid damaging your screen coating.
2- The use of smartphone focused UV Technologies:
The use of ultraviolet light comes with higher cost demand than the first above, but tends to protect your device from germs and viruses in a most effective way. Phonesoap is the most popular option on the market when it comes to sanitizing your phone with UV light, and it is available both on Jumia and Amazon.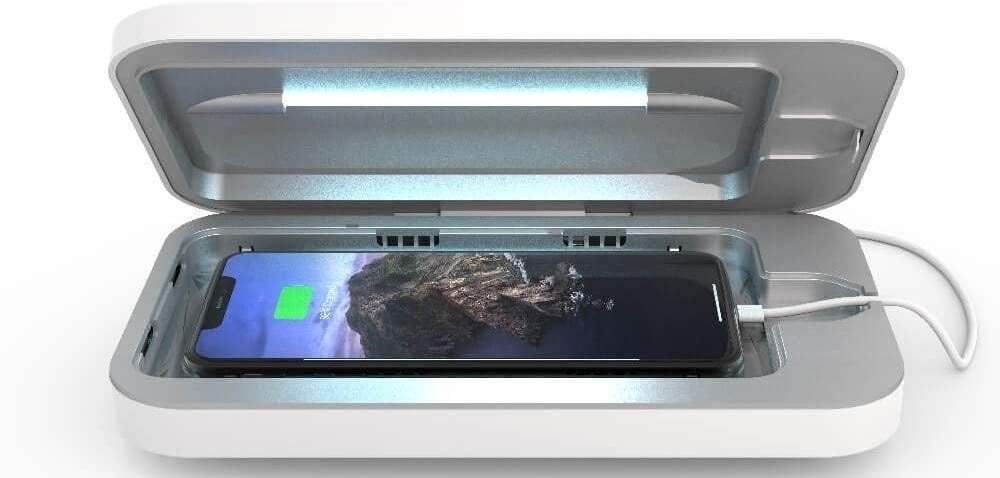 Phonesoap UV-Cs can even offer wireless and wired charging to some of your iPhone and Android phones, so your battery can be charging up while getting sanitized.
Conclusion
Note that this article provide you ways to protect your techs, especially your smartphones from COVID-19, but not yourself as a person. There are lots of useful resources on the official page of World Health Organization (WHO), and we'll recommend visiting the link above, to learn more about COVID-19 coronavirus. In all, ensure you stay safe this season, both you and your loved ones.