Playing games via a wired headphone is very easy and enjoyable, but that joyful excitement can easily fade away in the case of a wireless headphone, most especially if the headset, is not built for that purpose, due to latency
What is LATENCY in connected Audio Equipment?
To simply put, latency is the time it takes before the feedback of an on-screen triggered event gets to your hearing via a connected audio device, in this case a wireless headphone. For example, say you are punching your smartphone dialer while wearing a wireless headphone or TWS earbuds, latency in this case is the time it takes before the "thin-thong" sound from your smartphone dialer gets to your earing.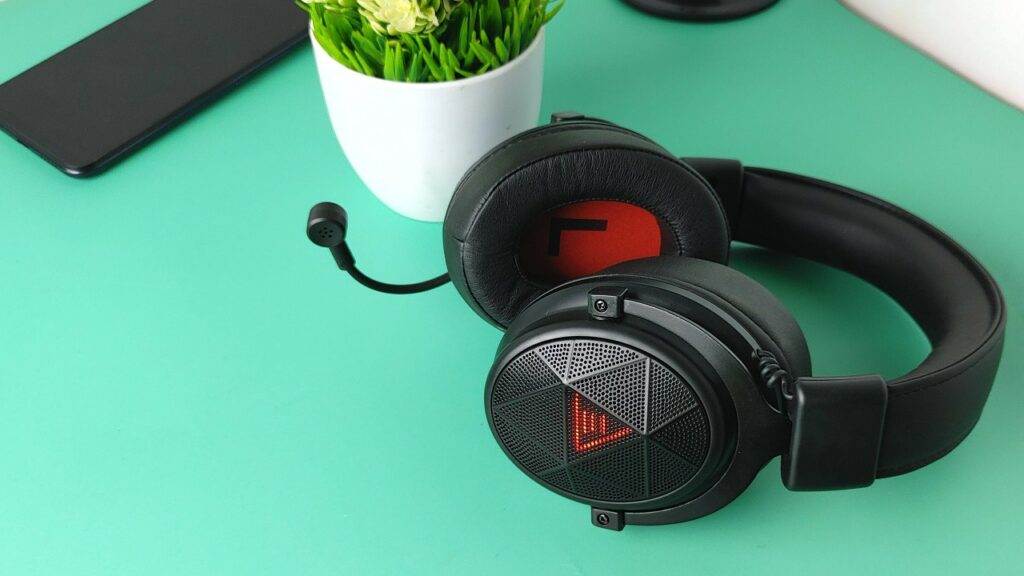 In audio equipment, a wireless headphone for an example, latency is very much important when it comes to video gaming, than when listening to casual music. How early you hear the sound of an enemy footsteps running towards your back, will determine how early you may be able to defend your self.
This is not an issue at all with a wired headphone as the latency on wired headsets are usually good. Mostly you receive sound feedback the moment the event is triggered. But the reverse is the case on a wireless audio equipment / headphone. You'll need to get a system that is designed and built specifically for that purpose, and this is where EKSA E910 wireless gaming headset comes in.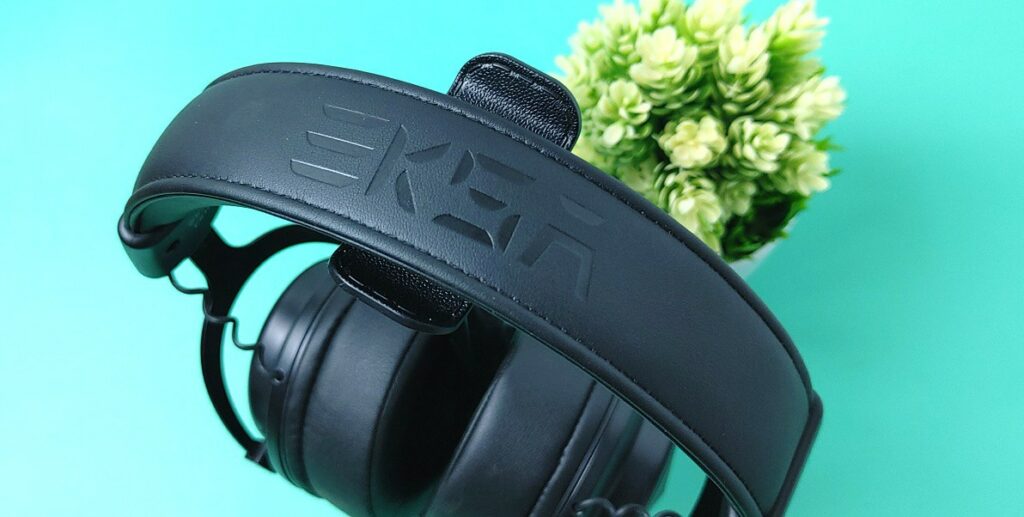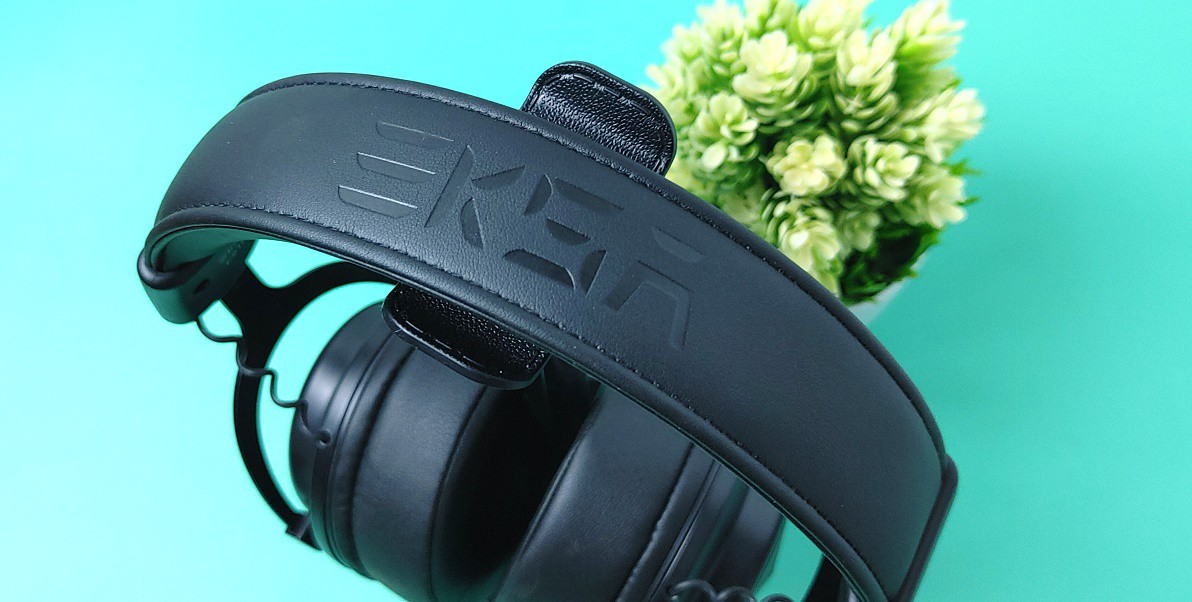 EKSA E910 Key Specifications
| | |
| --- | --- |
| Speaker Driver Type | 50mm Neodymium |
| Frequency Response | 20hz-20KHZ |
| Microphone Type | Unidirectional ENC noise canceling, retractable |
| Connectivity | 5.8GHz Wireless (USB Dongle) and / 3.5mm |
| Weight (with mic) | 304 Grams |
| Cord Length | 3 feet (1m) |
| Lighting | Red triangle LED (EKSA Logo) on the Cups |
| Software | EKSA 7.1 Surround Sound Tuning Software |
The EKSA E910 is designed on a 5.8GHz plug and play USB dongle, helping the the wireless headset to achieve a very low audio transmission latency, as low as 15 milliseconds.
If we should stop here, then the EKSA E910 would have A+ in our review, but like every other headphones out there, there are much more to a gaming headset than just latency. So here is our full review of EKSA E910 wireless gaming headset.
Design and Built Quality
Because gaming is mostly fictional, most OEMs in this industry tries to focus on the Alien world when designing their software or hardware, such as gaming PCs, Consoles, Pads, or even gaming accessories like headphones.
But instead of designing an Alien looking headphone, the design and feel of EKSA's E910 wireless headset looks rather traditional, than 'Alienated'. So you wont get superfluous bulging or, scary extraterrestrial looks anywhere.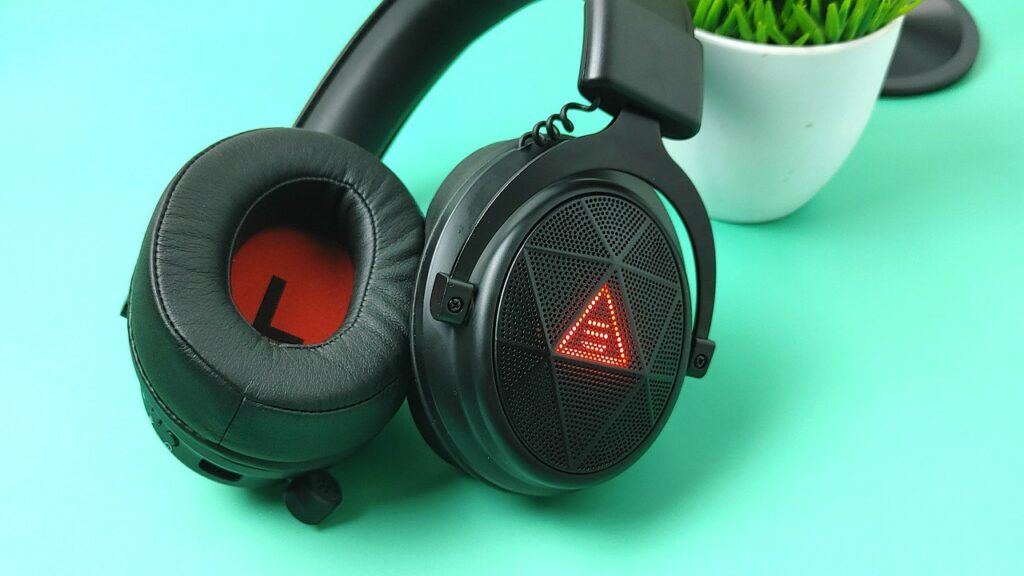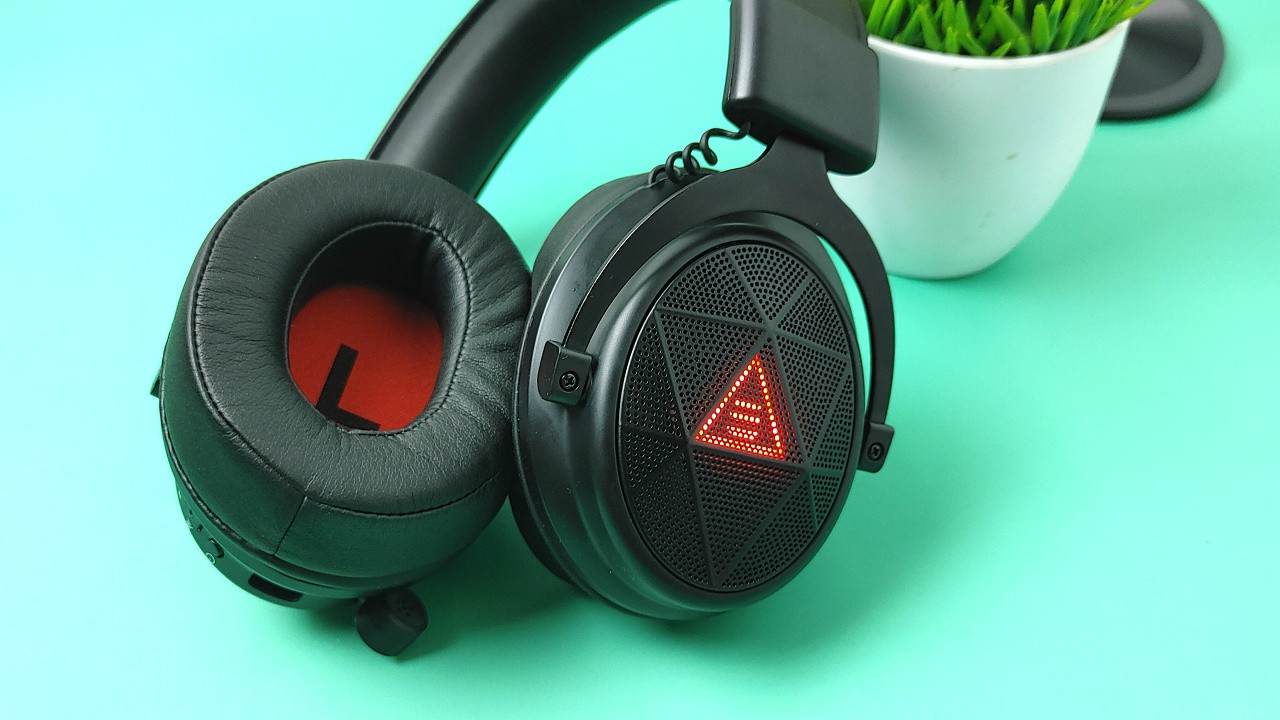 As far as design goes, all ports and buttons on plastered on the lefthanded earcup. These includes the Volume wheel, mic on/off toggle, the power button, a halo USB Type-C charging port, as well as the retractable unidirectional microphone.
Aside the red logo LED light on each cup that always stays on, there is also a tiny Blue indicator light just below to volume wheel. This light stay put when the headset is connected, but blinks when disconnected. Also note that the power button doubles as the surround on/off toggle.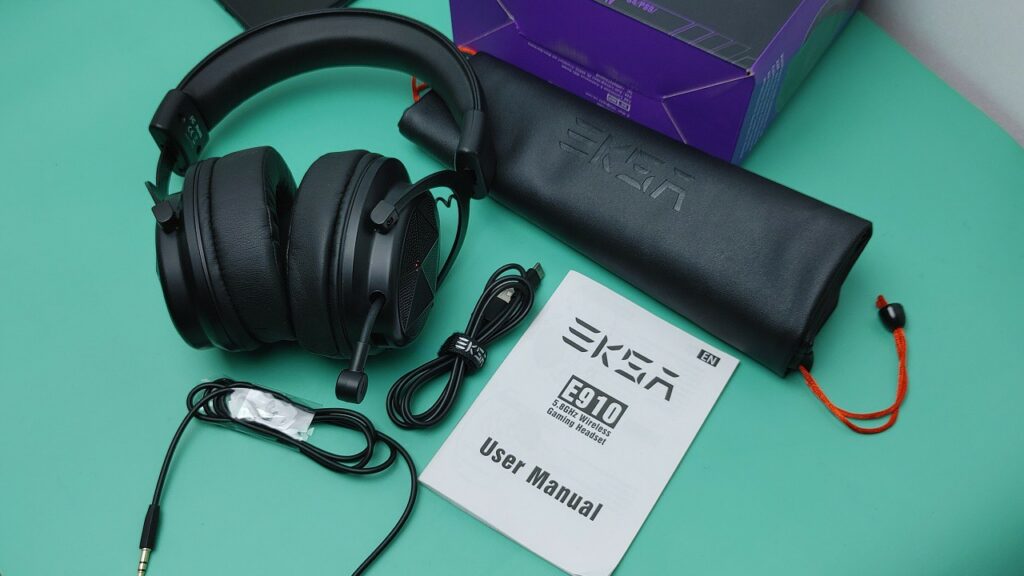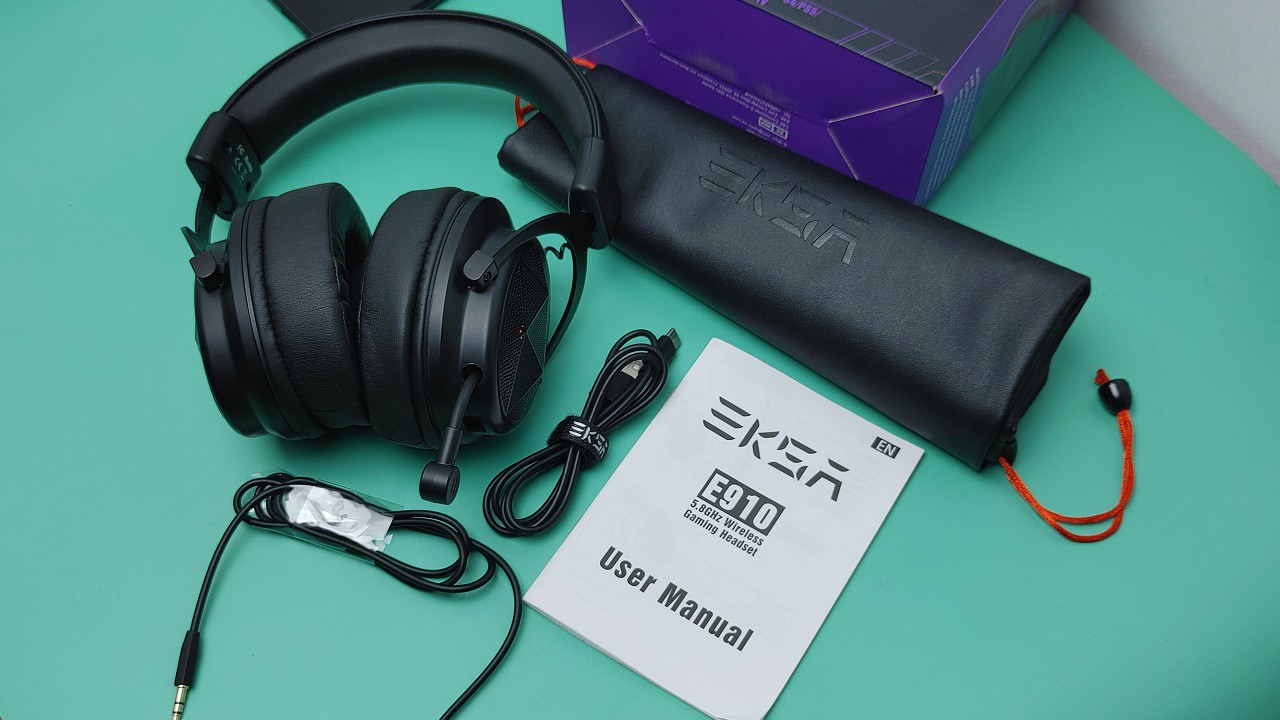 The box content of EKSA E910 contains;
The headset in a very solid carrying bag
USB-C charging cable
3.5mm to 3.5mm audio jack
A USB Dongle and
User manual
I personally like the design of the headset. There is this feel of premium built you get once you picked it up. And having a traditional headset design means you can easily carry it around without worrying about any part yanking off.
Where you'll begin noticing differences between the E910 gaming headset, and other traditional headset, is when you pull out the unidirectional micro phone.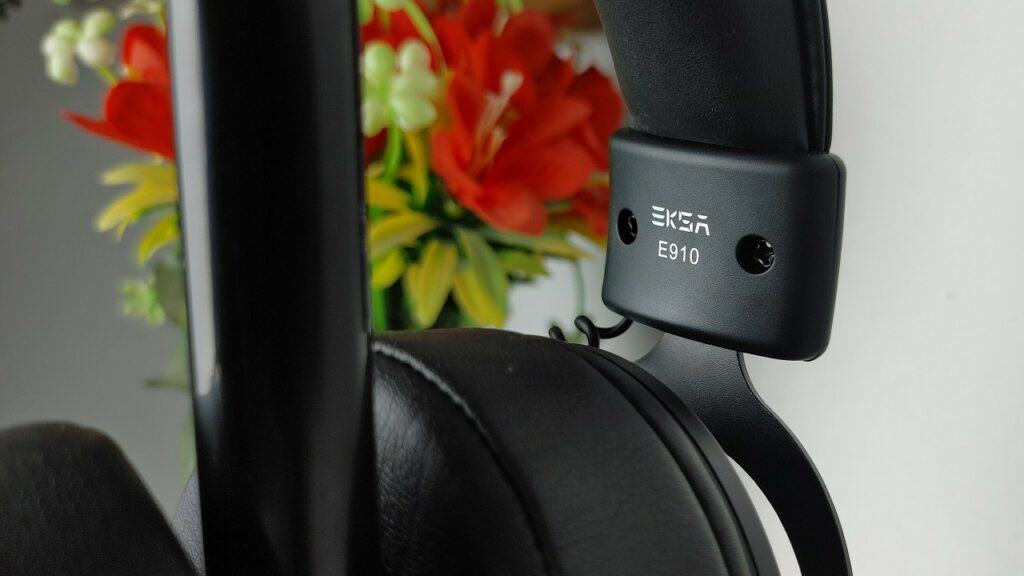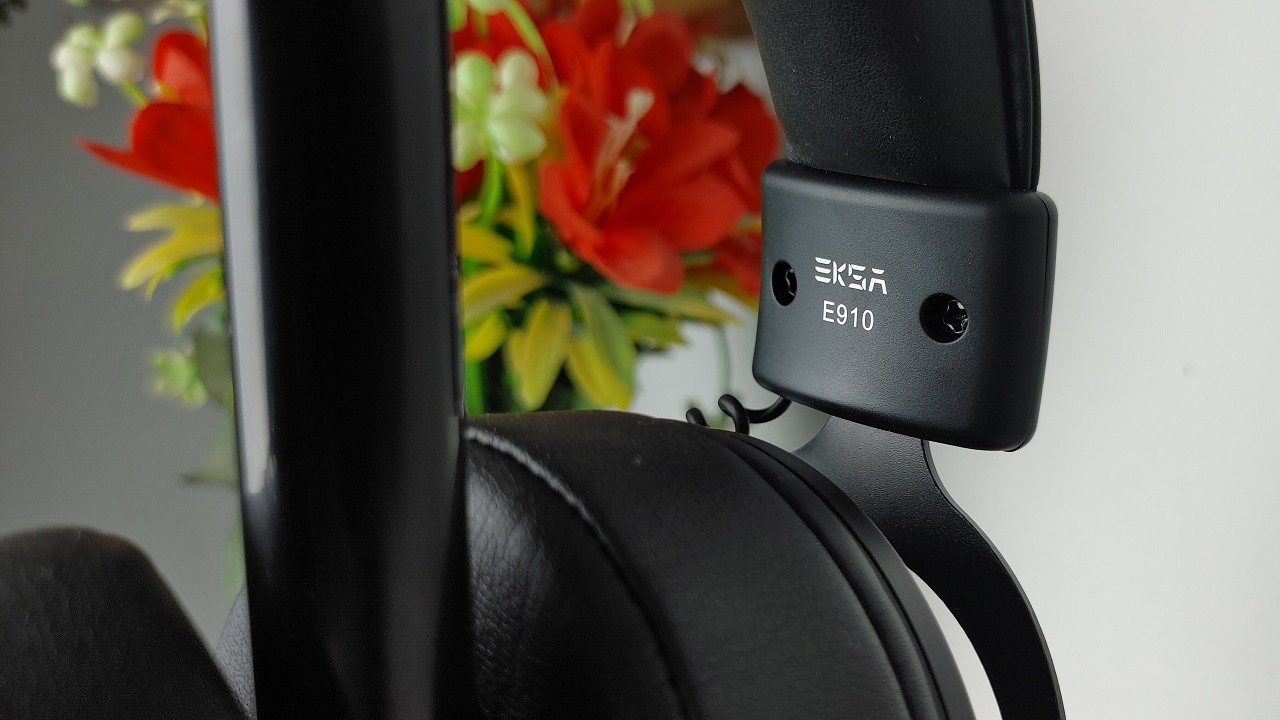 The Headset itself is held together by an aluminum alloy fork, going into a stainless steel on the head that is covered by soft premium foam and rubbers. There is also a metallic net covering the system's red notification LED, which is EKSA's logo. The material used on the E910 can be segmented into four categories; where it is not steel, then it is metal, or plastic or premium rubber foam.
Connectivity and Audio Quality
This is where it all begins to get a little tricky. Note here that the EKSA E910 is a wireless headphone, but not a Bluetooth enabled device. The wireless functionality of the headset is enabled through a plug and play USB dongle.
The dongle is design to offer the E910 a spectrum of up to 5.8GHz, enabling low latency between your gaming console / device and the headset. For comparison sake, the spectrum of the recent Bluetooth 5.0 is between 2.4 to 2.48GHz on a recommended distance of about 10m. The E910 can go all the way to 15m or 49ft in all directions, then with a 5.8GHz instead.
As mentioned before, the connection is plug and play, and it is super, super faster than connecting a Bluetooth headphone. All you have to do is turn on the E910, plug the USB dongle to your gaming device or PC, and you are good to go.
Device platforms that supports E910
EKSA listed about 6-7 device platforms on which this dongle can be used, including PCs running between Windows 7 to 10 (probably 11 also), TVs, PS4/PS5, Apple's Mac OS, Nintendo, Xbox and etc. The manual also comes with detail description on how to use the headset on these platforms.
I tried it on my smart TV and a Windows 10 laptop, and I did not have to touch any extra settings. I got a "HEADSET CONNECTED" feedback immediately the dongle got into my PC's USB port, and sound flowed in instantly.
EKSA E910 Sound Quality
Aside the flawless connectivity option, another area the E910 stood out for me is in sound quality. It does not only offer a 50mm diameter sound driver with ENC, but also has a 7.1 surround sound chip built in.
Sound quality on the E910 is good, and the Depth and Highs are very noticeable. Although the preloaded notification feedback is a little too loud for my liking.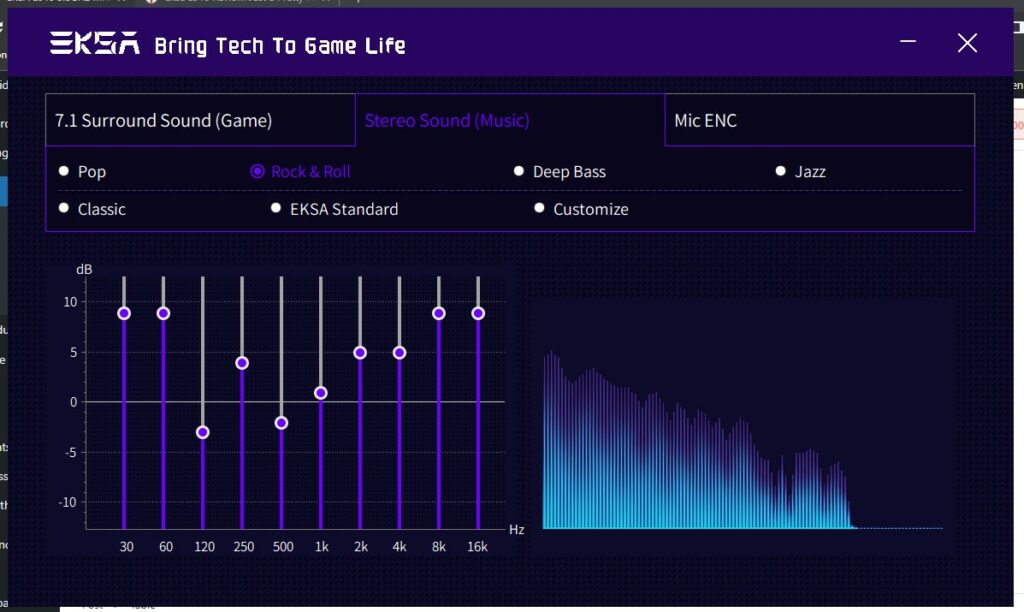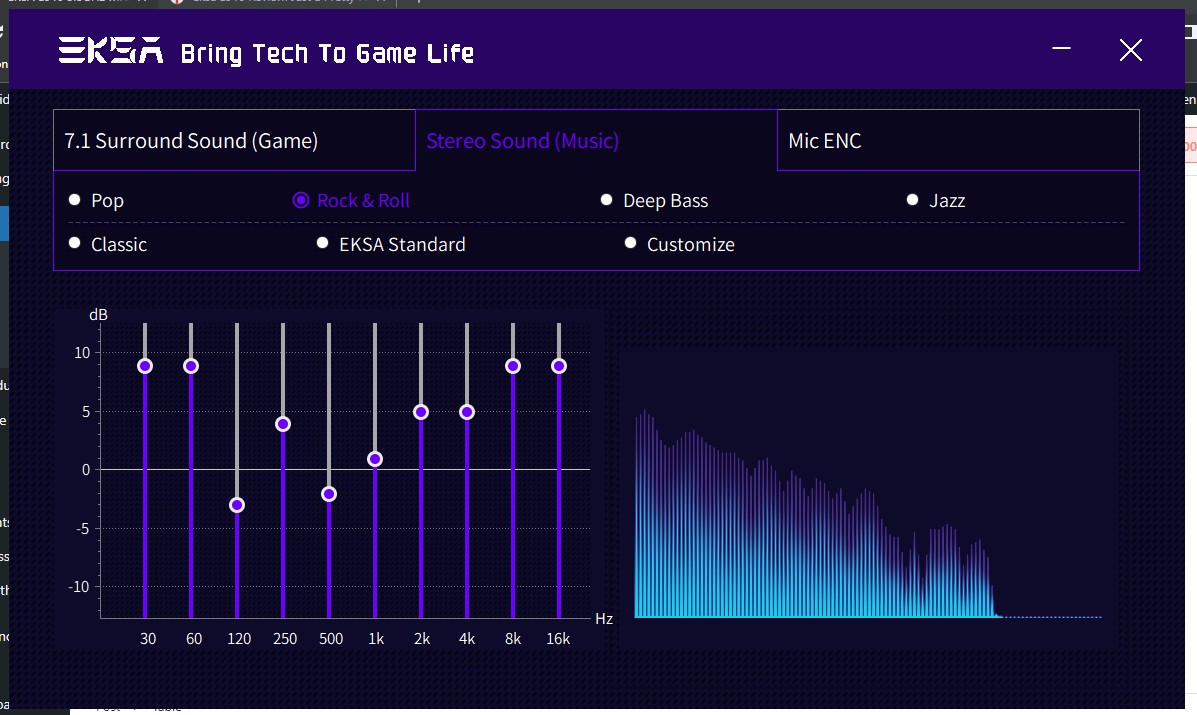 When properly connected, you can control your sound volume either via your gaming console / device, or by using the volume wheel stacked on the side of the left ear cup. If you wish to tweak your audio settings further, you can head over to the company's website, and download 7.1 surround sound driver for your PC.
Other functionality and Battery
The stretchable microphone
For ease of communication, the EKSA E910 is given a retractable unidirectional microphone. You get a clear sound quality from this mic either during voice recording or phone calls, but the output could be a little louder, plus, I wish the retractable stick is a little longer as well.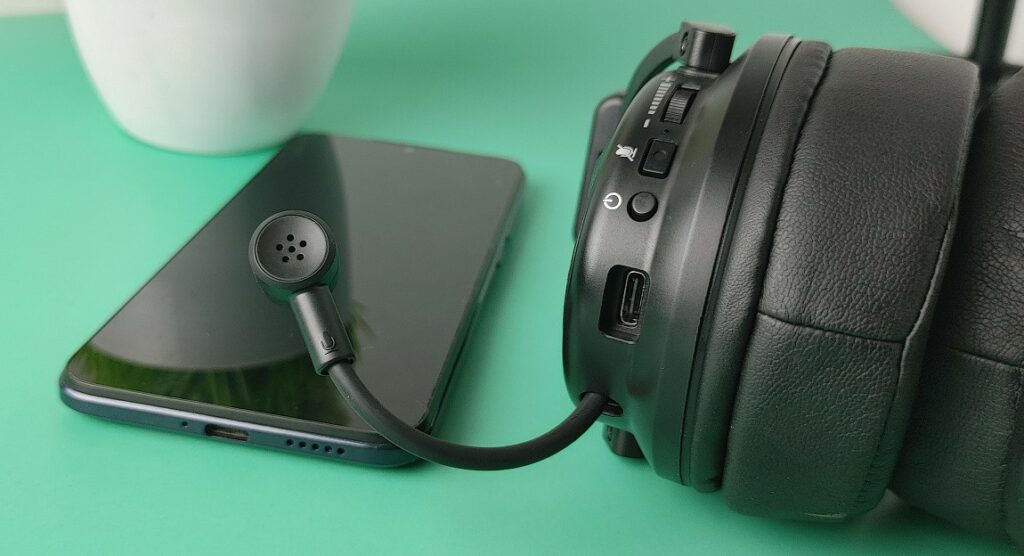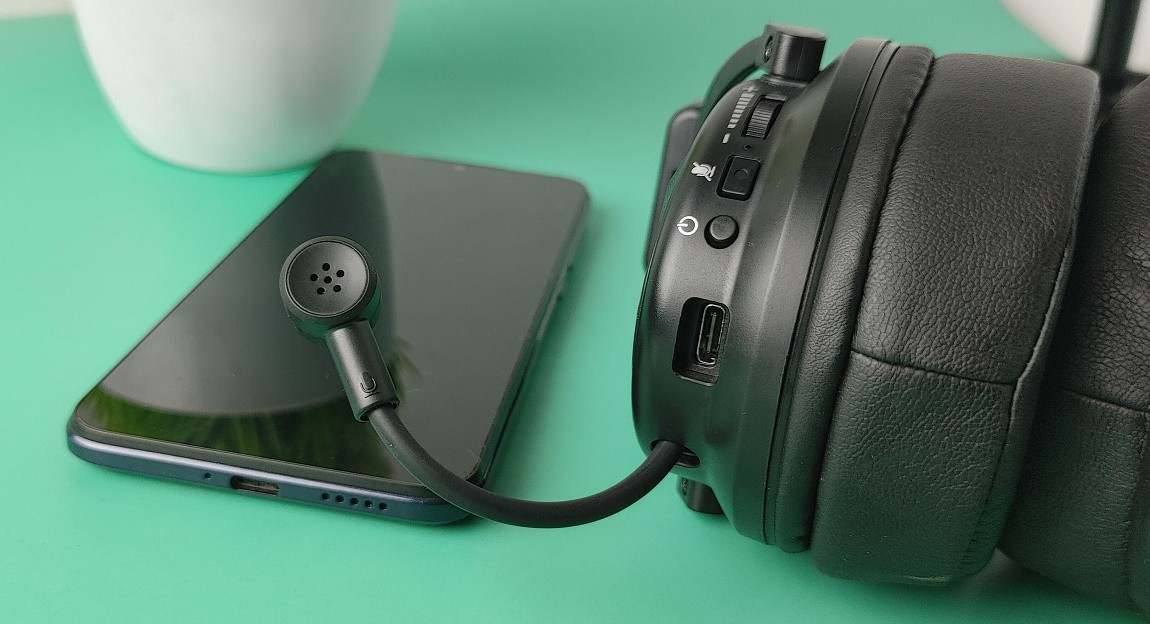 EKSA E910 1200mAh battery
Powering the E910 is a 1200mAh battery. The headset charges via USB Type-C, but does not support fast charging, so it took us between 2 to 3 hours to get it from 0 to 100%.
Battery consumptions on the other hand is dependent on few factors. For example, with 7.1 on, the battery tends to deplete a little faster. The volume level also play a part on how long you may expect to use the headset. In a nutshell, you can expect between 10 – 12 hours of continuous usage from a single charge.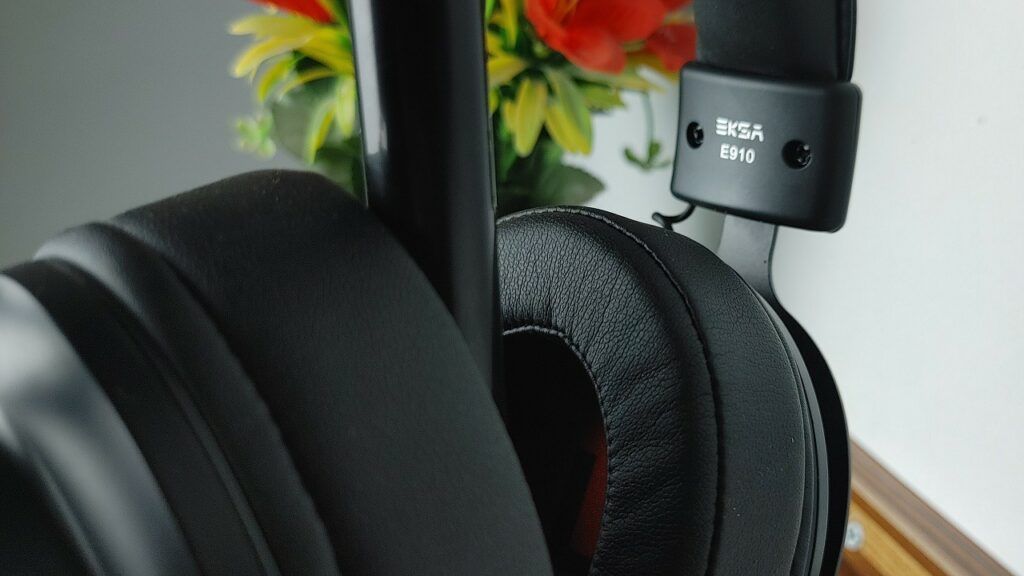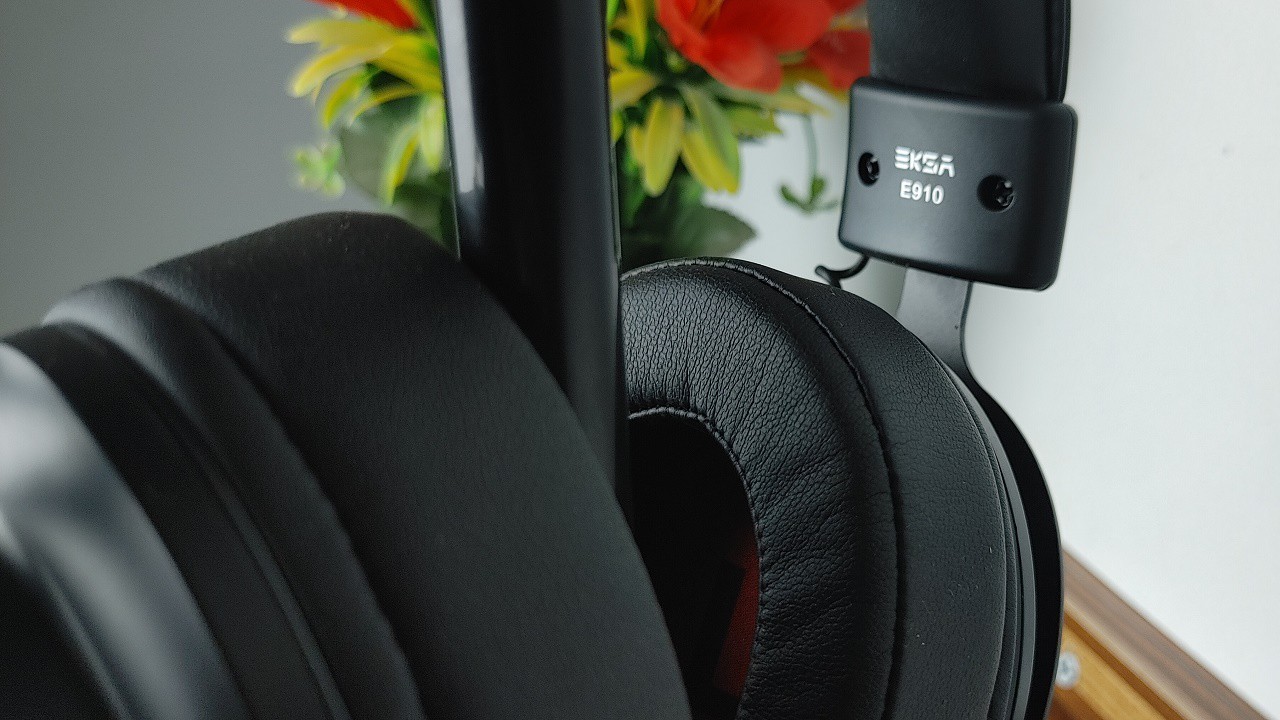 Conclusion, Price Alternatives
Either you are a gamer, a TV or Radio hosts, or a call representative person, the EKSA E910 is a worthy headset you might want to consider. The low latency this equipment offers is not something you can find on a conventional Bluetooth device, plus you can be sure that your caller will hear clearly.
As at writing, the E910 is discounted at $73 in a 2-days promo deals. Although the price will pull back to $93 once the promo period is over. This is still a great deal nonetheless, considering the technology that the Headset offers. A good competitor to EKSA's E910 Wireless Headset is XIBERIA S11G, although the mic on that model is non-retractable.