Seriously, I like the marketing scheme of Infinix Mobility. The company is really doing all it can, and all it takes to always stay in the view of audience, and the upcoming efforts, happening just tomorrow the 24th of April, will amaze you. Okay, let me spill the beans already; the Infinix Note 7 is going to be reviewed by Unbox Therapy.
Do you really know Unbox Therapy? He's among the top 3 most successful tech YouTubers in the world, currently having over 16,000,0000+ YouTube subscribers, yes, you read that well, over sixteen million (16M) subs on YouTube. All of his videos crosses a million view just within 48-hours of release.
This means, not just a million or two, but a potential 16M+ or even more, could know of the existence of the Infinix Note 7 after the review goes online starting from tomorrow. You see why I'm liking the efforts of Infinix Mobile?, and this is just one of many of it kinds.
If you can recall, the Infinix S5 Pro also landed GSMArena review recently, which was also the first of it kind. We also told you some times back of Infinix Mobile, advertising same S5 Pro on P**nHub, which was the most ignoble effort we've seen from the company.
Well, you want to hook up with the review? It will be live by 7am via Unbox Therapy's YouTube channel. It might interests you to also know that 5 units of the Infinix Note 7 will be given out free of cost during the review session. You want to know more about the Infinix Note 7?, Just CLICK HERE!. You can also use the comment section below, if you have any reaction and, don't forget to stay safe.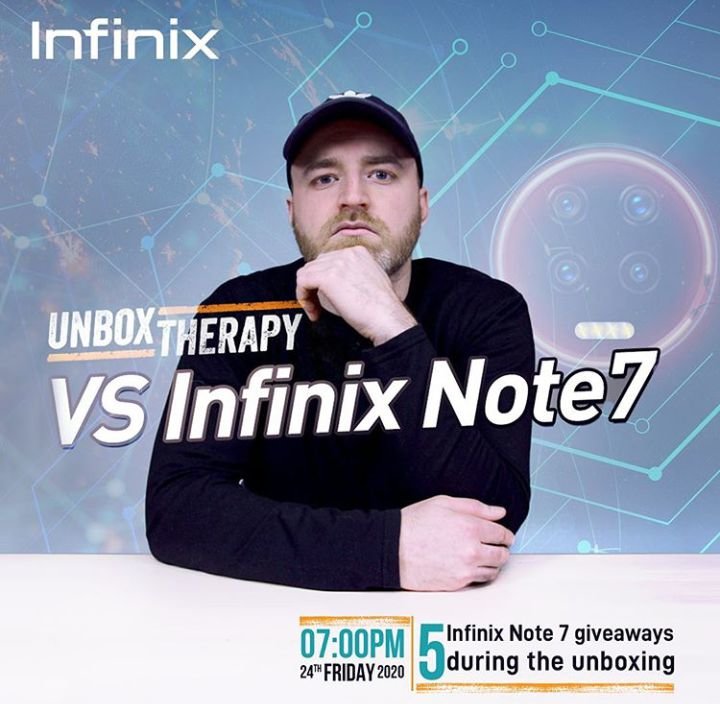 UPDATE:
I think there was a little glitch from my friends over at Infinix, the review was supposed to be at 7PM, not AM. And now, it is online, and you can watch it right here, that is if you want to.