Introducing Garmin MARQ Carbon Series of Smartwatches; Priced from $2950
Garmin has announced the MARQ Carbon collection, a trio of luxury smartwatches that are crafted from Fused Carbon Fiber, a lightweight and durable material that is 62% lighter than titanium.
The MARQ Carbon collection includes the MARQ Athlete Carbon Edition, the MARQ Golfer Carbon Edition, and the MARQ Commander Carbon Edition.
The MARQ Carbon comes in three different models
MARQ Athlete Carbon Edition
The MARQ Athlete Carbon Edition is a multi-purpose sports watch that offers an extensive suite of different activity tracking and performance coaching features.
Pre-loaded sports include profiles for everything from trail running, hiking, and swimming to rowing, climbing, yoga, and even pilates, and the MARQ Athlete also features animated on-device workouts that can help guide users through a wide variety of different activities.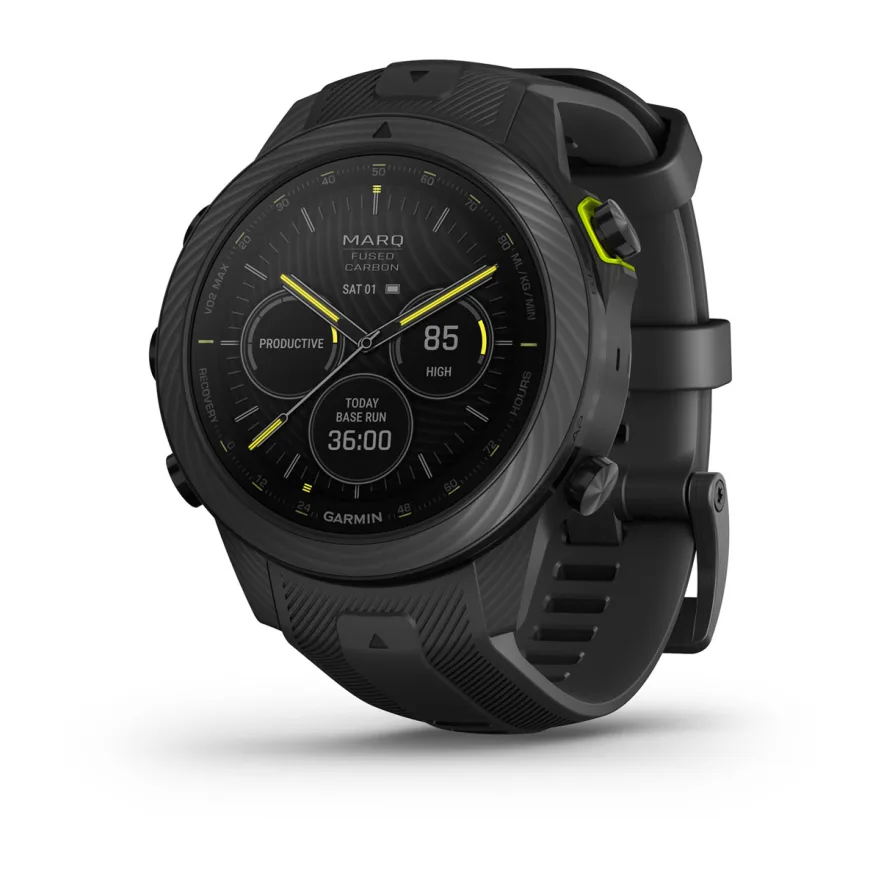 Additionally, the Garmin MARQ Athlete Carbon Edition also comes packaged with the brand's HRM-Pro chest strap monitor to provide users more accurate running and heart rate date.
MARQ Golfer Carbon Edition
The MARQ Golfer Carbon Edition is a purpose-built smartwatch that is specifically designed for the world of golf.
It is pre-loaded with over 43,000 different courses from all around the world. The new MARQ Golfer also features an onboard virtual caddie that provides players with information such as club recommendations based on wind, elevation, and their personalized swing data.
Like other Garmin smartwatches, the new MARQ Golfer Carbon Edition will also track sleep, heart rate, and various other health and fitness metrics.
It is essentially the ultra-premium version of the brand's Approach series of purpose-built golf watches that feature expanded functionality and a lightweight carbon fiber case.
MARQ Commander Carbon Edition
The MARQ Commander Carbon Edition is the military-oriented model that offers much of the same core functionality as its siblings but swaps out some of the sport-specific modes for features intended for those in the armed forces.
Unlike its two siblings, the MARQ Commander does not have small green or yellow accents surrounding its start/stop button, and it instead opts for an all-black color profile with a bezel that has engraved 24-hour UTC markings.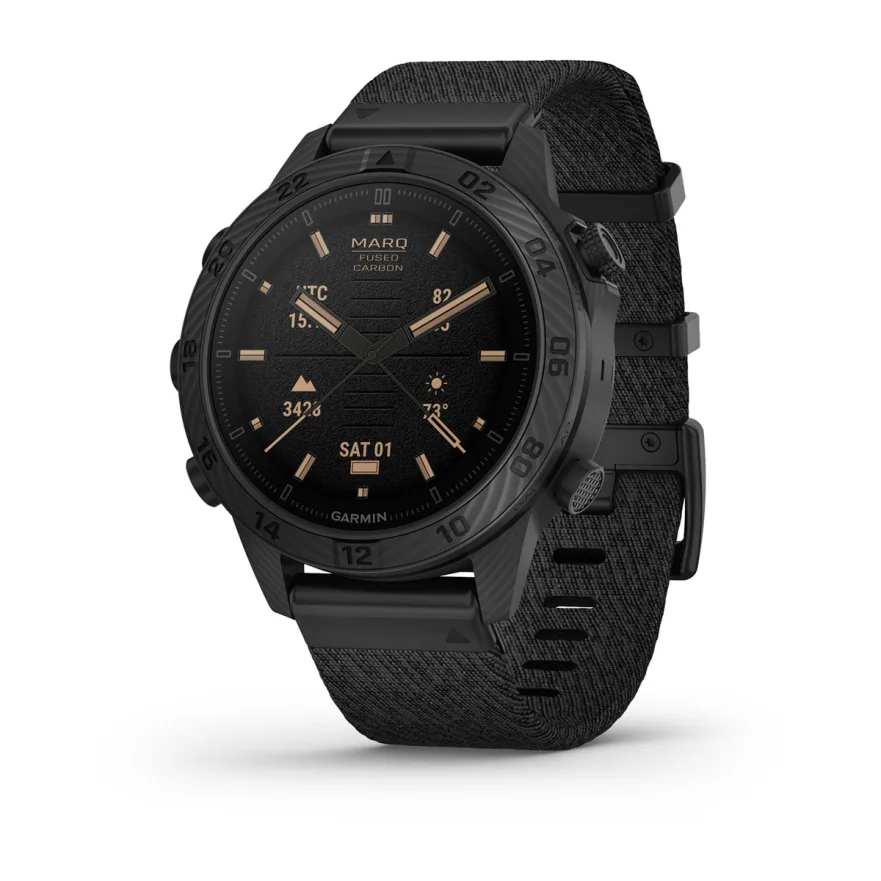 Additionally, the buttons on the side of the case feature a textured finish for additional grip, and while a second silicone strap is included with the watch, the primary strap option for the Garmin MARQ Commander Carbon Edition is a jacquard-weave nylon strap with a subtle randomized pattern woven into it.
Unlike other Garmin models, the new MARQ Commander Carbon Edition features a number of functions specifically designed for aviators and balysics calculations, along with a display screen setting that allows the watch to used while wearing night vision goggles.
Like other military-oriented Garmin models, the MARQ Commander also includes a stealth mode setting that allows the watch to remain operational but stops storing and sharing GPS data and disables wireless connectivity. Plus, should security become an issue, the Garmin MARQ Commander includes a virtual kill switch feature that wipes the device of all stored user data.
Garmin MARQ Carbon Pricing and Availability
The Garmin MARQ Carbon collection is priced as follows:
MARQ Athlete Carbon Edition: $2,950 USD
MARQ Golfer Carbon Edition: $3,100 USD
MARQ Commander Carbon Edition: $3,200 USD
The MARQ Carbon collection is available now from Garmin and select retailers.
Support this publication by following DroidAfrica on Google News