A new Tecno smartphone modeled LE7 have just been registered on FCC, bearing a large 7000mAh battery. This device looks like a phone we've talked about in the past, and that is the Tecno Pova 2. There are some key facts that lead us into believing that this smartphone will indeed be launched under the Pova (Pouvoir) series. First, LB7, LC7 and LD7 were the model number for Tecno Pouvoir 3, Pouvoir 4, and the current Pova smartphone, hence the next device in the series should come with LE7 as the model number.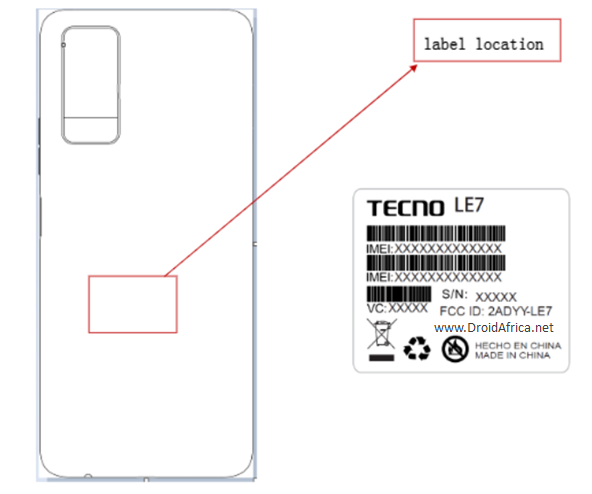 Secondly, the sketch of the phone as shown above look somewhat similar to the current Pova smartphone, except that Tecno will be using a side-mounted fingerprint scanner on the upcoming LE7; the previous model have a rear placed scanner.
And finally, Tecno have only one battery focused smartphone series, and that is the Pouvoir (now Pova) series. This series focus majorly on battery stamina, and I don't think the company will slam such a gigantic 7000mAh battery in any other smartphone order than the Pova (Pouvoir) series.
It should be noted however that Tecno have not confirmed what the next device in this series will be called yet. While all likelihood points to a Pova 2, we might as well see a Pouvoir 5 instead. Sadly we have no words as to when this device will be announced. Based on current rumors, Tecno is expected to introduce a new Spark 7 smartphone around next week, perhaps, this 7000mAh powered smartphone might debut alongside.