Qualcomm released a new Snapdragon 870 CPU few days ago. This new CPU is a higher clocked version of Snapdragon 865 Plus, which itself, was a higher clocked variant of the original SD865 CPU. As you would expect, OEMs like Motorola, OPPO, Vivo, Realme, iQOO, and Xiaomi as well, have lined up to use this new CPU. The upcoming Redmi K40-series from Xiaomi has been confirmed to have a variant with this CPU, but not only the K40, Xiaomi will be releasing a new edition of the Mi 10 with this CPU as well.
As per the news, ITHome has previously reported, quoting a Weibo user @数码闲聊站, that Xiaomi was testing a Mi 10 unit with Snapdragon 870 CPU. Today, the source claims that this Mi 10 variant with Snapdragon 870 CPU is already released online.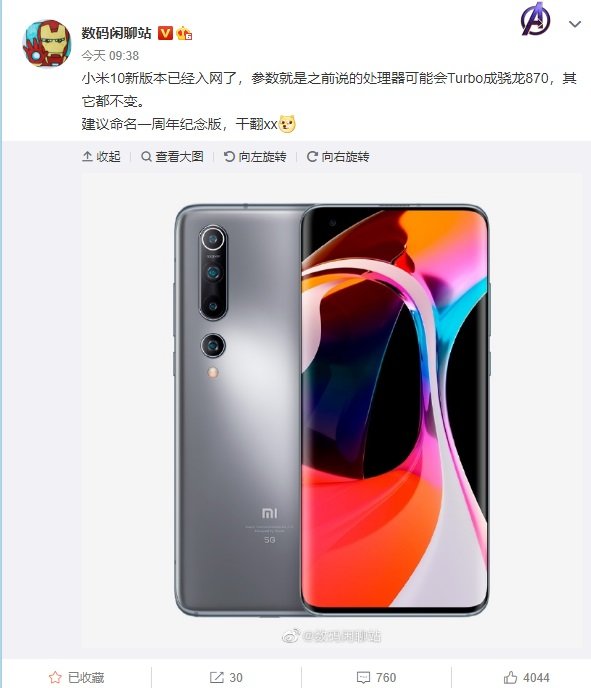 The device in the image above looks so much like the Mi 10 Pro, and should probably offer everything that the Mi 10 Pro has, including 6.67-inches display, 108-megapixel main lens among other specs. But the only changes will be the CPU powering it, in this case, the aforementioned Snapdragon 870 CPU.
The Chip uses an enhanced Qualcomm Kryo 585 CPU cores with the ultra performing core touching an extreme 3.2GHz, which is the highest frequency under the current A77 architecture. While the new speed will undoubtedly bring better performance over the older 865 and 865 Plus CPU, it could possibly overheat, due to the higher clock speed. But we will wait until mid-February to see how Qualcomm is able to control this overheating concern.
Source (In Chinese)