Oukitel has announced the RT7 Titan 5G, a rugged tablet with a massive 32,000mAh battery. The tablet is powered by a Dimensity 720 processor, has 12GB of RAM, and 256GB of storage. It also has a 10.1-inch IPS LCD display with and a triple-camera system on the rear.
The RT7 Titan 5G is the first tablet in the world to have a 32,000mAh battery. This means that it can easily last for several days on a single charge, even with heavy use. The tablet also supports 33W fast charging, so you can quickly top it up when you need to.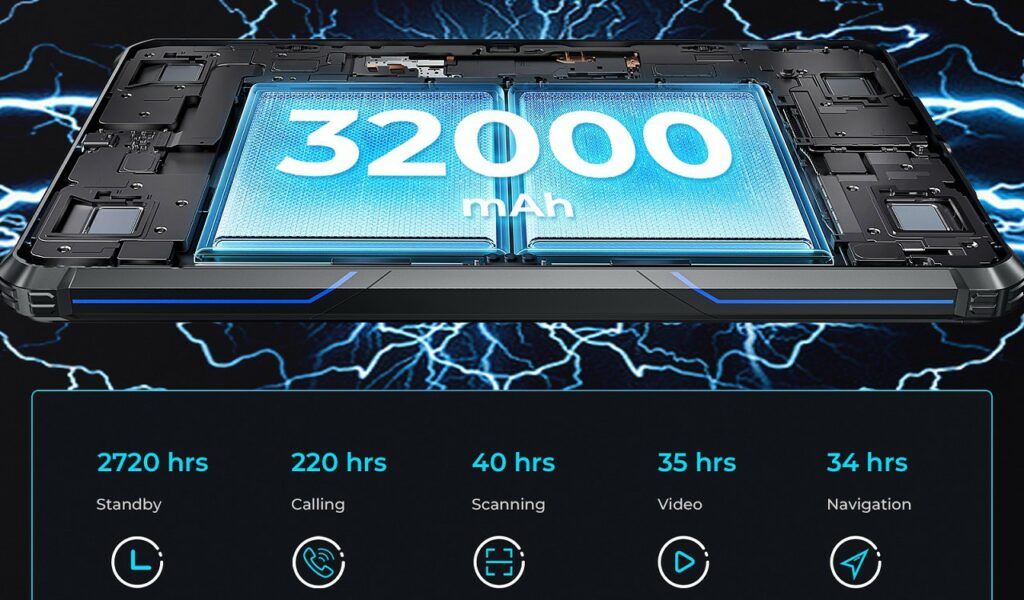 The image above shows the possible battery life expectations from the RT7 Titan. As per the picture, the tablet can retain power in standby mode for about 2,720 hours. This is well above two months, or an equivalent of 113 hours.
When you switch to calling, scanning, video playback and navigation, the battery life drops to 220 hours, 40 hours, 35 hours and 34 hours respectively.
In addition to its large battery, the RT7 Titan 5G also has a number of other features that make it a great choice for rugged use. It is IP68 / IP69K / MIL-STD-810H certified, making it dustproof, waterproof, and shockproof.
Key features and specs of Oukitel RT7 Titan 5G:
32,000mAh battery with 33W charger
Dimensity 720 processor
12GB of RAM
256GB of storage
10.1-inch IPS LCD display
Triple-camera rear system
IP68 / IP69K / MIL-STD-810H certified
The RT7 Titan 5G is a great choice for anyone who needs a rugged tablet with a long battery life. It is already listed for purchase on AliExpress. It is priced at $599.