After a long period of silence, Taiwanese company HTC is preparing to launch a new smartphone, likely to be named the HTC Desire 23 Pro. This news comes from the appearance of the device with model numbers 2QC9200/2QC9100/2QCB100 in the Bluetooth SIG database, which confirms that it will come with the Qualcomm FastConnect 6700 Bluetooth module.
The Snapdragon 778G, 778G+, 782G, and 7 Gen 1 chipsets all use this Bluetooth module, as does the unreleased 6 Gen 1. While it is unclear which of these processors will be used in the upcoming HTC Desire 23 Pro, it is confirmed that it will offer a significant performance boost over last year's model, which was powered by the Snapdragon 695 chipset.
HTC has been largely absent from the smartphone market since it sold most of its mobile business to Google, but it has continued to release ultra-budget smartphones under the Wildfire series, which are developed and sold by third-party Chinese vendors.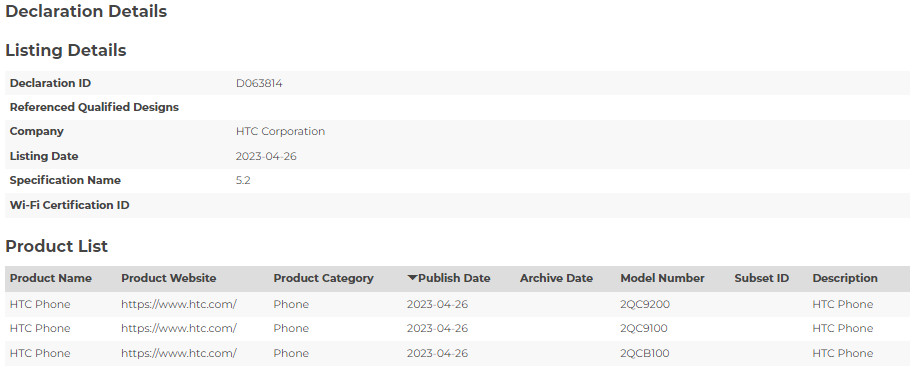 The company also supports a single line of phones, releasing a new product of the Desire series once a year. Last year, it launched the Snapdragon 695-powered Desire 22 Pro, which included unusual features such as water protection and reverse wireless charging.
It is currently unknown if the Desire 23 Pro will retain these unique features or offer something entirely new. Nevertheless, this news will be exciting for HTC fans who have been eagerly awaiting a new smartphone release from the company. As more information becomes available, we will keep you updated.
Source: Bluetooth SIG