Realme today released a number of teaser information for the upcoming Realme GT5 smartphone. The phone is confirmed to be powered by the Snapdragon 8 Gen 2 processor and will come with a 24GB+1TB memory variant, just like the K60 Ultra, and the Ace 2 Pro. It will also debut the "geek performance" panel, which supports multi-core scheduling and custom frequency.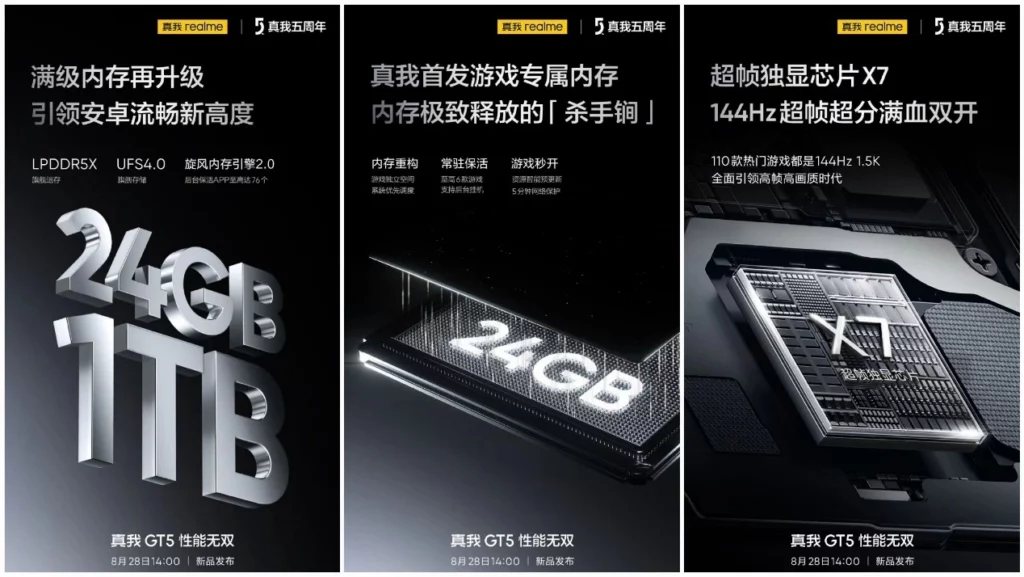 The "geek performance" panel allows users to adjust the CPU frequency of the Realme GT5. This can be useful for gaming or other demanding tasks. The phone also uses LPDDR5X RAM and UFS4.0 ROM, which are the latest and most advanced memory technologies available.
In addition to the powerful hardware, the Realme GT5 also has a number of software features to improve performance. These include the "Whirlwind Memory Engine 2.0" and the "exclusive memory for games". The Whirlwind Memory Engine 2.0 helps to keep apps in memory for longer, while the exclusive memory for games ensures that games have enough resources to run smoothly.
The Realme GT5 is also equipped with an ultra-independent graphics chip X7. This chip helps to improve the graphics performance of the phone, especially for demanding games. The phone also supports 110 popular games with 144Hz refresh rate + 1.5K resolution dual play.
The Realme GT5 will be launched on August 28th. It is expected to be a high-end smartphone that offers great performance and features.
Source: Weibo.com