The custom still stands; after every Xiaomi flagship phone comes a Redmi flagship counterparts. The recently flagship models from Xiaomi is the 12-series, which includes the standard 12, 12x and 12 Pro. Now, alternating Redmi flagships models expected under the Redmi K50 lineup have just been certified.
As per the certification documents as shared on Weibo, the upcoming K50 series will comes under three labels as were the previous K40-series. These will include the standard K50, K50 Pro and K50 Plus. Two of these models will rely on MediaTek's Dimensity CPUs, while the standard unit will be based on Qualcomm Snapdragon SoC.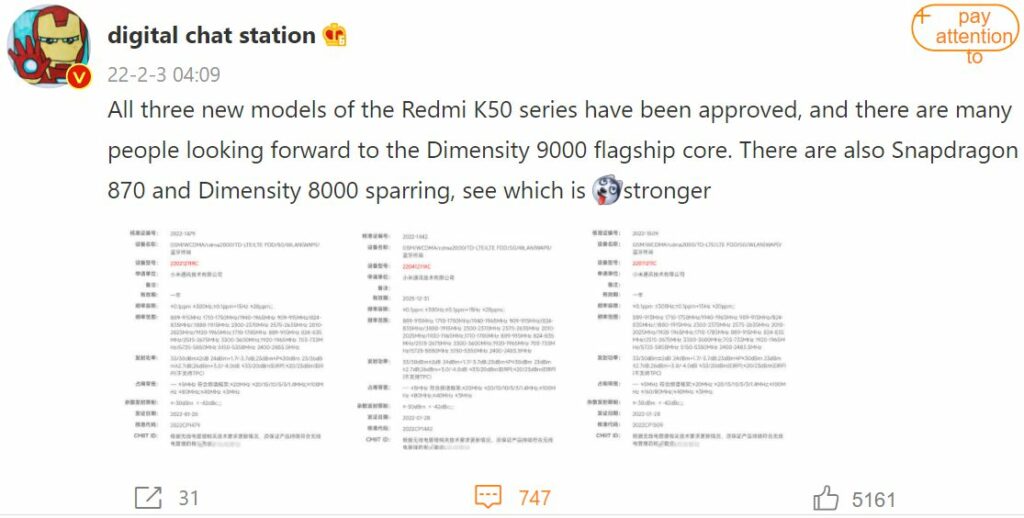 To be more specific, the standard K50 will run Qualcomm Snapdragon 870 CPU, the K50 Pro has MediaTek Dimensity 8000, while the K50 Pro Plus will rely on the more stronger Dimensity 9000. These are flagship MediaTek Dimensity 5G CPUs, and should not be confused with the existing Dimensity 800 and 900 series.
Recall that when the Redmi K40-series were introduced back in February of 2021, the Pro and Pro+ models were both powered by Snapdragon 888, which was Qualcomm's flagship CPU as the time.
But as of February 2022, Qualcomm's flagship CPU is Snapdragon 8 Gen 1, and these SoC is out-rightly missing from the CPUs as per the documentations (more in the images below). This is because a rumored Redmi K50 Gaming Edition is coming, and that model is tipped to run SD 8 Gen 1.
As per the images above, the model numbered 22021211RC should be the standard K50 with Snapdragon 870; the 22041211AC should be the Redmi K50 Pro running Dimensity 8000 SoC; while the 22011211C should be the K50 Pro Plus powered by MediaTek Dimensity 9000 SoC.
All these models are expect to offer ample internal storage with up to 12GB RAM, and should runs Google Android 12 with MIUI 13 out of the box. With all things being equal, Xiaomi's Redmi K50 series should go official this month, since the previous models were announced back in February of last year.