According to a report, the growth of smartphone shipments to Europe, the Middle East and Africa (EMEA) regions in Q1 of this year, 2021 has shown tremendous growth. With the total number of shipments crossing over 93 million smartphones in the first quarter of 2021, Samsung and Xiaomi smartphones were found to be a huge percentage. 
The EMEA region refers to regions within Europe, Middle East and Africa. This report was done by IDC and it showed that in quarter one of 2021 alone, there was a growth of over 20.9% for sales of smartphones in the EMEA region. In total smartphone sales, it was reported by IDC that the EMEA region brought in a total of 31.676 billion US Dollars in first 2021 quarter. This is a whooping 29% growth from last year's records. A sizable portion of the growth was found in Europe of over 33%.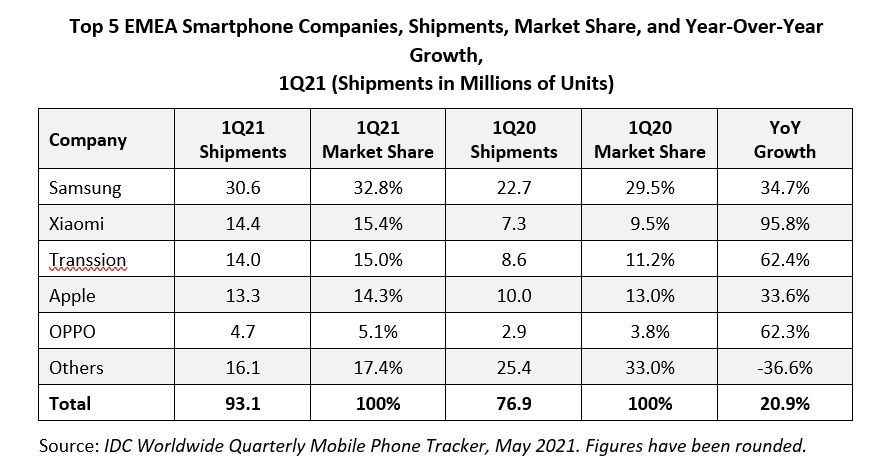 Samsung led the highest percentage for most patronized smartphone brand followed very closely by Chinese smartphone company, Xiaomi. The South Korean smartphone giant, Samsung alone, took home 32.8% of the sales in the first quarter and it hit a 34.7% growth in shipments from last year. The sales of Samsung phones hit 30.6 million units in Q1 of 2021. 
While the Chinese smartphone brand hit a total 15.4% of total sales in the EMEA region selling 14.4 million phone units. Xiaomi saw a huge jump in position from fourth in last year's report to second position. It flew past Transion and Apple smartphones.