Samsung has yet to officially announce the Galaxy S24 series, but leaks have already begun to circulate online. According to a Weibo and Twitter user @ibinguniverse and @TheGalox_, the Galaxy S24+ is shaping up to be a powerful and stylish device with a slim design.
As per the duo reports, the Galaxy S24+ will have a 2K resolution M13 flagship screen with a slim and lightweight design, measuring just 7.7mm. It will likely be powered by either the Snapdragon 8 Gen 3 for Galaxy or the Exynos 2400 processor, ensuring a smooth performance.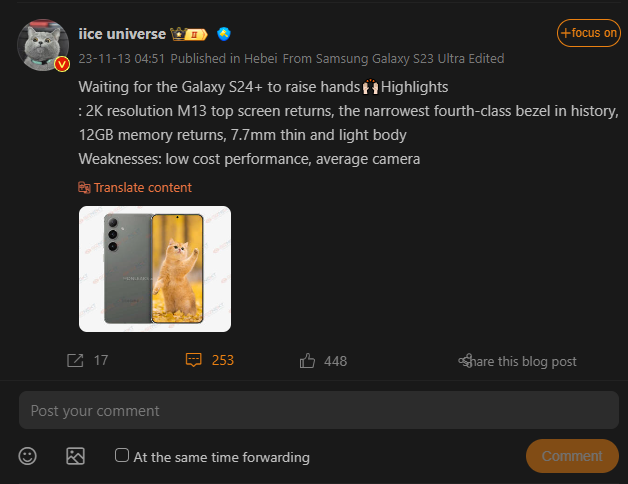 The Galaxy S24+ is also expected to have a versatile rear camera setup, with sensors boasting 50 million pixels, 12 million pixels, and 10 million pixels. This promises a versatile photography experience, with the ability to capture stunning images in a variety of lighting conditions.
Other notable features include a robust 4900mAh battery, 12GB of memory, and storage options of 256GB or 512GB. The phone is also expected to run on the One UI 6.1 system.
The Samsung Galaxy S24+ is expected to start at $999. While this may seem like a high price tag, the rumored specifications suggest that the phone is worth the investment.
It is important to note that these are just leaks and rumors, and Samsung has yet to confirm any of the information mentioned above.