Tecno is already preparing to kick off her smartphone announcements for the year 2022. Yes, we've already seen few new smartphone from the company this year, like the POVA 5G and the Spark 8C, but those were mere fall out from 2021 models that could not make before the close of the year. Now the company is already gearing up to push their major models for the year, and the POVA-series might be the kick starter.
A Tecno smartphone model LF7, which may probably debut as POVA 3 has just been certified on FCC.io. Checking up on GeekBench has also revealed that this same smartphone had previously registered it existence on the benchmarking platform dated back to the 11th of February.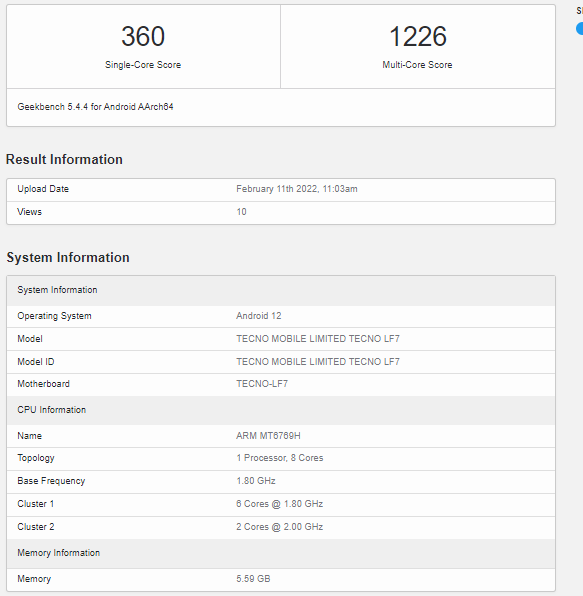 Recall that the current POVA 2 from Tecno is modelled LE7, while the initial POVA of 2020, had LD7 as it primary model number. If this sequence is anything to go by, then the LF7 might be the POVA 3 we've all been waiting for.
As per details retained by GeekBench the day the LF7 was tested, the brain power on the POVA 3 may likely come from MediaTek Helio G88 CPU, offering up to 6GB RAM. Most interestingly, the phone was tested running Google Android 12 out of the box.
Reports from FCC documents also shows that the LF7 (aka POVA 3?) will get it battery fueled by a homogenous 33W fast charger, but the actually battery capacity was not stated. But since the current model has 7000mAh battery, the same might be the inheritance of it successor.
Finally, the POVA 3 or Tecno's LF7 might come with refresh design on the rear, with Tecno's Panther Gaming Engine strapped on the rear. The camera module will get a retouch also, but the design language may generally remain the same, with the front having a dot-notch screen. Although, the actual display size, the final battery capacity, and camera specs are still unknown. More update to come on these.
Sources: One | Two