Tecno quietly released her Sonic 1 Wireless earbuds few weeks ago as the successor to the company's Bud 1 TWS. We had previously shared the news of it arrival in an older news article. Today's write up will be a full unboxing and review of the latest wearable audio equipment from Tecno. But before then, let run through some of it technical specifications.
Tecno Sonic 1 Wireless Earbuds key specifications
| | |
| --- | --- |
| Speaker Driver Type | 10mm (Neodymium) Diaphragm |
| Battery Capacity | 45mAh (each ear) / 800mAh charging case |
| Play Time | 6.5 hour per buds / 43.5 hours on case |
| Charging type | USB Type |
| Microphone Type | Four microphone system (two in each ear) with Call ENC |
| Connectivity | Bluetooth 5.3 |
| Supported Protocol | HFP; HSP; A2DP; AVRCP |
| Weight (with mic) | 43.85 Grams |
| Product size | 73.88 x 30.93 x 30.76 mm |
| Lighting | Blinking and breathing LED light (Connection status dependent) |
| Added features | IPX5 rat |
| Supported Application | AudPub App for iOS and Android |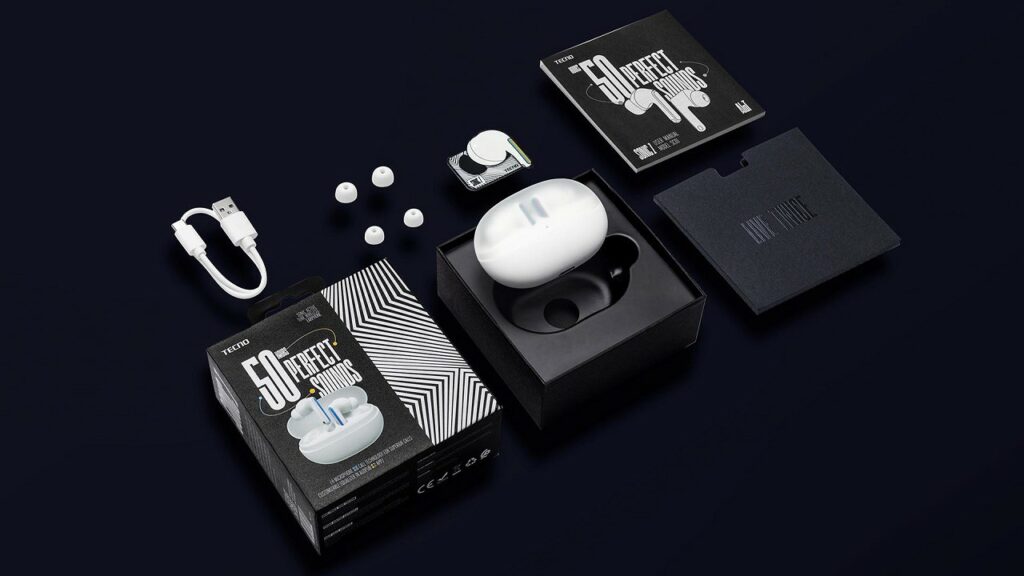 TECNO Sonic 1 Wireless Bluetooth Earbuds Unboxing
A beautiful box it is indeed. Probably the most premium TWS box I've seen. Inside the box, you are getting;
A TWS charging case
A pair of Tecno Sonic 1 wireless earbuds
USB Type-C charging cable and
Two addition pairs of small and large ear tips
To fully appreciate this review, you'll need to understand the market segment that Tecno is targeting, and what the key selling point is, that the earbuds is trying to offer to this market.
For the Sonic 1, the target is in the entry-level market seeing that it is priced under N20,000 in Nigeria, or around $49 USD. As for it offers though, Tecno is focusing on three key areas; battery endurance, style and audio quality.
TECNO Sonic 1 Wireless Bluetooth Earbuds Review
Design and Built Quality
Styling and simplicity is one of the focus of Tecno's Sonic 1. The earbud is design like an over-the-ear buds, but with a removable in-ear tips on both ears. Depending the mode you wish to listen to your music, you can either listen in quiet mode (ear-tips plugged-in) or in a transparent mode (without ear-tips).
Each ear of the Sonic 1 earbuds weighs 5 grams with the ear tip, or 4 grams without the ear tips. So surely a difference of 1 grams is not something you may notice in your ears with the ear tip off. But one difference you will surely notice is in the sound output and sound quality, more on that down the line.
As for design, the earbuds are curved either side, somehow into the ears. This curvature over-the-ear design, helps it remain in the ears even when the rubber tip is off.
Connectivity, audio quality and noise cancelation
Connectivity option on the Tecno Sonic 1 Wireless Earbud is handled by Bluetooth 5.3. Powering on, and connecting the Sonic 1 earbuds to your smartphone is a matter of just opening the case, and the buds will automatically go into pairing mode.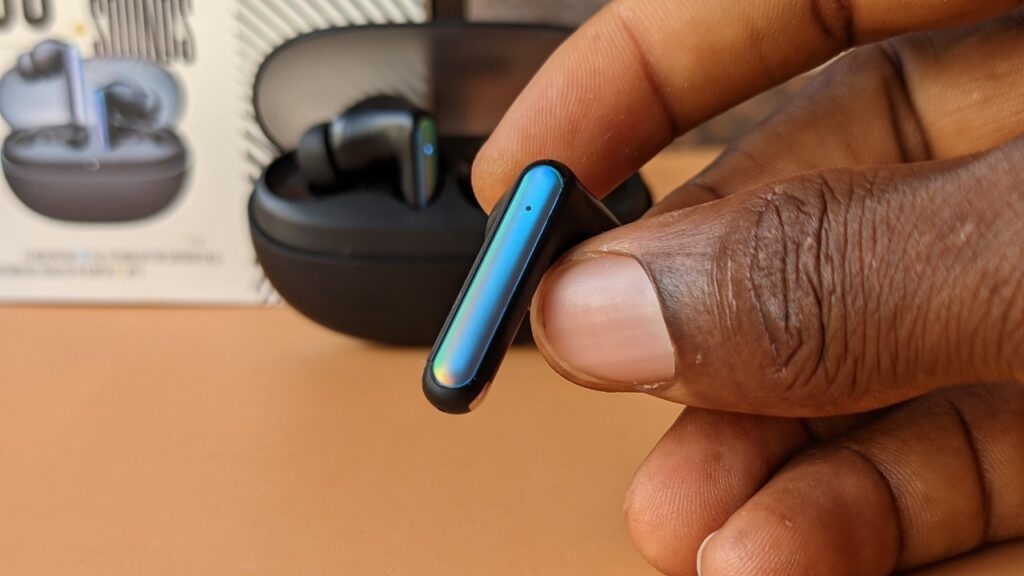 As you'd expect, 10 meters range comes standard on the buds. This is not a gaming earbuds, so latency wasn't that great. I could still notice some milliseconds between when an event is trigger on a display, from when the feedback hits my ears.
Talking about audio feedback, it is one of the areas the Sonic 1 stand out from the packs of affordable earbuds I have tried in recent times. Some times, I see my self wishing for more Base, a wish I usually grant myself with an advance audio players like PowerAMP.
Another issue I've noticed with the Sonic 1, is with the overall sound output. For me, it tends to be slightly low on some devices, even with the rubber ear tips on. This is probably because Tecno used just a 10mm audio driver, which falls behind some cheaper competitors, like the SuperEQ Q2 Pro, that has 12mm.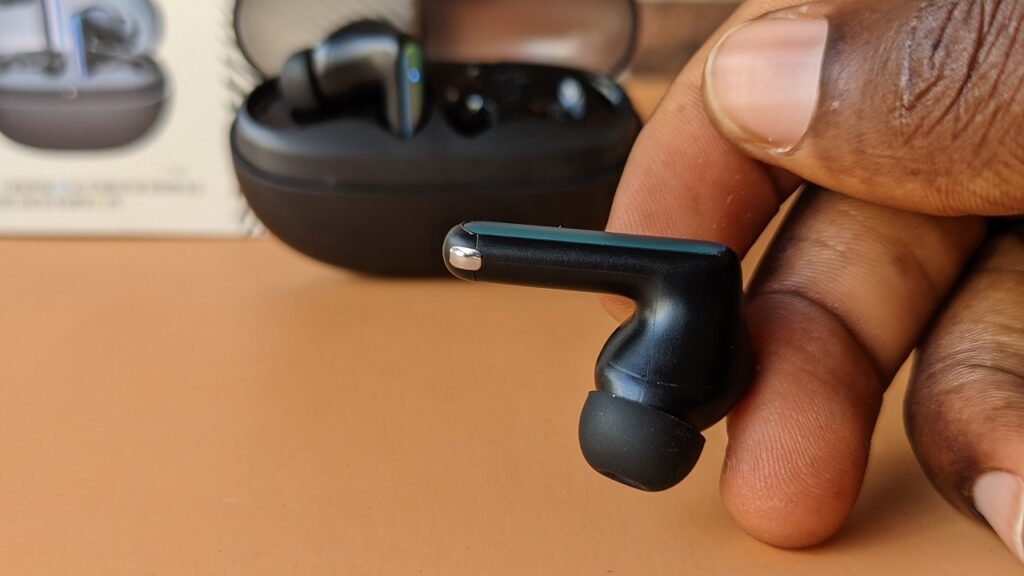 Other than the above, every other thing that has to do with sound quality on the Sonic 1 earbuds seems really optimized. Both Mids and Highs are really noticeable, resulting to a clean audio output.
Tecno and AudPub App
Tecno said the Sonic 1 Wireless earbud is compatible with AudPub App, available on both Google and iOS app store. We downloaded and tried the app. Once connected, the earbuds was recognized, but sadly, the app itself isn't user friendly. As a result, we could do much more than mere sound strength check check.
How about noise cancellation, does the Sonic 1 have one?
The Sonic 1 is actually advertised on some platforms as having noise cancellation. Well, that is partially true. You'll get noise cancellation only when on phone calls. Music playback does not offer noise cancellation. So, the Sonic 1 Wireless Earbuds does not have ANC.
Battery performance and charging case review
This is where the Sonic 1 is most interesting. I received my unit on the 27th of August. Currently writing this part of the review on the 20th of September, and while I've charged the earbuds multiple times, I've not charged the case once. Interesting right?
Yeah…That is because, while each ears of the bud has a 45mAh battery, the charging case has a whooping 800mAh battery. If you ask me, I'd wish the 45mAh battery within each ears lasts longer, besides, not that it has ANC. But the endurance rating of the charging case is incredible.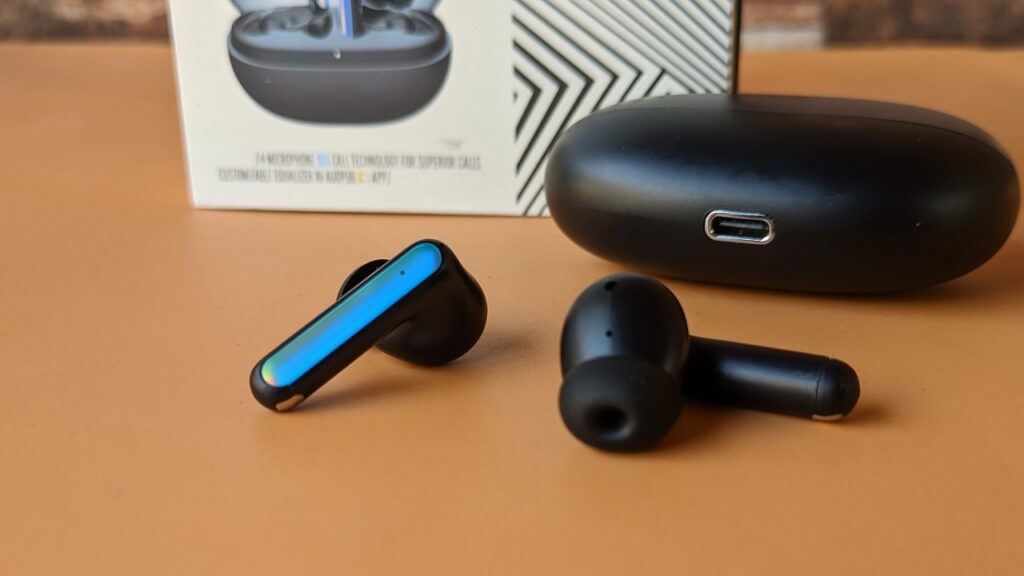 Just for comparison sake, each ears of SuperEQ Q2 Pro has a 55mAh battery, while the charging case is given just 370mAh battery. Compare that to the Charging case of the Sonic 1 that has 800mAh. So should you expect up to 50 hours collective usage time from the Tecno Sonic 1 Wireless earbuds? Yes, and even more, depending on your usage.
As for charging, while the earbuds feeds from the charging case, the charging case is refueled through a USB Type-C interface. I currently do not know how long it takes to refill the case, since I've charged it until now. But should there be any necessary update on this, it will be added later on.
Tecno Sonic 1 pricing and availability
You may find the Sonic 1 in some units of the Tecno Camon 19 Pro Mondrian Edition. It is also available in both online and offline stores. And if you are in Nigeria, you can pick a unit from Jumia.com.ng for about N19,999.