As we all know, the rugged smartphones in UMIDIGI are in the leading stage in the industry and are loved by a number of outdoor enthusiasts. The great news is their research team recently has worked to create a new rugged phone called BISON 2 series, the successor of its flagship BISON, which is officially launched today.
This new includes BISON 2 and BISON 2 PRO, the most significant difference between them is design and storage combos. BISON 2 is composed of a composite finish with a 6GB+128GB storage combination, and the other is an industrial-grade rubber material equipped with 8GB+256GB.
Significant performance – The processor that everyone is most concerned about, BISON 2 series is powered by MediaTek Helio P90, an octa-core with a CPU frequency of up to 2.2GHz, it has extraordinary processing capabilities and can respond and handle multitasking quickly. It designs a 6.5-inch large dot-in display, combined with 2400*1080 high resolution for clearer and finer details, which is undoubtedly a great advantage of BISON 2 when consumers are pursuing a higher screen visual experience.
In terms of camera system, BISON 2 series houses an AI triple camera module on the rear panel, includes a 48MP primary shooter, a 16MP ultra-wide-angle, and a 5MP macro. It has a hole-punch notch on the front for a 24MP selfie. Relatively speaking, it is basically a medium-level setup in the entire rugged smartphones market, opening up new horizons for outdoor photography.
In addition, the new series is employed with a large 6150mAh battery and supports 18W fast charging. Running on Android 12, the most advanced Android operating system available is smoother, more secure, and more private. Besides, it also supports multi-function NFC, convenient for daily.
Of course, it is a rugged device, which supports IP68, IP69K & MIL-STD-810G, and can be waterproof, drop-proof, and shock-proof. What's more, it allows you to enjoy music or radio without restraint due to supports wireless FM, with no need for headphone cable or data.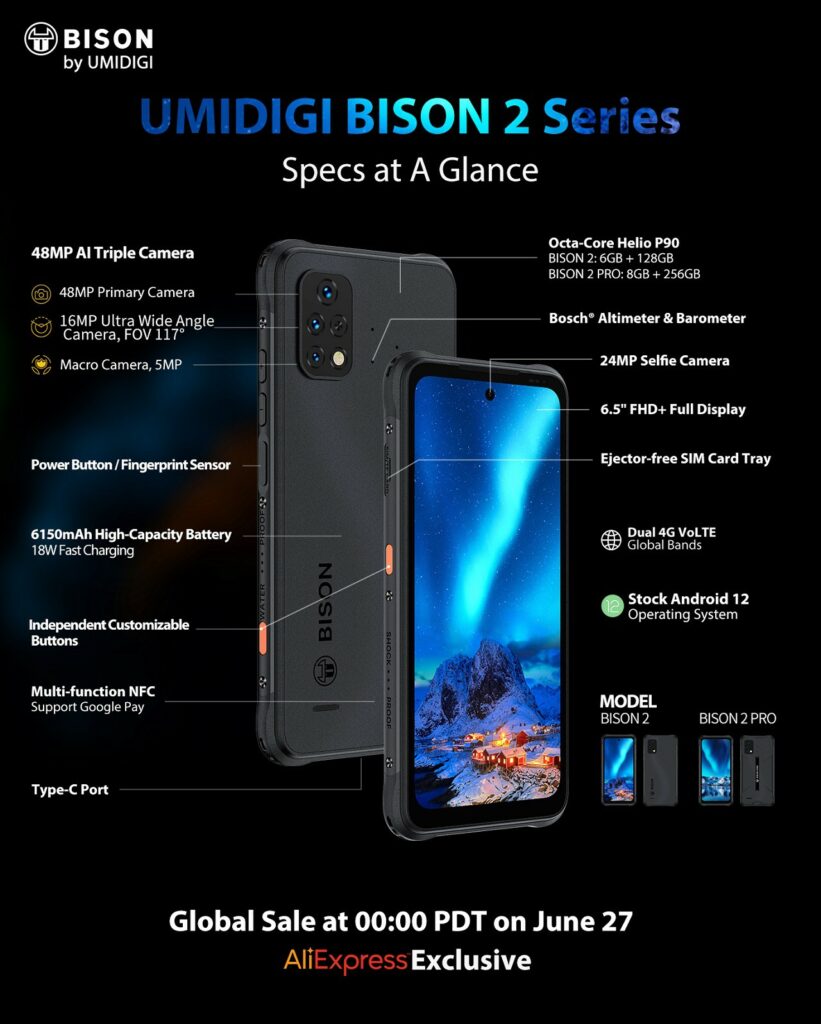 Time and Prices About Global Sale
Meanwhile, the company has confirmed the new series will go on its first sale on June 27. About its price, BISON 2 starts at US$169.99 with 6GB + 128GB on the first sale, and BISON 2 PRO is for US$199.99 with 8GB + 256GB.
Join Global Giveaway
In order to warm up the sale of the BISON 2 series, UMIDIGI has started a new giveaway on their social Facebook. By the way, the giveaway on their official website is still in progress. If you are interested, you can join in and learn more on UMIDIGI's official website.