UMIDIGI has officially unveiled the specifications and features of it G1 Tab Kids and the G5 Mecha rugged smartphone. As the name suggests, the G1 Tab Kids will be children-focused tablet, while the G5 Mecha will be a fully functional rugged smartphone targeted at extreme outdoor folks.
UMIDIGI G5 Mecha
The Mecha aims to strike a perfect balance between durability and aesthetics, catering to consumers who value both ruggedness and style. Following the success of the BISON series, UMIDIGI has focused on creating slim and lightweight rugged phones with the Mecha series.
Unlike traditional bulky rugged phones, the Mecha series combines a sleek and lightweight form factor with three-proof functions: waterproof, dustproof, and shockproof capabilities. This unique combination meets the diverse needs and preferences of different individuals.
The G5 Mecha features a spacious 6.6-inch HD+ display, offering a wider and more immersive viewing experience compared to most smartphones. The device is equipped with a high-resolution 50 MP rear camera and an 8 MP front camera, enabling users to capture stunningly clear photos.
Under the hood, it boasts the powerful Unisoc T606 octa-core processor (2xA75+6xA55, 1.6GHz), which ensures faster data processing, higher performance, and lower power consumption.
With 8GB of RAM, 8GB of extended RAM, and 128GB of internal storage, users have ample space for their data. The device also boasts a long-lasting 6000mAh battery, providing worry-free power throughout the day.
UMIDIGI has enhanced the screen protection of the G5 Mecha with a stronger Corning® Gorilla® Glass 5, making it more resistant to drops and scratches.
The device's robust design includes a thickened U-shaped rubber corner for incredible shock resistance, double-shot molding TPU for added protection against drops, and an aluminum alloy side frame fixed with screws, reducing the risk of damage.
It is IP68, IP69K, and MIL-STD-810G certified, making it fully prepared to tackle rugged challenges. Additionally, the G5 Mecha is attractively priced at just $107.99, offering a significant discount off the original price.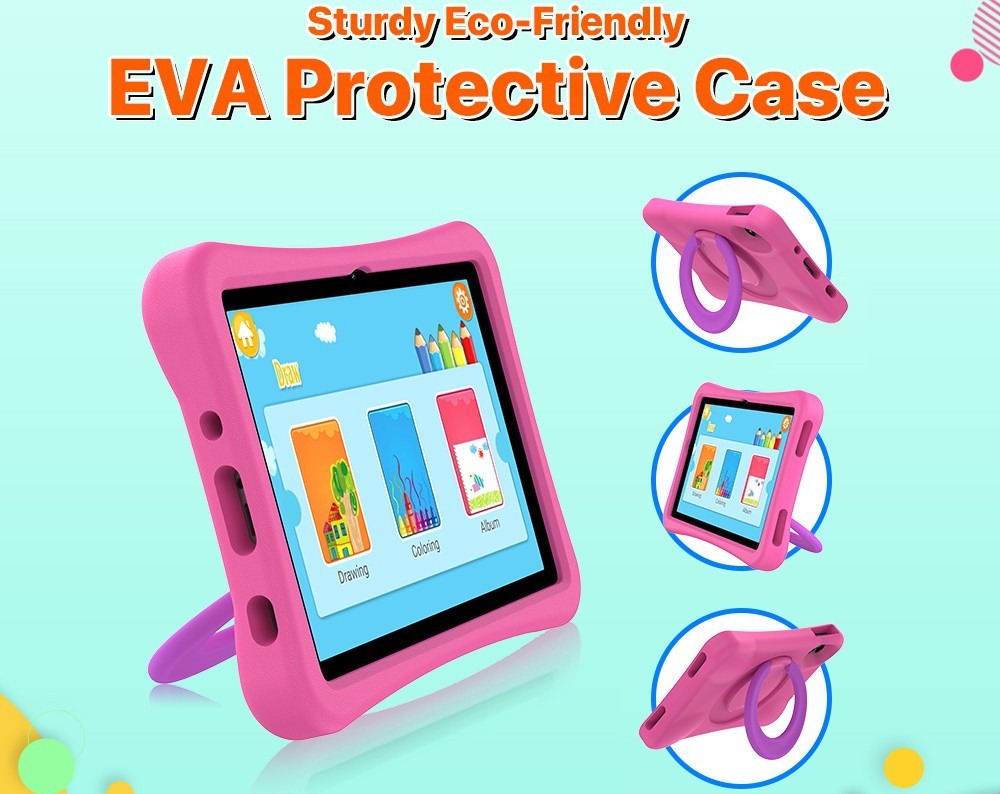 UMIDIGI G1 Tab Kids
UMIDIGI has also introduced the G1 Tab Kids, their first-generation kids tablet. Featuring a 10.1-inch HD+ display with a resolution of 1280×800 pixels, the tablet is powered by the RK3562 quad-core processor and offers 4GB of RAM, 4GB of extended RAM, 64GB of internal storage, an 8 MP rear camera, an 8 MP front camera, and a 6000mAh long-lasting battery.
With WiFi 6 connectivity, the G1 Tab Kids ensures faster loading times, seamless gameplay, and faster data transmission. The all-enclosed non-toxic EVA protective case provides 360-degree protection, preventing damage from falls and collisions. It also offers an easy hand-grip and versatile backstand for convenient use.
The G1 Tab Kids includes a theme-tailored app for kids and easy-to-use parental control, providing a safe and educational digital experience. Priced at just $87.99, it offers excellent value for money.
UMIDIGI is currently hosting a global giveaway, giving fans a chance to win three units of the upcoming G5 Mecha and G1 Tab Kids. To participate and have a shot at getting one for free, interested individuals can visit the provided link.