Recently, WhatsApp has started receiving end-to-end encrypted conversation backups from Facebook. This new development on WhatsApp privacy is applicable on both iOS (Apple) and Android devices. Although, there has been an encrypted service for chats on WhatsApp but this one boils down to the backup system.
Those using the latest WhatsApp version might have seen this new development from Facebook. Initially, WhatsApp uses Google Drive or iCloud backup system which is not really safe for the user and that is because your conversations can be someday sent to the government or law enforcement agencies if needs be.  But with the help of this new end-to-end WhatsApp cloud backup from Facebook, users can now generate up to 64-digit encryption key or a password that can secure their privacy.  In a nutshell, without the user's 64-digit encryption key or a password, no one would be able to access their backups.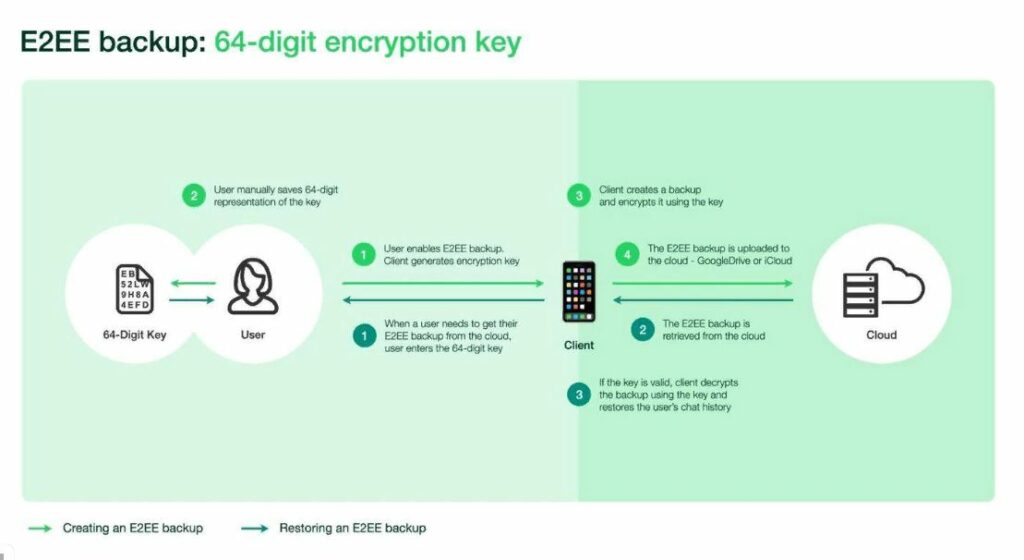 This is a marvelous relief opportunity from Facebook to WhatsApp in terms of the user's privacy.
How To Turn On End-to-End Encrypted Backup On WhatsApp –
If you so desire to turn on the new end-to-end encrypted backup service from Facebook to your WhatsApp, follow the steps below.
Open WhatsApp.
Navigate to the Settings menu.
Go to Chats>Chat Backup>End-to-End Encrypted Backup.
Click Continue to follow the next few prompts to enter your preferred password.
Click the Done button, then wait for WhatsApp to finalize your end-to-end encrypted backup request.
Just in case you wish to remove this Backup system, you can still do that by following the few steps above to cancel or remove the End-to-End Encrypted Backup system. Technically, it is like a reverse of the enabling process.