Xiaomi has unveiled its latest addition to the Xiaomi 13 series, the Xiaomi 13 Lite smartphone. This is coming in as part of the company's global launch event that took place at the ongoing during a global announcement event in MWC 2023. The smartphone is similar in features to the Xiaomi Civi 2 model sold in China, and it is already available for purchase globally.
The Xiaomi 13 Lite boasts a Qualcomm Snapdragon 7 Gen 1 chipset, which positions the smartphone as a solid middle-class device. It has 8 GB of operational memory and comes with either 128 or 256 GB of permanent memory, but lacks support for memory cards, unlike the Civi 2 model, which also offers a 12+256 GB variant.
The device has an AMOLED screen with a diagonal of 6.55 inches and a standard resolution of 1080×2400 (402 ppi) with a high refresh rate of up to 120 Hz. However, the screen has a noticeable cutout at the top to accommodate the dual front camera, which consists of a 32 + 8 MP setup. The second module serves as a depth sensor, unlike the Civi 2 model, which has a 32 + 32 MP dual front camera with a wide-angle module.
On the rear, the Xiaomi 13 Lite features three cameras with a 50 + 8 + 2 MP setup, comprising a main, wide-angle, and macro lens. The main camera sensor is a solid Sony IMX766, but unfortunately lacks optical image stabilization. The Civi 2 has a similar camera setup, but with a more impressive 20 MP wide-angle lens.
Other notable features of the Xiaomi 13 Lite include NFC (not available in all markets), a hidden under-screen fingerprint scanner, a sixth Wi-Fi, an IR blaster, and Type-C. However, the device lacks a standard audio output.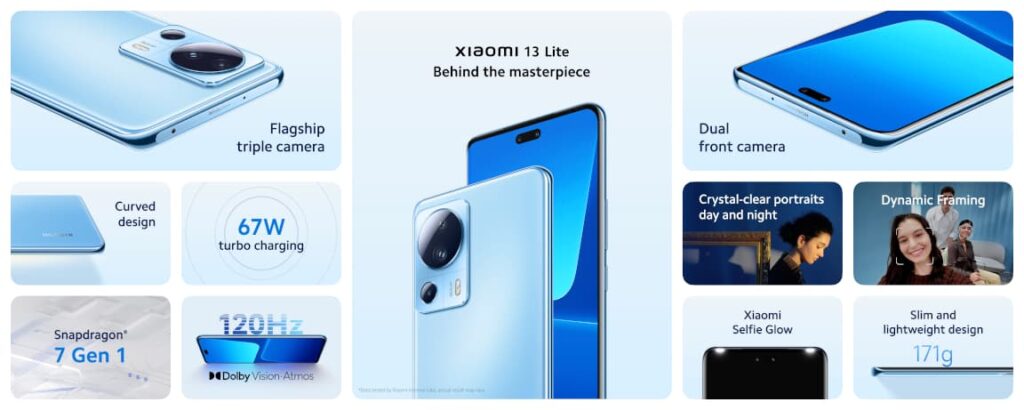 The Xiaomi 13 Lite is available for purchase on AliExpress for $449 (₽35,000) and $499 (₽38,900) for the 8+128 and 8+256 GB versions, respectively. In comparison, the Xiaomi Civi 2 can be purchased in China with the same amount of memory for ¥2399 (₽26,000, $348) and ¥2499 (₽27,100, $363), respectively.