Blackview BV6600 Pro is coming soon, and when launched, this might be the cheapest thermal imaging technology device on the market. The device support FLIR® and a gigantic 8580mAh battery, while performing as a solid troubleshooting tool for a wide range of problems.
Blackview BV6600 Pro key specs.
5.7 inches HD+ display

MediaTek Helio P35 octa-core processor

4GB RAM 64GB ROM

Samsung

®

16MP rear camera

Fingerprint sensor & power button 2-in-1 key

GPS & GLONASS & Beidou & Galileo

Multi-function NFC  

Global LTE bands

Dual 4G VoLTE  

Doke 2.0 OS, based on Android 11
Blackview BV6600 Pro Key selling points.
Here are a brief overview of some techs bundled into this new Blackview rugged smartphone.
Thermal by FLIR®:
Blackview BV6600 Pro is the third phone with an integrated FLIR® thermal camera technology, leveraging the success of the predecessors with much more friendly pricing. 
Powered by an 8580mAh battery beast:
In addition, the BV6600 Pro is equipped with a much bigger 8580mAh battery capacity, which is 53% above average capacity, so the battery life is quite impressive with standby time touching a whooping 430 hours on both 4G and WiFi, and up to 22 hours of continuous web browsing and gaming.
Like the predecessors, Blackview BV6600 Pro is equipped with an integrated FLIR Lepton® thermal imaging camera, which lets you see and measure heat. The thermal camera includes FLIR's MSX® technology, which merges thermal and visible images to achieve the industry's highest level of image detail and information.
Useful thermal imaging applications:
The device is also given MyFLIR® application that enables detailed image analysis and reporting right from the phone. It also give you a complete new look into your immediate world. This is because the thermal image is formed completely based on the heat dissipated by the object, instead of the visible color.
Since the thermal camera is integrated into the phone, everything you capture can be immediately shared and streamed to social media. With this alien-like vision, it can be an exciting addition to your social media lifestyle.
For outdoor enthusiasts, the thermal camera of the BV6600 Pro is useful for enhancing personal safety. For example, it can help avoid danger by detecting wildlife, and find lost party members, even on the darkest night, and everything in between.
Military-grade rugged design
Another important feature of the BV6600 Pro worth nothing is its toughness. With a military-grade rugged design, it's built to take a beating. It can survives being dropped, falling in water, and being covered in dust or sand, making the phone his is a great asset for people who work on building sites, or love rock climbing or kayaking.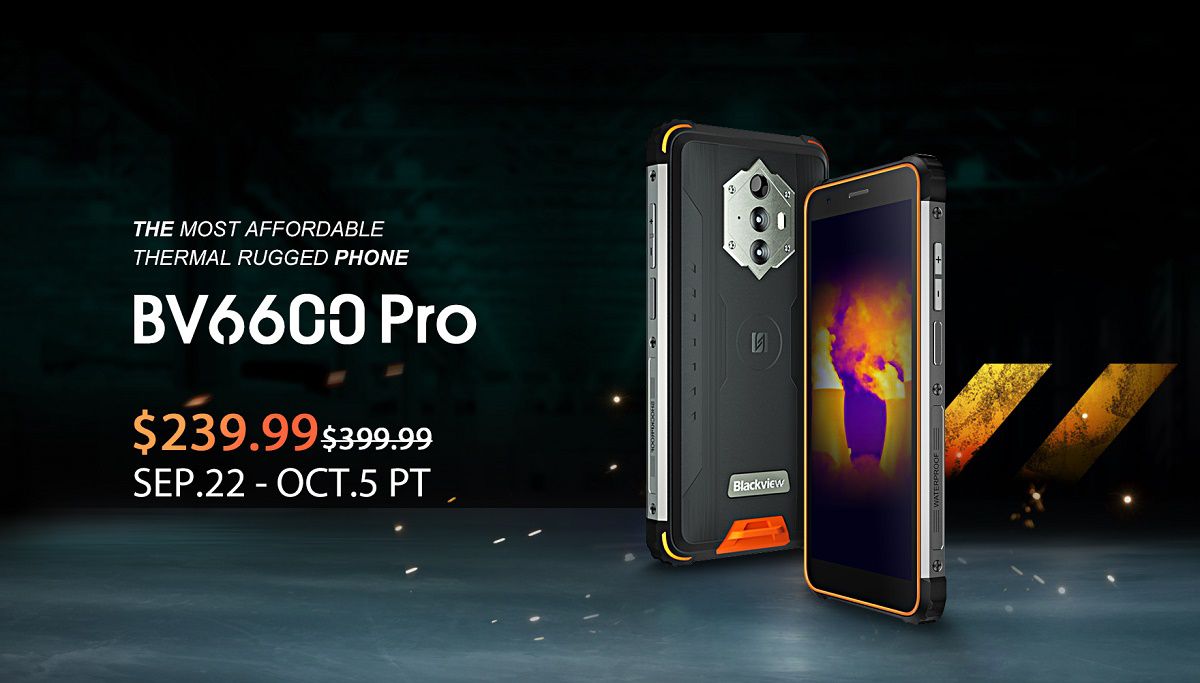 With a premiere sale on September 22nd, the BV6600 Pro has an early bird offer on the table to offer a $160 off discount — get one for only $239.99 — until October 5 PT. Click here to buy one and to learn more about the phone. The company also has a non-thermal model which is even cheaper, available here.