TCL TABMAX 10.4
TCL TABMAX 10.4
Display

10.36-inch 2K screen

Camera

13 MP Main/ 8 MP front

Memory

6GB RAM with 256GB ROM

Platform

Snapdragon 665 / Android 11
Overview
The TABMAX 10.4 is the latest Android tablet from TCL. This model is powered by Snapdragon CPU, and should not be confused with the 10 TABMAX of 2020 which was powered by MediaTek MT8788 CPU. The new TABMAX 10.4 sports a 10.36-inches display with 2000 x 1200 pixels resolution, resulting to about 225 pixels per inch.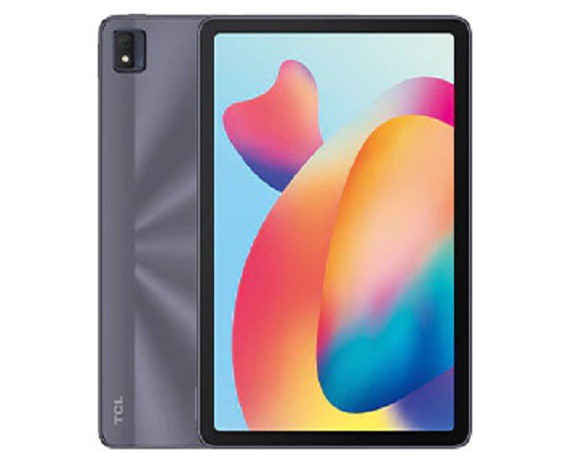 Powering the TABMAX 10.4 is the aforementioned Snapdragon 665 CPU from Qualcomm. The Chipset has 8-core CPUs, maxed at 2.0GHz, along with Adreno 610 GPU, 6GB RAM and 256-Gigs of built-in storage, expandable up to 256GB via external SD-card.
On the rear of the Tablet, there is a single 13-megapixel main lens with an LED flash, while the front has an 8-megapixel lens for selfie.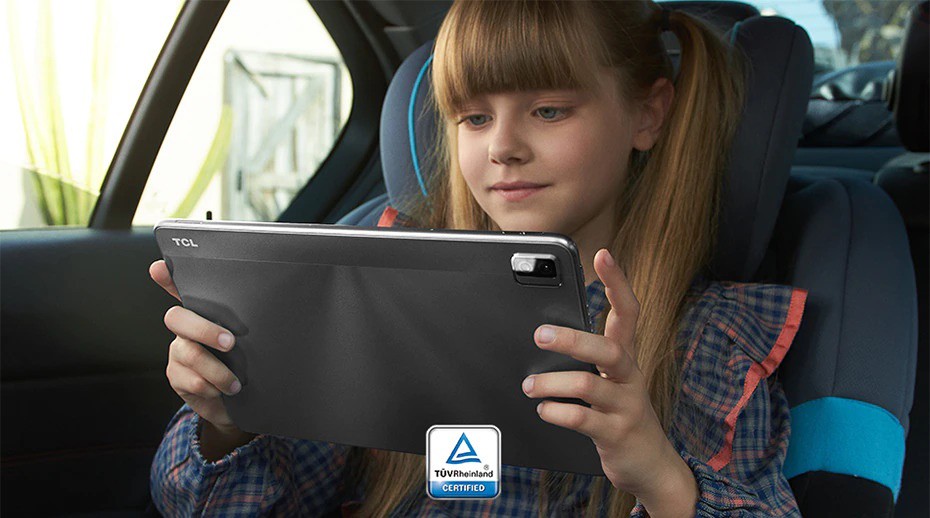 The device comes in a 7.65mm body within which there is a fairly large 8000mAh battery with 18W fast charging. All connectivity options are available, except for the absence of space for SIM card, hence, the tablet is a WiFi-only version. The full specs of TCL TABMAX 10.4 is contained in the table below.
Full Specifications
LAUNCH
Also Known As

This refers to an alternative name of a device in another market, or the model numbers by which the device is known.

-
-
BODY
Dimensions

Dimensions typically refers to the measurements or physical size of a device. It includes various aspects such as length, width, height, and sometimes thickness or depth, presented in units like millimeters (mm) or inches (in).

247.8 x 157.56 x 7.65 mm

Weight

Weight refers to the mass or heaviness of a device, usually measured in units like grams (g) or ounces (oz). It indicates how heavy the device is.

470 grams

SIM Type

SIM Type refers to the form or size of the Subscriber Identity Module (SIM) card that a device requires.

N/A, WiFi-Only
DISPLAY
Display Type

Display Type refers to the technology used in the screen of a device. It describes the specific method or technology employed to produce the visual output.

IPS LCD capacitive, 16M colors with Pen Support

Size

Display size refers to the physical dimensions of the screen on a device, typically measured diagonally in inches or centimeters. It represents the length of the diagonal line from one corner of the screen to the opposite corner.

10.36 inches, (78.7% screen-to-body ratio)

Resolution

Display resolution refers to the number of pixels that a screen can display horizontally and vertically. It's often represented as the total number of pixels in width by height.

2000 x 1200 pixels, 16:9 ratio (225 ppi density)
PLATFORM
Operating System

An operating system (OS) is the software that manages a device's hardware and software resources, providing services for programs to run and enabling users to interact with the device. It acts as an intermediary between users and the device hardware, facilitating tasks like file management, memory allocation, and device communication.

Android 11

Chipset

A chipset is a set of electronic components in a computer or other device that manages data flow between the processor, memory, peripherals, and other hardware components. It serves as a communication hub, coordinating the interactions between different parts of the computer system.

Qualcomm SDM665 Snapdragon 665 (11 nm)

CPU

The CPU, or Central Processing Unit, is the primary component of a computer responsible for executing instructions from programs. It performs calculations, carries out logical operations, and manages data, acting as the "brain" of the device.

Octa-core (4x2.0 GHz Kryo 260 Gold & 4x1.8 GHz Kryo 260 Silver)

GPU

A GPU, or Graphics Processing Unit, is a specialized electronic circuit designed to accelerate the creation of images on a screen. It's optimized for handling complex graphical computations and rendering, particularly for gaming, video playback, graphical design, and other visually intensive tasks.

Qualcomm Adreno 610
MEMORY
RAM + ROM

RAM, or Random Access Memory, is used by the computer's operating system and software to temporarily store data that is actively being used or processed. It's volatile memory, meaning it loses its stored information when the power is turned off. ROM, or Read-Only Memory, is a type of memory that retains its stored data even when the power is turned off. It contains permanent instructions that the computer uses during startup or booting processes.

6GB + 256GB

Card Slot

A memory card slot is a hardware feature commonly found on various devices such as cameras, smartphones, tablets, and some computers. It's a slot or port designed to accommodate various types of memory cards, including SD (Secure Digital), microSD, CompactFlash, Memory Stick, and others. Users can insert memory cards into these slots to expand storage capacity or transfer data between devices.

Yes, up to 128GB via microSD card
MAIN CAMERA
Camera Type

This refers to the camera setup on a device. It could be single, dual, triple, or even more.

Single Lens

Camera Sensor(s)

A camera sensor is the electronic component in a digital camera that captures incoming light and converts it into an electronic signal. It's the core element responsible for recording images.

13-megapixel single camera with F/1.8 aperture

Camera Features

Camera features encompass a range of functionalities and capabilities offered by a camera, which can vary based on the device's type, model, and intended use. Some common camera features include; Optical Image Stabilization (OIS) High Dynamic Range (OIS), Burst Mode, etc.

Autofocus, Digital zoom, HDR, Touch focus, Face detection, LED flash

Video Resolution

Video resolution refers to the level of detail in a video image and is typically measured in terms of pixels. It represents the number of distinct pixels that can be displayed in each dimension. Common video resolutions include; HD, FHD, 2K, 4K, and 8K.

1080p@30
SELFIE CAMERA
Camera Type

This refers to the camera setup on a device. It could be single, dual, triple, or even more.

Single Lens

Camera Sensor(s)

A camera sensor is the electronic component in a digital camera that captures incoming light and converts it into an electronic signal. It's the core element responsible for recording images.

8 MP, f/2.2

Camera Features

Camera features encompass a range of functionalities and capabilities offered by a camera, which can vary based on the device's type, model, and intended use. Some common camera features include; Optical Image Stabilization (OIS) High Dynamic Range (OIS), Burst Mode, etc.

Fixed focus

Video Resolution

Video resolution refers to the level of detail in a video image and is typically measured in terms of pixels. It represents the number of distinct pixels that can be displayed in each dimension. Common video resolutions include; HD, FHD, 2K, 4K, and 8K.

1080p
CONNECTIVITY
USB

USB stands for Universal Serial Bus, a standard interface used for connecting various devices to a computer or other compatible host device. USB ports come in different shapes and sizes (such as USB-A, USB-B, USB-C) and have evolved over time to offer increased data transfer speeds and power delivery capabilities.

USB Type-C

Bluetooth

Bluetooth is a wireless technology standard used for exchanging data over short distances between devices. It enables devices like smartphones, headphones, speakers, keyboards, and other peripherals to communicate and transmit data without the need for physical wired connections.

Bluetooth 5.0, A2DP, LE

Wi-fi

Wi-Fi is a wireless networking technology that allows devices to connect to the internet and communicate wirelessly within a local area network (LAN). It uses radio waves to transmit data between devices, such as computers, smartphones, tablets, and other devices equipped with Wi-Fi capabilities.

Wi-Fi 802.11 a/b/g/n/ac, dual-band, Wi-Fi Direct, hotspot

NFC

NFC stands for Near Field Communication, a short-range wireless technology that enables devices to communicate with each other when they're brought into close proximity, typically within a few centimeters. NFC allows for contactless data exchange between devices, facilitating various functions like contactless payments, data transfer between smartphones or other compatible devices.

GPS

GPS stands for Global Positioning System, a satellite-based navigation system that provides location and time information to users anywhere on or near the Earth. It uses a network of satellites orbiting the Earth to accurately determine the precise location of a GPS receiver or device.

Yes, with A-GPS, GLONASS, BeiDou
SOUND
Loudspeaker

A loudspeaker is an electroacoustic transducer that converts electrical signals into sound. It consists of various components like a diaphragm, voice coil, magnet, and enclosure.

Yes: Dual speakers

Speaker Location

This simply refers to where the loudspeaker is located on a device. Some common placement includes the rear, basement, sides, and even at the top or within the earpiece grill.

Side mounted

Audio Jack Type

Audio jacks come in different types, each with specific sizes and functionalities. Some common ones include a USB-C audio port, a 3.5mm jack, 6.3mm jack.

Yes; 3.5mm
OTHER FEATURES
Sensors

Smartphones and mobile devices incorporate various sensors that enable them to interact with their environment and provide enhanced functionalities. Some common sensors found in these devices include; an accelerometer, gyroscope, compass, proximity sensor, etc.

Fingerprint (side-mounted), accelerometer, proximity, compass

Java Support

Java support refers to the compatibility and ability of a device or software platform to run Java-based applications or programs. Java is a widely used programming language known for its platform independence, allowing applications written in Java to run on various devices and operating systems without requiring recompilation.

No

Box Contents

This refers to items or accessories included in the box of the smartphones. That is items that are available in the box from the device manufacturer.

Charging Brick / USB cable
BATTERY
Battery Capacity

Battery capacity refers to the amount of electrical charge a battery can store, typically measured in milliampere-hours (mAh) or ampere-hours (Ah). It represents the total amount of energy the battery can hold and consequently determines how long a device can operate before requiring recharging.

Non-removable Li-Ion 8000mAh battery
User Reviews and Opinions
Disclaimer Note