When it comes to video editing, creators and business owners have just two options in a broader sense, and that is to either resort to offline or online video editing tool. The first option have been around for a very long while now, and there are already establish tools to that regard, like Adobe Premiere Pro etcs.
But online video editing tools on the other hand, seem like a new kid on the block, and even though there are a handful of companies already offering this form of video editing option, InVideo is one of such few options, but with plenty of prospects. This article will be a review, and an overview of some of key things you need to know about InVideo.io
What is InVideo, and how does it work?
InVideo is an online video editor which lets you create high-quality videos without any editing experience. Unlike offline tools like Adobe Premiere Pro mentioned above, Invideo has a plethora of preconfigured templates to help you create content in less than five minutes. 
That does not mean there is no room for expert or Pro creators. If you are an experienced editor and want to build videos from scratch, the tool still offers you a blank template to showcase your expertise, while retaining entry-level creators who simply want to create/edit videos for their brands on the fly.
InVideo key features overview
Aside from the obvious and general usage of InVideo, which is for online video editing, there are few other key features you are getting with this tool, that are you may not find with offline, or other online video editing tools.
Automatic blog post to Video features
As the name implies, this tool simply enables you to convert your traditional blog or article posts into videos. While many other video editing tools also offer this feature, InVideo has the best visual effects in text-to-video content.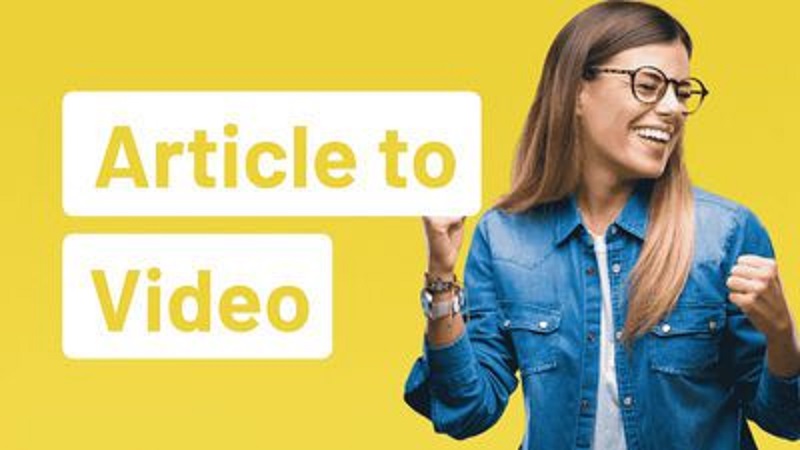 Dedicated template for each social platforms
Hardly will there still be anyone in our world today who is ignorant of social media platforms like Facebook, Instagram, Tiktok, Twitter etcs. All of these platforms support video contents, and each of them comes with a unique aspect ratio and video length specifications. 
InVideo has dedicated templates for each platform and video type. For example, you will find video templates for LinkedIn Newsfeed videos, Facebook Newsfeed Videos, Facebook Carousel Posts, Instagram Stories, and many more.
Ease of navigation and editing
This is probably one of the top unique features of InVideo. The platform has an interactive UI that smoothens the video creation journey. Interestingly, it is a cloud-based editor, and all changes that you make will be saved in real-time, eliminating the chances of lost or damaged work progress.
The Top 11 Pros or advantages of using InVideo
The key features highlighted above can go on and on, but in a simple summary, here are other reason and advantages, or Pros of using InVideo.io
Multiple members collaboration
The InVideo video editor allows multiple members of a team to collaborate on the video creation. All the changes that you make to a video file are saved in real-time. This is especially useful for marketing teams that are keen to leverage the power of video. 
Faster overall video creation process
With InVideo, you have unmatched precision while working on the speed alteration of your clip. You can increase the pace of a video or make it into slow motion with minimal effort. InVideo also offers high precision during the trimming and merging.
collages, masks, and meme videos
InVideo has several enhancement options for creating collages, masks, and meme videos. You also have the provision of altering your content exclusively for social media platforms such as Twitter or Instagram.
Multiple font and quote templates
For those who are keen on adding textual matter to their videos, InVideo offers diverse options of text overlays. You also have several font quote templates, font styles, size, colors, etc.
Above 5,000 video templates
InVideo offers some of the widest template options. There are more than 5000 templates. You don't need to search the entire template in order to find what suits you best since the templates are arranged into different categories.
Content for gender or age specific demographics
The tool has hundreds of theme-based visual effects, shapes, and thousands of stickers which makes it super easy when creating video content that is targeted at younger demographics, or a specific gender.
Multiple language support
With InVideo, you are not restricted to just one singular language, but you can create videos in more than 70 languages. That way, you can design your video content to cater to vernacular demographics.
A social community to learn from.
If you are just starting with video making, the importance of social media media communities can not be overemphasized. By using InVideo, you get free access to InVideo.io's active Facebook community, which will guide you through the finer nuances of the tool, and you will pick up tips on making the most of InVideo.
Endless access to copyright-free multi-medias
Every content creator knows the implication of downloading and using medias from Google.com, especial those you don't have the right to us. With InVideo, you have access to thousands of copyright-free multi-medias such as video clips, music and images.
Dedicated 24/7 live chat support
InVideo offers 24X7 dedicated chat services for all its users. That way, you do not have to worry about getting stuck with a glitch in the tool while in the middle of a complex project.
Web and mobile platform support
Link Canvas.com which was not working on mobile before, but later introduced mobile support, InVideo was not also available on mobile before. However, considering the growing users of mobile device InVideo can now be used on Android devices. 
The cost of using InVideo (Pricing)
InVideo gives you a good value for money, and you can choose a plan depending on your editing frequency. Generally, the platform has three (3) pricing levels:
Free

Business and

Unlimited
Note that each of these plans and billed annually. Monthly billing is available as well, but you'll be paying twice the cost.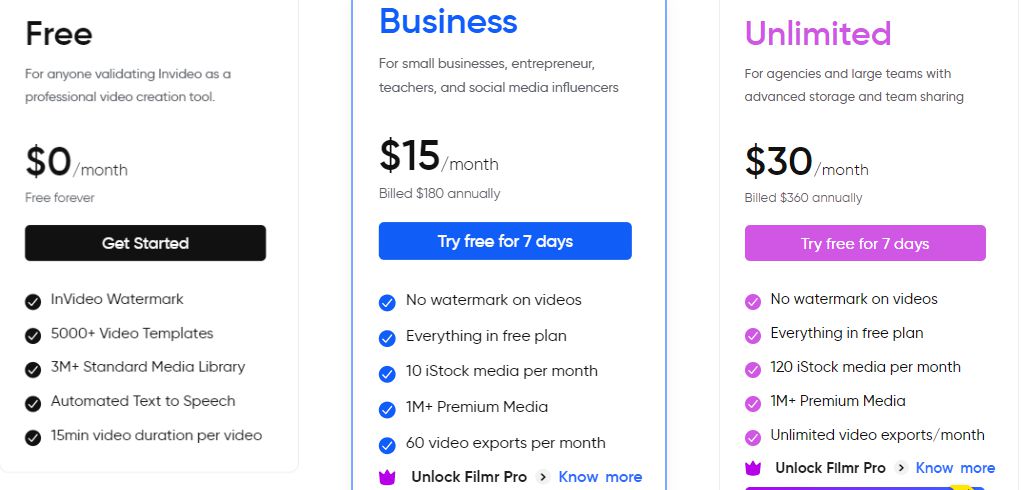 Free plan is for newbie editors who are keen to learn the basics of video editing. There are ample templates on the free version, and beginners can upskill, and upscale their plans when need be.
But the free plan has it own cons, as it come with a watermark slammed on your video footage. So if you intend to use InVideo for editing videos for your business, the Business plan is the most recommended option.  
Aside being watermark free, you can create videos up to 15 minutes long and you can export up to 60 clips every month. The business plan, which is currently priced at $15 per month, lets you collaborate with unlimited team members, and you have reseller rights on your video contents as well. The plan also gives you automated text-to-speech conversion, 10 iStock medias per month and access to over 1-million premium medias.
Larger businesses are highly active on their video-making initiatives, and 60 clips per month will not be enough, hence the business plan obviously becomes non sufficient for these categories of folks. Such users can opt for the unlimited plan at $30 per month, which gives you access to every thing in business plan, and the ability for unlimited video exports per month.
The Cons or disadvantages of using InVideo
It is no doubt that InVideo has a lot of feature sets for an online video editor, but it is not without it own constraints either. Here are four disadvantages of InVideo you should be aware of;
Free version slams watermark on exported videos.

Altering template selection means you'll have to redo the content from scratch.

Exporting videos takes a little longer time, especially when the footage itself is long.

Finally, the platform is currently not available on iOS devices
Is this the best online video editing tool of 2021?
So back to the question in the title; either this is the best online video editor in 2021 or not. First, you need to have this in mind that, everything that has advantages equally has disadvantages, of which InVideo is not an exception.
So after evaluating the pros and cons, it is nice seeing that the advantages of the platform outweighs it disadvantages. It might not be the absolute best online video editing solutions out there, but it is definitely among the finest. The liberty of adding media files combined with the luxury of choosing from millions of stock media gives you the utmost creative liberty irrespective of your video editing experience.