Introduction and Unboxing
Nokia released the 1.4 entry-level Android smartphone back in early February this year as the successor to the Nokia 1.3 of last year. This new comer is an all-rounded upgrade over the older iteration, except that the CPU aspect sadly remain the same. A review unit of the Nokia 1.4 has been with me touching a week now, and after using the device as my daily driver for days, here is my full review of the Nokia 1.4; a flawless all-rounded entry-level smartphone if not for the CPU.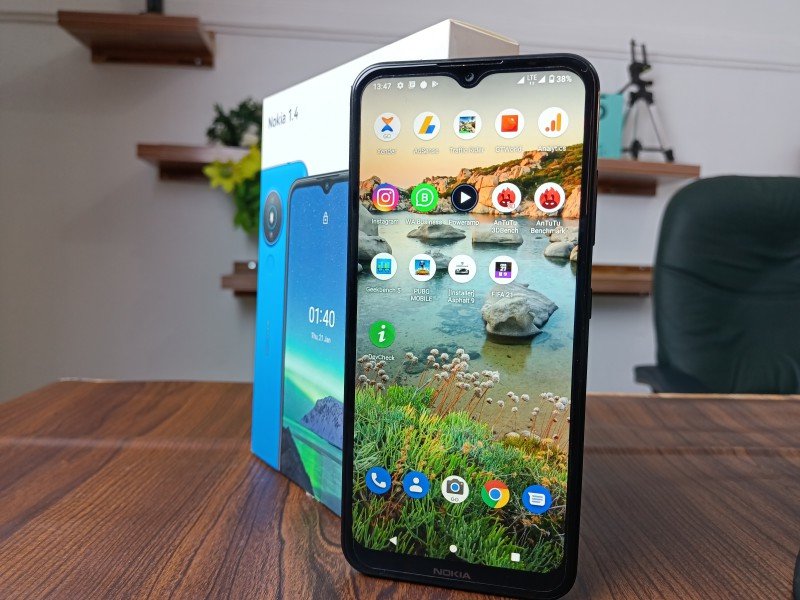 Nokia 1.4 specification overview
Dimension; Weight: 166.4 x 76.7 x 8.7 mm mm; 178 grams
Display: 6.52-inch (720 x1600pixels) HD+ notch display with 20:9 aspect ratio
CPU: Quad-Core 1.3GHz Qualcomm QM215 Snapdragon 215 (28 nm) with Adreno 308
Storage and RAM: 16/32/64GB and 1/2/3GB RAM; expandable up to 128GB via microSD
OS: Android 10 (Go Edition) – upgradable to Android 11
Camera: Dual-rear cameras (8MP primary and 2 MP macro) with single LED flash
Front camera: 5MP selfie
Video recording: [email protected]
Connectivity: Dual Nano-SIM:

GSM 

/

 HSPA 

/ LTE
Other Features: Fingerprint (rear), FaceID, Micro USB 2.0
Battery: Built-in 4000mAh battery with 5W charger
Nokia 1.4 unboxing and box content
The 1.4 came in a minimalistic flat box. The box is so minimal that I was not even able to tell which storage and RAM model I received, although there still some key specs highlight on the rear.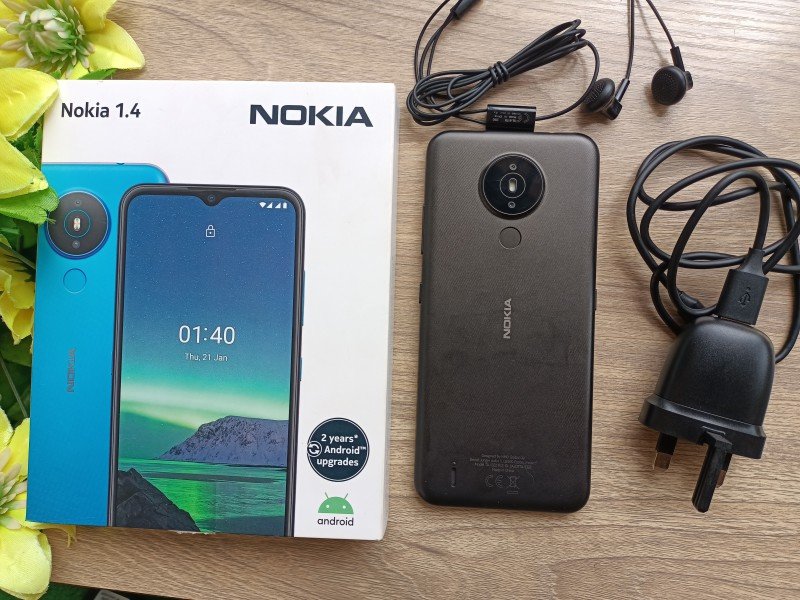 As for the content, the Nokia 1.4 come with;
The device it self,
5W wall charger
Micro USB 2.0
TPU Silicon case
SIM removal tool and few manuals
Nokia 1.4 design and built quality
The Nokia 1.4 comes in all plastic body, although the front is entirely covered with the display glass. The overall design is conventional with what you'll see in all recent Android phones, especially those within this price point. Talking about price, the 1.4 starts around $100, and depending on your market or region, you may be getting a different storage model which will dictate a different price. Our review unit is a 2GB RAM model with 32GB storage, and this cost around N44,000 in Nigeria, around $107 USD.
Back to the design, there is the conventional power button and volume rockers on the right hand side, a 3.5mm audio jack overhead, 3-in-1 card trail on the left along with Google Assistant button. While the single primary Mic and macro USB 2.0 seats on the basement.
The entire display is covered by glass, and there is a dewdrop notch overhead where the selfie camera is kept. There is also a speaker grill above the notch, and Nokia branding below the display.
On the backside, you are getting a centrally placed circular camera module, housing dual sensors and a single LED flash. There is a physical fingerprint scanner below, followed by Nokia branding, while the loud speaker grill is kept towards the bottom.
As for the built quality, there is just one thing I don't like, and that is because of the space between the back panel and the phone innards. You can even hear the rear panel hitting the inner elements when tapped slightly hard. Aside this, the Nokia 1.4 is well built; the device does not feel cheap in the hand, and despite the slightly large display and battery capacity, it is still fairly light in the hand, weighing around 178grams.
I also like the fact that Nokia went for a textured matt finish which help prevent finger magnet, instead of shiny glossy finish.
Nokia 1.4 Display review
Display is one of the most developed aspect of smartphone in recent times and when it comes to smartphone display, it is mostly the more expensive the smartphone the better. So given the price of the Nokia 1.4, you should be able to estimate the segment of it display quality already.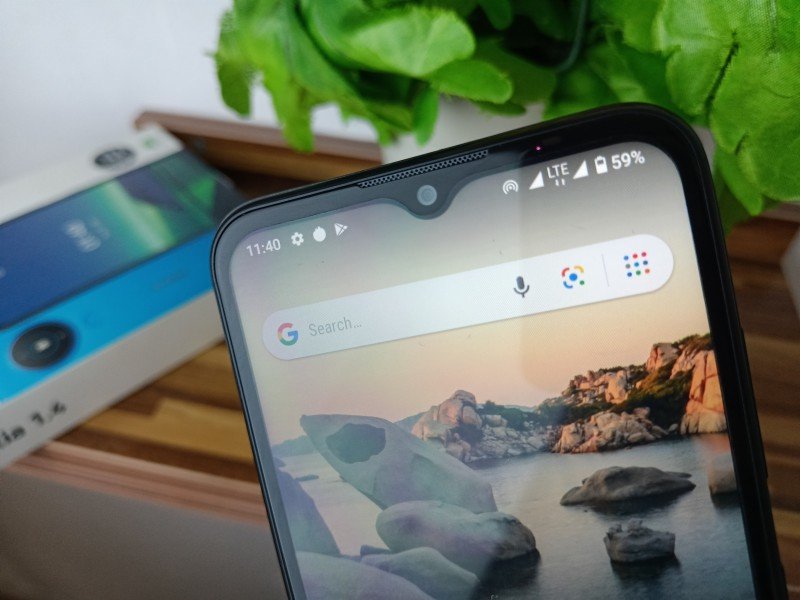 For me, I was not expecting much, hence I have no reason to complain. Icons and menu will not look painted on the screen as would a flagship smartphone, but if you are someone like me not expecting much, then you won't be disappointed. Although I wish the phone's brightness nit could be higher especially during brighter sunny days.
There are two aspects of the display that I love so much; first the adaptive display algorithm works very well, so much so that when the adaptive display is turned on, you won't be able to increase or reduce the display brightness if the algorithm thinks otherwise, and secondly the touch panel on the Nokia 1.4 is strangely super responsive and mostly accurate when typing, moreover, it support 10 finger touches at a time, making the device a great option for those who want to game on a budget (more on that down the article).
Hardware and software performance
These are the two most important aspect of every smartphone, simply because the functionality of all other areas of the phone depends on them. So starting from the CPU (our disappointing aspect of the 1.4 actually), for unknown reasons (probably to keep cost low), Nokia decided to retain same Qualcomm Snapdragon 215 CPU used in the older 1.3. The CPU is a quad-core unit with 1.3GHz clock speed and Adreno 308 GPU.
Interestingly, despite being a 2019 CPU, it still does hold it ground very well for a smartphone at this price point. Pulling it through Antutu v8.5.6, the Nokia 1.4 was able to score a total of 60744 even though GPU test was declared not supported, while scoring 100 and 356 in GeekBench's single and multi-core test respectively.
In addition to the CPU, and as stated earlier, our review unit is the 2GB RAM variant with 32GB internal storage. This set up will get you through day to day conventional apps smoothly without any issue. I used the device as a daily driver with two 4G SIMs, Data always on with tethering, two emails account plugged-in along with my social media and web stats apps. I would say these should be overloading already, but the 1.4 handled the load fairly well, and that is where the Software aspect comes in.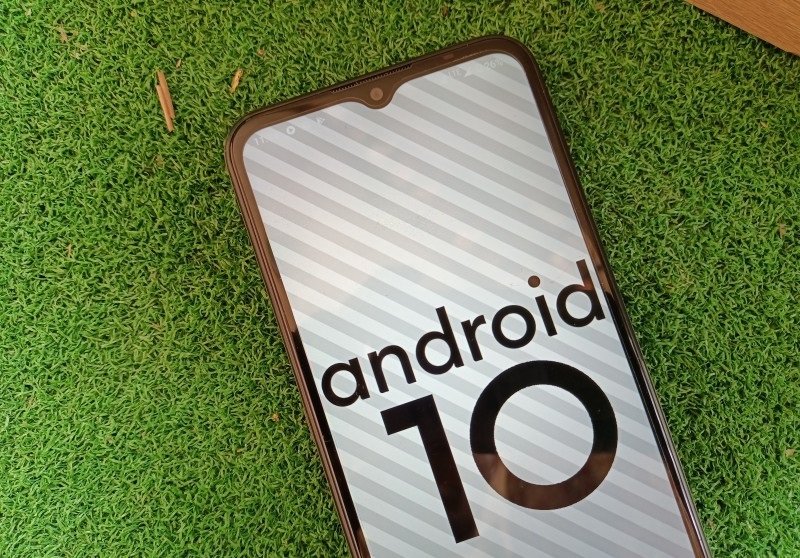 Out of the box, the Nokia 1.4 boot Android 10 (Go Edition) with planned update to Android 11, I've actually received minor update and security patches twice, but no Android 11 yet. The OS on this device is supper polished and optimized, focused at giving you the best performance given the CPU. Yes I did noticed stutters and hick-ups while using the device, but these has more to do with the CPU than the OS.
Unlike other competitors device at this price that are mostly crashed down with custom skins, ads and bloatware, the 1.4 stand out with stock Android that is free from bloatware and ads, you won't even see any app named "Nokia Whatever" within the preloaded apps, all of apps are Google stock.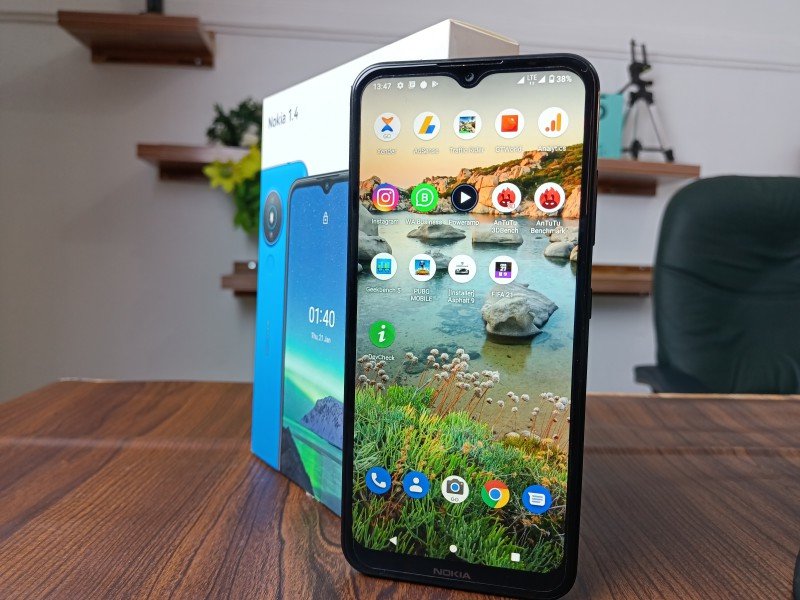 You'll notice the minimalistic design of the OS right from the home screen, up to the Notification/Toggle drawers. In fact, when I first setup the phone, there were only three toggles in the Toggle bar, and I added the rest myself. The default setting App is also well polished with rounded icon and minimal elements. Opening Chrome browser takes you straight to default and original Google.com without extra customization.
Apps that requires further screen interactions and overlays are pushed downward for ease of use and accessibility. For example, when editing or adding new contact, the interactive overlay is hooked to the bottom chin of the phone for ease of accessibility. So even though the phone is around 6.5-inches display, it can still be comfortably used by folks with shorter fingers.
Ok, so too much of everything is bad right?, Oh Yeah!. There is an aspect of this OS I think Nokia over optimized, and that is the multi-tasking pane. When you hit the task button and arrived at the multitasking page, you can only see Nine (9) previously used apps in the multi-tasking page. That is, even if you've previously opened 15 or 20 apps, the 1.4 will only show you 9 most recent of them, and it does not mean those 9 are still active in the background, some are already closed. In my opinion, why not show me all of them, even if there are no longer active in the background, at least, let me know the whole list of apps I or someone else opened on my device.
Aside the little personal preference above, I think Nokia did well to harmonize and optimize the Hardware and Software aspect of this phone. Despite having an aged quad-core CPU with 2GB RAM, I was still able to play some games with good graphics. I tried manually installing Asphalt 9 and could not, but I was able to install and play FIFA 2021, PUBG and other lesser games, even though graphical out put was not the best. You'll just need to endures extensive loading time though, especially for games like PUBG.
Nokia 1.4 Camera and other Peripherals
As far as camera is concern, the rear module is rounded like every other recent Nokia phone out there. But unlike other recent Nokia phones with three or even four lenses, the 1.4 comes with just two, among which is 8-megapixel main lens with f/2.0 along with a 2-megapixel macro snapper, while a single 5-megapixel lens with F/2.4 aperture is used in the notch upfront.
The camera interface is nothing extra ordinary, but polished as well as other aspect of the device. There is a dedicated Portrait, Photo, Video and Translate sections, which can auto translate one language to another. The photo mode offer you few more additional features like HDR, Self timer, and night mode which is applicable to both the rear and front camera.
In additional to normal images, the 1.4 can also take macro shots. While I will not depend on any 8-megapixel camera phone in 2021 for major camera needs, I think the Nokia 1.4 did fairly well, and even better than some competitors, especially when you snap outdoors or well lighted indoors.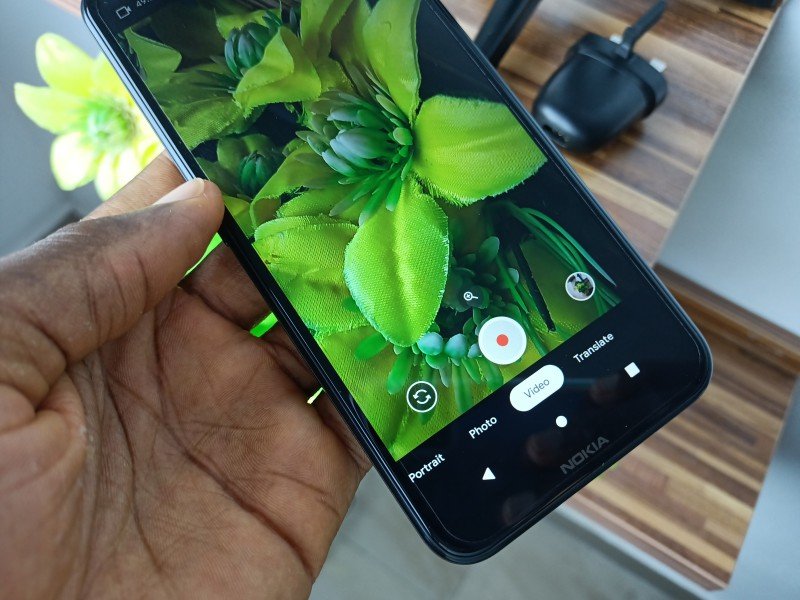 There is no major enhancement added by the included HDR, but the dedicated Night mode does make images look better, except for the increased noise level. Here are some camera samples from the Nokia 1.4.
Nokia 1.4 Camera Samples
When snapping indoors, the flash does help to a large extent, but the image quality dropped greatly. The image below were taken indoors with and without flash
[twenty20 img1="3051624″ img2="3051625″ offset="0.5″ before="Without Flash" after="With Flash" hover="true"]
HDR do make images better, but you can't use flash when HDR is tuned on. Same applies to the dedicated night mode, which is neither usable with LED flash or HDR
[twenty20 img1="3051615″ img2="3051626″ offset="0.5″ before="Night mode on" after="HDR on" hover="true"]
The selfie lens can be used for both normal images, portrait images and video recording. Here is the normal and portrait sample from the Nokia 1.4 with face beatification tuned on.
[twenty20 img1="3051619″ img2="3051620″ offset="0.5″ before="Normal Selfie" after="Portrait with Face Beauty" hover="true"]
Aside the noticeable features in the camera interface, there is also an auto color correct when editing images. If you don't want to go the way of manual image editing, just tab the Auto button, and your image will be social media ready on the instant.
[twenty20 img1="3051619″ img2="3051634″ offset="0.5″ before="Normal Shot" after="Auto correct" hover="true"]
Other Peripherals
Security; Fingerprint scanner and FaceID
In addition to default Android locks, the Nokia 1.4 does have a rear fingerprint scanner and supports FaceID as well. Both of these are working, but they did not work that well for me. Forget about faceID in lowlight, not on Nokia 1.4, and even the fingerprint scanner is a miss and hit. Some times, I need to press my finger a little harder on the senor for it to unlock. Although I found away to overcome the fingerprint scanner issue; I registered a finger twice. I got some duplicate fingerprint warning while doing that, but I kept shifting my finger at random until the registration completed at 100%, after which unlocking success with fingerprint scanner became almost 10/10.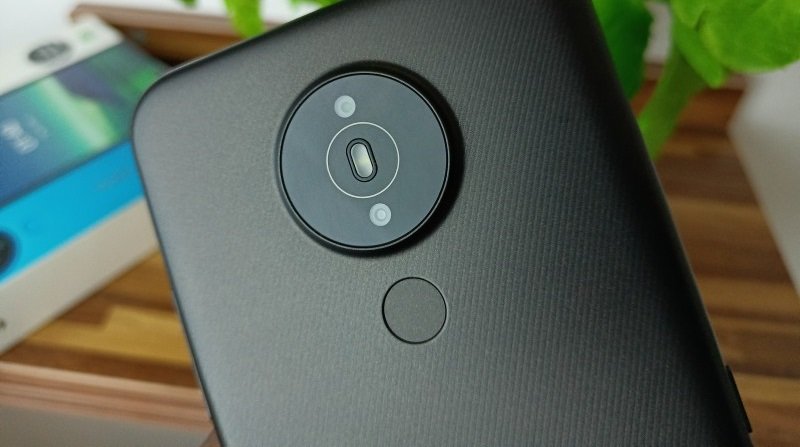 Telephony and Loud speaker
The earpiece grill is just above the notch on the front. This does not act as secondary loud speaker, but it is very loud and clear when on call. I feel very comfortable and relax when on call as I need not stress to hear my caller on the other end. As for network reception, my network indicator bar are 100% for both SIMs, and I did not experience any call drop due to poor network signals. Data transfer was also very fast touching above 5MB/ps in real use.
The loud speaker is loud and clear with highs, mids and almost absent lows (bass). Remember the loud speaker is on the rear, and when playing music, you might need to turn the device face down to prevent it from being muffled. But this is also an advantage, especially when watching movies or playing games, your finger won't interfere with the sound since the speaker is not on the basement.
Nokia 1.4 Battery Review
On the battery department, there is a 4000mAh non-removable battery on the inside, almost 1000mAh more than the Nokia 1.3. The battery is graced with efficient and optimized OS, hence, it does last well. Moderate users can expect between 24-48 hours of use, and when it drops to 15% there is a bundled power saving mode which automatically switch to dark mode and restrict background data for longer use.
But on the negative side, Nokia only included 5V/1A (5W) charger in the box, and this unit take hours to get the 1.4 from zero to 100%.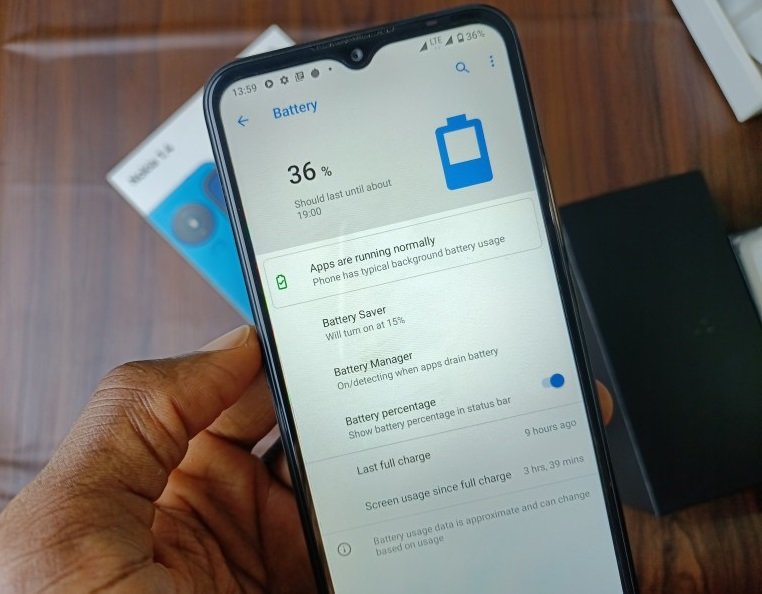 Conclusion and Alternatives
The Nokia 1.4 is a great buy for those on budget. At just $100 US Dollars, or N40k in Nigeria, the device offers so much more than it competitors with solid built quality, optimized OS that is free from Ads and bloats and battery power of a rounded clock-trip use.
I just wish it was a 10W charger or more in the box, and that the faceID is a little more accurate and faster. Aside these and few other little issues, the Nokia 1.4 is a great value for money, and should make it to our list of best smartphone around 40,000 Naira in Nigeria very soon. Some well known alternatives under this price point includes: Samsung Galaxy A02, Vivo Y1s, Xiaomi Redmi 9A, UMiDIGI A7, Tecno Spark Go 2020, and Infinix Smart 5 4G.
The Review
Nokia 1.4
The Nokia 1.4 is a great buy for those on budget. At just $100 US Dollars, or N40k in Nigeria, the device offers so much more than it competitors with solid built quality, optimized OS that is free from Ads and bloats and battery power of a rounded clock-trip use
PROS
Ad-free and Optimized OS
Decent built quality
Decent battery
CONS
Slow charging
sound quality could be better
Aged CPU
Review Breakdown
Design and Built

0

OS and Usability

0

Camera and Multi-media

0

Battery Prowess

0