Nokia 7.2 Review Introduction and Unboxing Review
Nokia announced the 7.2 smartphone in September, 2019. The device came along with the Nokia 6.2, both of which were upgrades to the older Nokia 7.1 and the 6.1 respectively. Since the return of Nokia under the umbrella of HMD Global, we have seen series of devices from the company which are targeted primarily on folks within the mid-range market, of which the Nokia 7.2 is not an exception.
Now considering the current huge and endless competition in the mid-range smart phone market, is the Nokia 7.2 worth your money? Does the device measure up to the hype surrounding it? Let find out.
Nokia 7.2 Key Specifications
» Body and Color: Gorilla Glass 3 front and back; Cyan Green, Charcoal and Ice colors

» Screen: 6.3″ FullHD+ LCD, PureDisplay, waterdrop notch, HDR10.

» Chipset: Snapdragon 660 (14 nm): Octa-core (4×2.2 GHz Kryo 260 Gold & 4×1.8 GHz Kryo 260 Silver); Adreno 512 GPU.

» Memory: 4/6GB RAM, 64/128GB storage, dedicated microSD slot.

» OS: Android 9.0 Pie; AndroidOne.

» Rear camera: Main: 48MP, f/1.8. Ultra-wide: 8MP, f/2.2, 118-degree FoV. Depth sensor: 5MP. LED flash.

» Front camera: 20MP, f/2.0.

» Battery: 3,500mAh, 5V/2A charging.

» Misc: USB-C, 3.5mm jack, rear-mounted fingerprint sensor, 2 mics, FM radio, Google Assistant button, notification LED on the power key.
Nokia 7.2 Unboxing and Box Content
The unit under review is the 6GB RAM pegged with 128GB expandable storage. It came in a rather flat box, with the Nokia 7.2 being the first thing you will see once the box is opened. Among other accessories in the box, our unit also come with a TPU Silicon case.
Nokia 7.2 Box Content
» Nokia 7.2

» Charging Brick

» USB Cable

» Earpiece

» TPU Silicon case

» Some user manuals
Design and Built Quality
The screen is a 6.3-inch Full-HD+ display with 1080 x 2280 pixels resolution and a water-drop notch overhead housing the front 20MP selfie sensor. The device comes in a plastic frame, but with Corning Gorilla Glass 3 at it front and back. In the hands, the phone feels completely smooth, stud and premium. From the right hand side, you have the power button with an integrated breathing notification LED and the volume rockers. At the top of the device, there's a 3.5mm audio jack and the secondary noise reduction mic.
On the left hand side, there is a 3-in-one card slot housing 2-Nano SIMs and a micro SDcard up to 512 MB, along with a Google assistant button. In the basement, there is the primary mic, USB Type-C port and the loud speaker opening, arranged from left to right. Turn to the back of the phone, and the first thing you'll notice is the protruded ring camera setup; 3-camera sensors along with a single LED flash. The rear placed fingerprint scanner, Nokia branding and Android One logo occupies the rest of the glass back panel.
Our Nokia 7.2 is the Cyan Green color, which I personally thinks is the best of the three colors. The overall glass built adds some premium feels to the device, but reduces grip, as the phone gets slippery some times.
Nokia 7.2 Display, Software and Multimedia
As mentioned above, Nokia made use of a 6.3-inch Full-HD+ display on the 7.2. The screen has minimal bezels to either sides of the phone. The display itself is a 19:9 aspect ratio with 1080 x 2280 pixels resolution, and a rather impressive 400 PPI. Due to the overhead notch, and the Nokia branding below the screen, the device was only able to attain an acceptable 82.4% screen to body ratio.
The display is an IPS LCD panel, but Nokia is added something special – PureDisplay. This PureDisplay function more like Apple's True Tone display feature. The aim is to tweak color reproduction in different lighting situations in order to produce best display scenarios possible. Irrespective of what display feature or panel used, the most important thing to most users would be how easy to use the Nokia 7.2 in outdoor in a very bright sunny noon.
I have a Tecno device that I struggle to see who my caller is during outdoor use. Well, for the Nokia 7.2, you should definitely have no issues using the device outdoor, even under direct Sun light. The device has a burst brightness of about 585nits, with a contrast ratio of about 1342:1. Wrong tilting under direct sunlight can make certain colors look washed out, however, you can still see you icons and menus well painted on the screen. But even at that, I'll would say you shouldn't expect the same experience with other screen techs, especially OLED display, you might be disappointed.
How responsive is the touch panel on the Nokia 7.2?
The display feels very fluid and responsive, besides, there is a Corning Gorilla Glass 3 on top of the screen to protect against accidental drops. It comes with 10 point touch panel which has proved accurate through most of my typing. However, sometimes, I still do notice the screen ignoring some of my touches, with the worst scenario happening in a 3-consecutive time.
Is the Nokia 7.2 well optimized?
One of the major selling point of most recent Nokia smart phone is the fact that they ship on Google Android One Project. But what is Google Android One all about, and why should you care? Well, to simply put, Android One is more like a stock Google Android OS, like those on the Google Pixel 4 or the Pixel 4XL. The aim is to offer stock Android experience without any form of bloatware; no skin, no pre-loaded Facebook or Twitter app and no additional services. It was initially intended for low-end smart phones in emerging markets like the Infinix Hot 2.
In recent times, Android One has made it way to mid-range smart phones, a trend largely pioneered by Nokia smartphones. The absence of manufacturer's bloatware and third party customization already means that the device, given the CPU and RAM, will perform at it best possible, which was our exact experience with the Nokia 7.2.
The device, even though it is got a mid-range CPU feel very fast and 'navigationally' fluid. Aside the above, it is also important to note that each Android One phone is guaranteed to get at least three years worth of security updates from its release date, and up to two years of major Android releases, too.
Security and Android 9.0
My Nokia 7.2 review unit still runs on Android 9.0 (Pie), and the system is currently asking me to update Google security patch for November 2019 already available via OTA. Now, aside the software security patches, the device also comes with a physical rear fingerprint scanner which can also be use to grant application access as well as bill payment on popular platforms like Google Play store, plus, the sensor worked perfectly as you would expect from mid-range device such as 7.2.
Not only that, the sensor can also be used to control your notification drawer. For example, a single swipe downward will bring down your notifications, and another swipe same direction will expand the notification toggles. Reversing the steps above will undo the the process.
Among the default android locks, there is also a FaceID which worked very OK in most light scenarios. But don't even think of using Face Unlock at night, because the Nokia 7.2 does not have front-facing LED light. Tecno Mobile is currently gaining grounds in this area, as most of it recent notch smartphones like the Phantom 9, come with LED flash upfront, which lights up for proper facial recognition especially at night.
Interface and Apps Pre-loaded
With this phone, you are getting real Android 9.0 just Google intended it; no additions, no customization. The interface is uses Android pill-based navigation. This means, there is no menu, soft or hard capacitive navigations. You'll only notice a soft pill pane and a return key below the display, which controls majority of you operations on the device.
A short upward swipe from the pill button takes you to the task manager/multi-tasking screen, while another swipe upward at this point, or even a longer swipe up from the pill button will load your app drawer from any screen on the phone. You could also use same pill button to quickly switch between previously opened apps. Well, I'm sure you know what the return button does.
As for the pre-loaded apps, you are getting everything Google, from File management (left to google file), to calendar and other default Android apps. Google Photo handles all your gallery related needs from image viewing to video playbacks. For reasons unknown to me, mine does not come with any music player out of the box, a problem which was easily fixed by installing Play Music app from Play store.
As for setting up the device, I did not spend much time in the setting app before adjusting the device to my needs. The setting interface is pretty simple to navigate, and if there is a particular option you couldn't locate, you can easily search it out from the search bar in the setting page.
Communication and Call Quality
My unit is a dual SIM version, which supports two Nano-SIMs, but there is also a single SIM model. The two SIM slot have support for 4G LTE network. Interestingly, I found the data transfer speed on this device to be a lot faster than most devices I've used lately.
The dialer interface is standard AOSP interface. I never had any issue with call quality or network reception, and if you wish, you could even switch your dialer skin from classic white, to a pretty cool dark skin, either for fun, or as protection for your eyes.
Nokia 7.2 Hardware Performance Test
In the hardware department, the Nokia 7.2 ship with an octa-core Qualcomm Snapdragon 660 CPU. This was same CPU used in the older Nokia 7 Plus. It an 8-core 14nm architecture comprising of 4×2.2 GHz Kryo 260 based on Cortex-A73, and 4×1.8 GHz Kryo 260 based on ARM Cortex-A53, pegged with Adreno 512 GPU, 4/6 GB RAM and either 64/128 GB internal storage( our unit is 6GB RAM and 128GB storage).
The SD660 is almost 2 years older now, but since it is what HMD Globale decided to use on the 7.2, let see how it fairs against few smart phones out there, either within same price range, running same or similar CPU, or targeted at same market segment.
Our performance testing began with Antutu, which analyze the overall performance of the smartphone compared with other devices. Surprised that our Nokia 7.2 made it above 150,000 mark? Well, it got a huge advantage from it 6GB RAM, which is why it was able to score above devices with same CPU, but smaller RAM size, like the Xiaomi Redmi Note 7. The 4GB RAM version was only able to make it a little above 139,000 in other reviewers testing.
GeekBench is giving fair advantage to the Mediatek Helio G90T present in the Redmi Note 8 Pro. This is so because the bench-marking app emphases is on raw CPU power. The Nokia 7.2 stands just between the Redmi Note 7 with same CPU and the Huawei P30 Lite, although with a very close tie with the two devices below it, while the Tecno Phantom 9 guards the basement.
When all processors were fired, the 7.2 got pushed down to the Phantom 9. It even got a score lower than the Redmi Note 7 which has same CPU. There are few factors that could be responsible for these, for example, number of apps running in the background when the test was run.
Real Life Hardware Performance
In real life usage, the device is fairly fast through my day to day use. While I must admit a few hooks and stutters at intervals, there were not annoying, and chance are, you may not even notice it especially if your app installs are minimal. Nevertheless, the OS optimization of Android One also has a lot to do here, and your experience of Snapdragon 660 may be entirely different with smart phone with a poorly optimized OS and UI.
It mostly normal for a glassy smartphone to warm up a bit during use. The 7.2 of course do warm up, and the temperature even tends to be more noticeable during stressful moment, especially around the camera ring area.
Nokia 7.2 Camera and Battery Review
On the camera department, the 7.2 comes with a triple rear camera setups, arranged into a protruded ring circuit. The sensor used include a primary 48-megapixel camera with PDAF and f/1.8 aperture, along with a secondary 5-megapixel depth sensor, and yet another 8-megapixel ultra-wide angle lens. If you care for selfie sensors upfront, then the count get reduced to a single 20-megapixel snapper with f/2.0 aperture.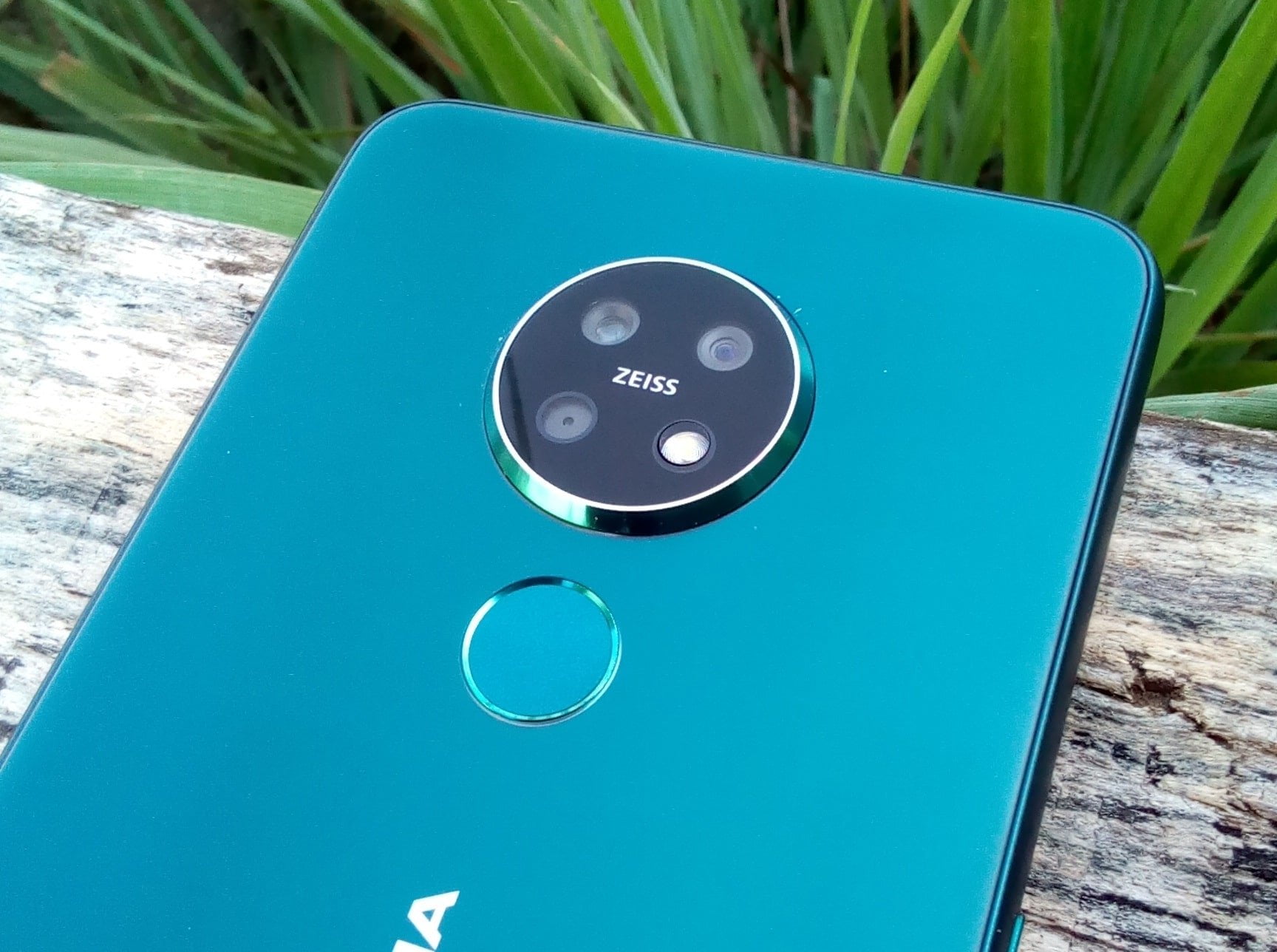 The camera interface is much same like most camera UI you might have seen in recent phones. The standard mode offers options like motion tracking, single or dual camera mode, self-timer and HDR. But if you wanna control things like white balancing, ISO (100-3200) among others, then you are better off in the pro mode.
You can also use the device in Time-lapse mode, Panorama, Slow motion mode, among others. By default, the device is predefined to shoot images and videos at 12-megapixel resolution. But if you need the full goodness of your 7.2 camera, you can change the resolutions from the camera setting. The phone can also shoot videos in both Full-HD and UHD resolution, all of which you can change from the setting.
Nokia 7.2 Camera Test and Samples
So I took the Nokia 7.2 on a tour for a spin, and if you are not expecting to see the eyeballs of a flying bird in the sky, then you won't be disappoint. All our shots in day light turned great.
The above picture was a point and shoot sample, without anytime wasted on focusing, or I should rather say the camera auto focus is doing it job pretty well. Nothing feels great knowing that you could easily pull out your smartphone, point and shoot at any object anytime without having to worry much on focusing.
All sample images captured in full day light were super bright with accurate color reproduction. More camera samples are added below.
As mentioned before, the 7.2's rear camera is predefined to take images at 12-megapixel image resolutions, which you can either reduce to a lower pixel resolution, or expand to the full 48-megapixel resolution from the camera settings.
It important to note however, that the higher the megapixel (higher resolution), the larger the image size in megabyte. While a shot on 12-megapixel resolution stays mostly under 5 or 6MP, a single shot with the full sensor size can reach as high as 15MP or even more.
While shooting at a lower res will generally save your storage, you might still want to shoot at the full 48MP res, especially if you are shooting objects at reasonable distance. For example, the images above were taken from same spot, with the 48MP version being larger of course. You might not notice much difference between the two shot with a single look, but if you want to look deeper, by zooming to the name on the building, the 48-megapixel sensor will definitely feel more appealing as shown below.
The 12MP version had to be zoomed deeper to get that write up, leading to a major drop in sharpness and increased noise. Also, you might need to always keep the camera HDR always in automatic mode to ensure best shot at all time. I put the HDR on, on one shot, then off on the other, and the difference was fairly much depending on the lighting condition though. See samples below.
Night Shots, Portrait and Selfie
When taking photos at night, you can either use normal Photo Mode, or switch to the dedicated Night Mode. In either case, the camera was able to take-in sufficient light to aid clearer image output. But depending on the available light, I might prefer shooting more in normal photo mode even at night than the bundled night mode as color tone seems off on some images shot in the night mode.
In either case, the device is still able to produce crisp images at night, so long as you are not expecting image quality of a DSLR or even the likes of Huawei Mate 30 Pro or even the Apple iPhone 11 Pro. More night samples below.
As for the bundled 20-megapixel selfie sensor, you can be very sure of great images in a well lighted environments, or even in full day light. If you wish to use the selfie at night times, you'll get soft light supplied from the display, but that won't help much.
Finally, I tried out portrait mode, and I thing the 5-megapixel depth sensor did it job pretty well. In full day light, the device was able to pay full attention to the area of focus, while silencing the world around. While this is definitely not the best Bokeh we've seen on a smartphone, it is a welcome effort from a mid-ranger.
Battery Performance
The Nokia 7.2 shipped with a non-removable, non-extendable 3500mAh battery. I tried a more realistic battery performance both in indoor and out door use, and got distinct results; the battery get sapped out more faster in outdoor use, than in indoor use, especially when screen brightness is set to auto.
But during indoor use, the battery last fairly well. In either case, you should get a full day of use, which means charging the device every night after work. Talking about charging, the phone comes with a 5V-2A, 10W rated charger. And even without the help of the charger, using just the USB cable is still able to get the device from 0% to 100% within 1.5 Hr.
Nokia 7.2 Pros, Cons and Alternatives
We had a smooth sail with our Nokia 7.2 review unit. The device is a very promising mid-ranger, backed with Google Android One. This means that while some competitors offer might or might not even get further Android update, you are guaranteed to get at least three years worth of security updates, and up to two years of major Android release update too, with Google Android 10 for the Nokia 7.2 currently in the pipe line.
Even though it comes in a plastic frame, the plastered Corning Gorilla Class three at the back and front of the device makes it feel premium, plus you are getting a capable camera phone with nice portraits too.
So with all these said, does it mean this is just the best mid-range smartphone you can get? No, not even close.
Five (5) Best Alternative to the Nokia 7.2