The decision for a headphone is far easier when you are in the market for headphones above $200 or $300 US Dollars. This is because only few OEMs makes headphones that cost that much, hence the decision is easier. But when you start stepping down to below-100-Dollars mark, the market will begin to get crowded, and hence the decision to buy becomes complex. Today we are reviewing OneOdio A30, a sub-$50 Headphone with Active Noise Cancellation (ANC).
OneOdio is an international ear audio equipment maker, and we sincerely appreciate them for sending us two units of their products for review. The company makes all kinds of headphones, studio DJ headphones, gaming headphones as well as TWS wireless earbuds. The A30 headphone is both wireless and wired. The model is currently discounted at $59 via the company's own website, and if you use SUPER20% promo code, you could even shed off additional $12, bringing the final price to around $48 US Dollars.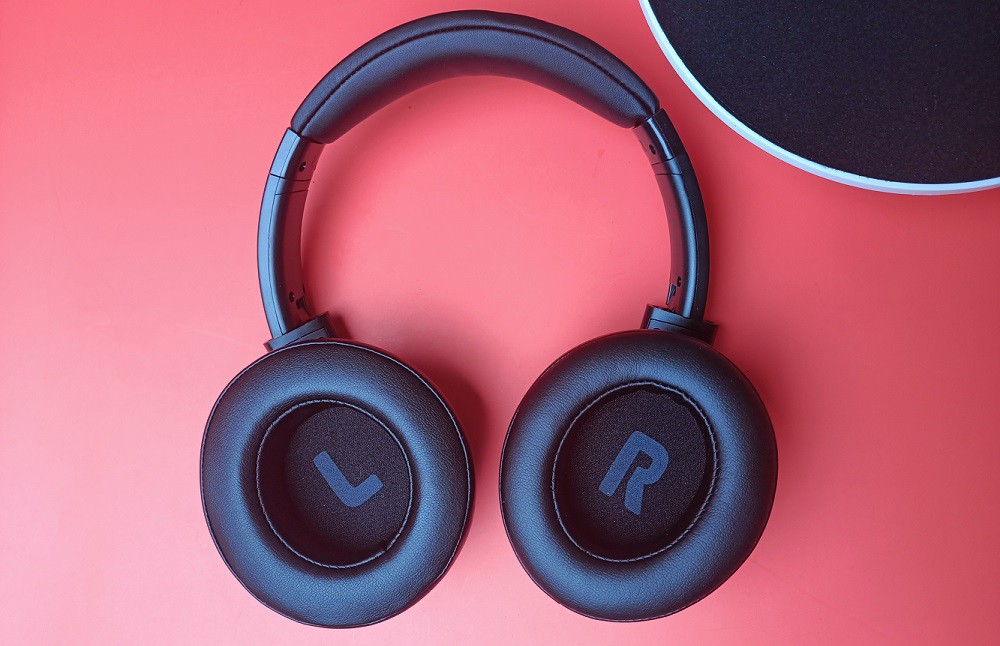 OneOdio A30 Key specs and features
Name and model: OneOdio A30
Battery Capacity: 3.7V/500mAH
Usage Time: ANC only; 45 hours, Bluetooth; 25 hours (BT)
Bluetooth Chipset / version: QCC3003 /5.0
Bluetooth Range: I0m/33ft
Noise Reduction Depth: up to 29dB
Sensitivity / Impedance: I00±3dB / 32Q
Driver Diameter: 40mm
Frequency Response: 20Hz- ·20kHz
OneOdio A30 Unboxing
The OneOdio A30 spend more than a week to two on the way to us, and haven seen the images of the headphone online, I was expecting to see, at least, a slightly bigger box than what I saw, but thankfully it is not. The A30 that was sent to us is in Black color. This is the only color available actually, and these are what you are getting out of the box:
A30 Active Noise Cancelling Bluetooth Headphone
Optional 3.5mm Cable
Type-C to USB Charging Cable
Dual 3.5mm jack with Airplane Adapter
User Manual
Carrying Bag
Design and built quality
As far as the A30 is concern, there are a total of four materials that makes up the headphone;
There is hard plastic on the headband and the ear cups housing the speakers;
A soft leather pad overhead and wrapped round the ear cup covering the phones that surrounds the ear cups
A soft black form covering the speakers within the cup and
Then, a metal within the adjustable hinge to either side of the headphone.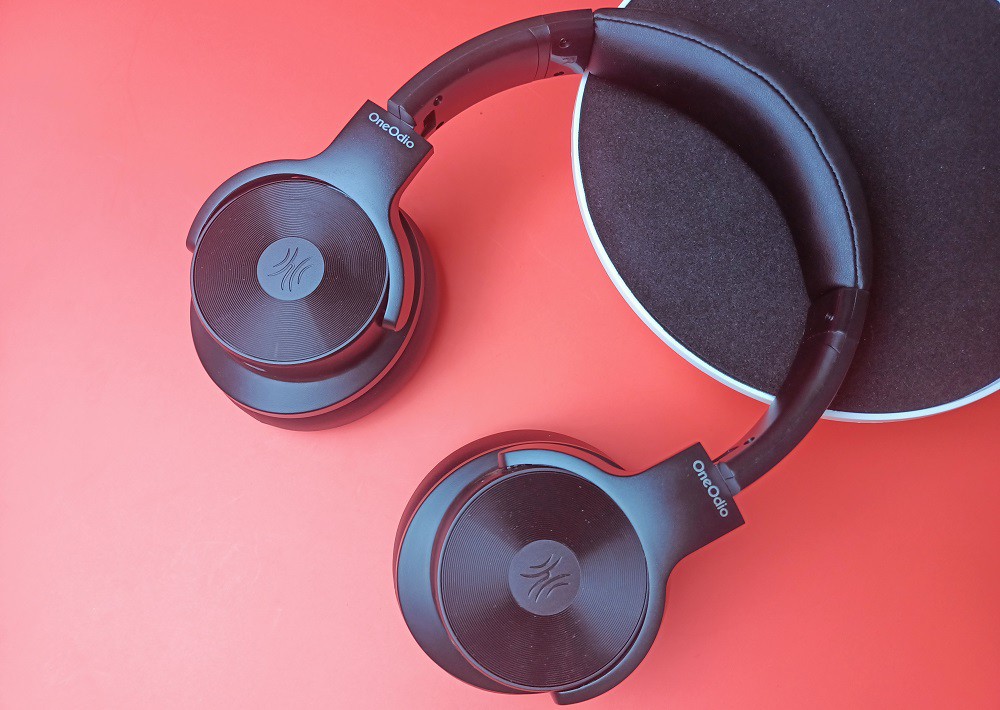 Additionally, don't forget that there is a 40mm neodymium dynamic driver powering the sound output and some chips and buttons within the ear cup. All of these put together brings the weight of the OneOdio A30 to a total of 275 grams or 9.7 ounces. This is weight is even smaller than some big names in the Industry, like Apple's Airpod Max, which weighs 384.8 grams or 13.6 ounces.
In real life use, I could easily wear the A30 over my head for a notable long time without feeling the weight. The cups are design in a way that your pinna (outer ears) seats comfortably within the cups, while the form on the edges rest directly on the side of your head. This further aid long usage without much notable stress on the ear, which is an aspect of the A30 that any owner will definitely appreciate.
OneOdio A30 Performance
How good an headphone is can not only be determined by the built quality, but how well the device does what it is meant to do. So let take connectivity, sound quality and battery power into consideration.
OneOdio A30 Connectivity:
The connectivity is how you are able to get the A30 to do what it is meant to do, which is playing sound. As far as connectivity option is concern, you can either push audio directly into the A30 via a 3.5mm to 3.5mm audio jack, or wirelessly, via Bluetooth.
Connecting via 3.5mm to 3.5mm audio cable
The first option is the easiest and most straight forward. With the 3.5mm to 3.5mm audio jack, you don't need to turn on the headphone, it is simply plug and play. With this cable, you may decide to turn on the noise cancellation, which works without powering the A30 on, or just play away with almost zero impact on your battery.
NOTE! Direct cable connection will not work when the A30 is out of battery power, and the microphone will not work when wired connection is used; VERY IMPORTANT!
Wireless connection via Bluetooth
This is when the full functionality of the OneOdio A30 is activated. To use the wireless connectivity option, you'll of course need to power-on the headphone. Now, how do you turn-on the headphone and get it paired with your device? It is simple;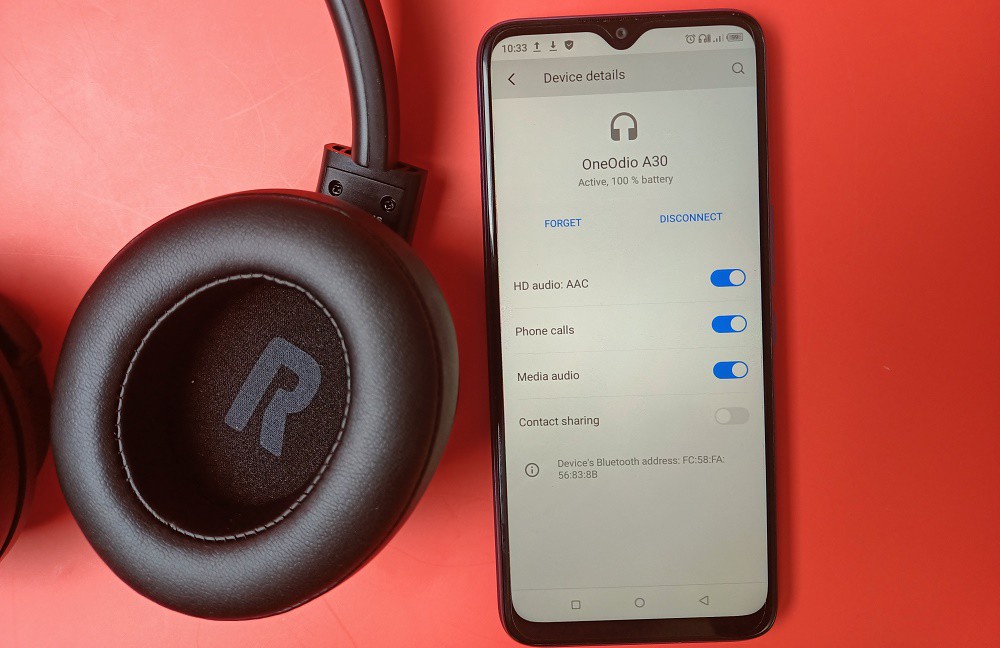 Pressing the multi-functional button for three (3) second turns the device on/off. (Note: If no device has been previously paired with the A30, turning it on for the first time automatically puts it in pairing mode)
To pair with more than one device, or to pair with another device after the first pairing, you'll need to hold down the volume+ and volume- together for 5-second to put the headphone in pairing mode, and subsequently connect to another device.
The processes are very simple and straightforward, and you should have no issue following them. there is a voice notification before major actions and the Bluetooth technology used here is 5.0, which means you are getting more speed, more distance and even better throughput for better latency. I could easily move from room to room within my apartment while my phone is lying on my table, and without worry about losing connection.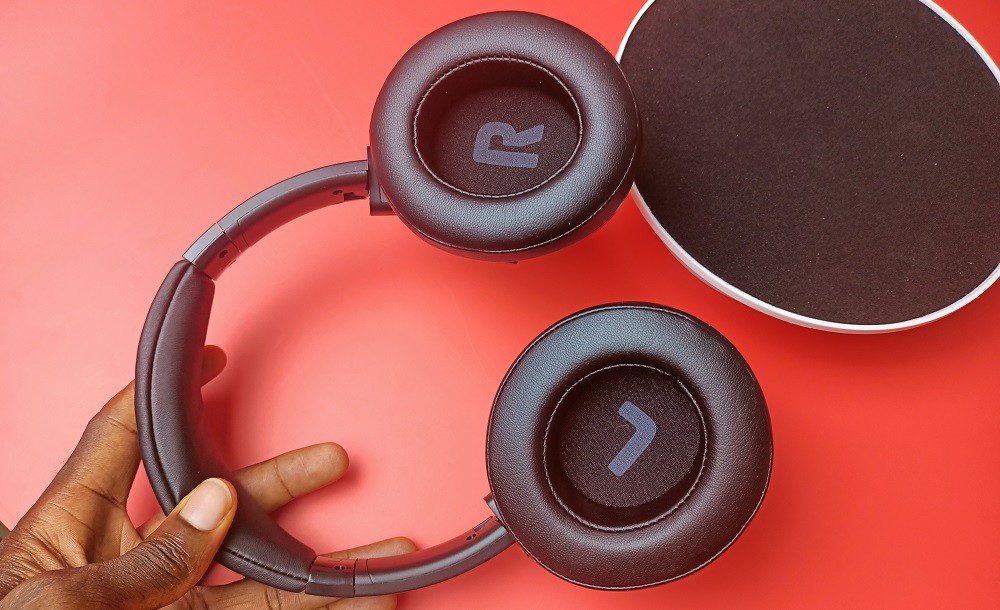 Depending on the type of phone you are pairing with, you may get some additional options to tweak for better performance and audio output within your phone. On average, all phone will show you the battery level on the headphone, but phones with built-in audio codec may give you further control options.
OneOdio A30 Audio Quality and Active Noise Cancellation (ANC)
As for the audio quality, I think there is nothing much to complain about, given the price point. Remember the ear cup will swallow your ear pinna, and with the forms wrapped around the side of your ears, a bunch of external noise are being cut off already. But if you wan to cancel even more noise, then simply push the ANC button which is beside the charging port on the right handed ear cup.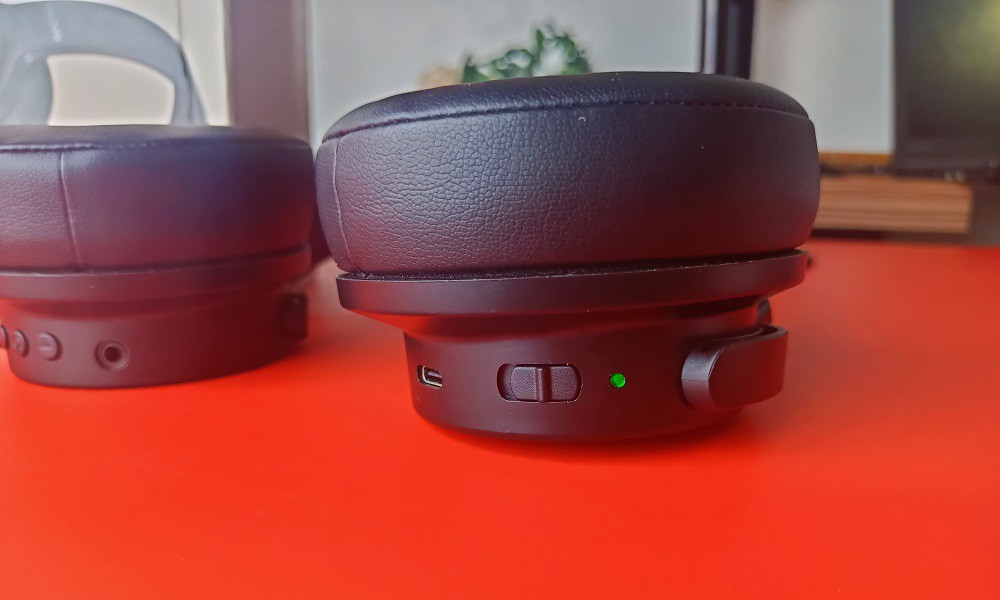 I discover that with the ANC button flipped on, the headphone tends to produce even more clearer sound than with the ANC off. One thing I don't like though is when Am taking a walk with the head over my ears, I could hear my steps pounding right in my ear, which is a major issue with most cheap headphones, if not all headphones, but the overall sound quality is still pretty decent.
OneOdio A30 Battery Power
The battery capacity on the A30 is 500mAh. With this number, the company is promising up to 45 hours with ANC only, and up to 25 hours with Bluetooth connection. I've not been able to listen to music continually for 25 hours, but from my mixed usage since the past week, I can only but agree with this claim.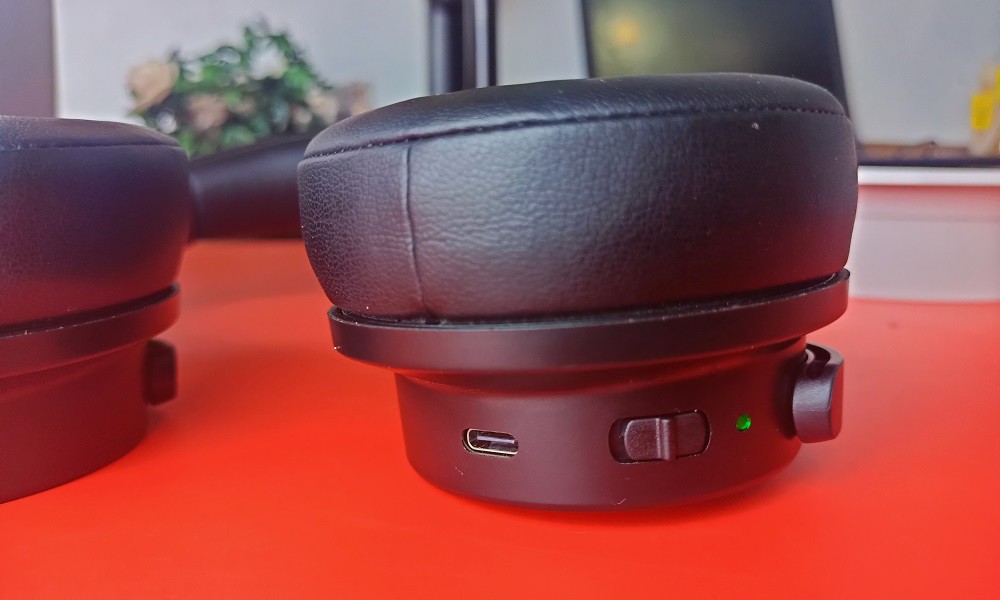 How do you charge the battery
You'll notice that there is an Airplane Adapter that looks like a charging pin when you open the box. VERY IMPORTANT: That pin is not your charger, and should not be used as one, to prevent causing sever damage to your headphone. The adapter allows you to plug your A30 head phone to the audio hub of an Airplane, but not to a wall socket.
So to charge the A30, there is an included USB Type-C to Type-A cable, which you can either plug to a wall charger, or any safe USB A port. Charging via this means generally takes between 2-3 hours until full.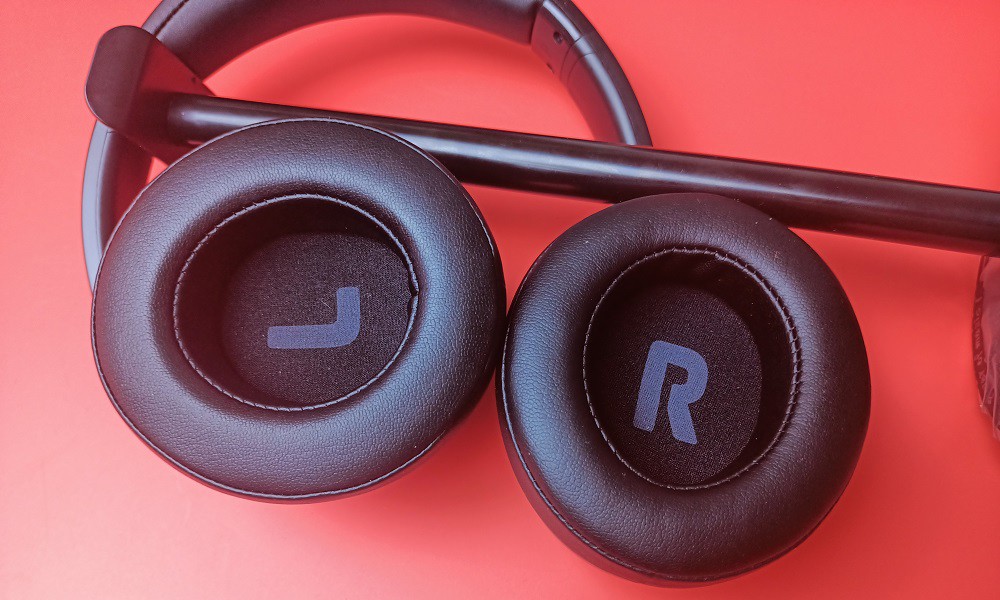 Review conclusions:
The OneOdio A30 Wireless Active Noise Cancellation headphone is a great deal for those not willing to shared above $100 bucks on a headphone. The device has great battery life, good built quality and acceptable connectively options. The Highs and Lows are acceptably good, but they could be tweaked to perform better.