The Chinese smartphone manufacturer, OUKITEL Mobile has announced a new Android tablet that comes with a very high capacity battery in China. The tab is a 10.1-inch tablet, so we know that the screen display is quite big enough for user friendly experience.
Looking at the tablet's features and specification, we can actually say much, because it is a mid-level Android tablet with a 10.1-inch WUXGA (1920 x 1200) display.
The new Oukitel RT2 comes with a very high level of toughness. It has shockproof, dustproof and waterproof features. It runs on Android 12 version of operating system (OS).
One feature that stands out for this device is that it is powered by a 20000mAh high-capacity battery, and has 33W for fast charging. As claimed by the maker, this battery is three times stronger than other tablets.
Oukitel RT2 is equipped with a MediaTek MT8788 2.0GHz octa-core CPU. This processor is backed up with an 8GB of RAM, and a 128GB internal storage capacity. This can as well be expanded up to 128GB with an SD-card.
Coming to the camera, it was claimed that it will come with two 16-megapixel camera sensors. One in front for taking selfies, and the other located at the rear side of the tablet as the main camera.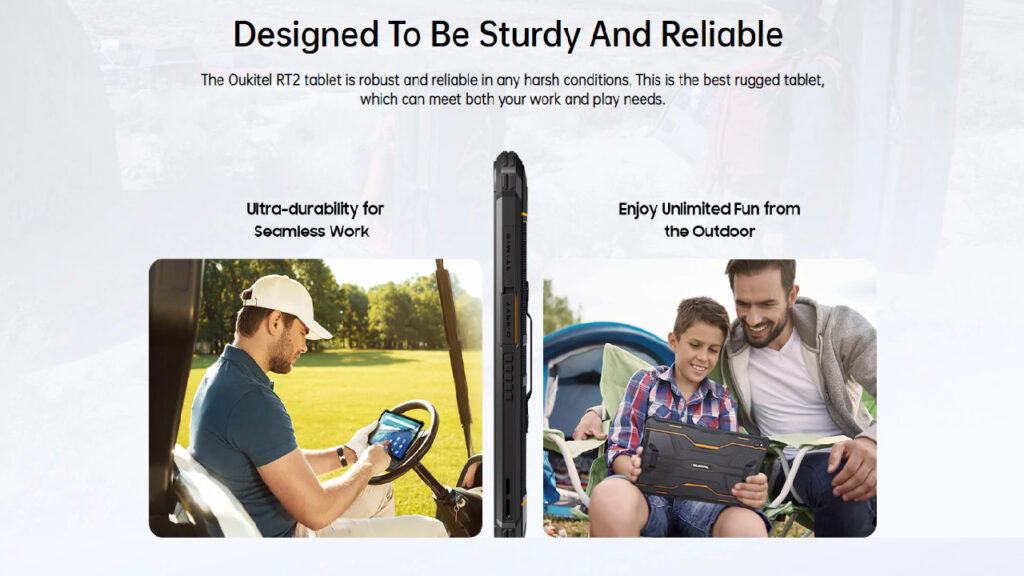 Oukitel RT2 Key specs and features
Display: 10.1-inch WUXGA 1920 x 1200 16.10, IPS
CPU: MediaTek MT8788 2.0GHz octa-core
Storage and RAM: 128GB (microSD compatible up to128GB) and 8GB RAM
OS: Android 12
Camera: 16MP main camera
Front camera: 16MP main selfie lens
Connectivity: Dual SIM (Nano-SIM), NFC, 4G LTE compatible, Bluetooth, Wi-Fi
Other Features: Waterproof and dustproof (IP68/IP69K) Shockproof (MIL-STD- 810), USB Type-C
Battery: 20000mAh with 33W for fast charging technology
Oukitel RT2 availability and pricing
The available colors of the Oukitel RT2 are black and orange. The tablet is scheduled to be released in September 2022, and will be available on the popular Chinese e-Commerce sites. As at the time of writing this news, the price is yet undecided, but we will bring you updates as soon as we're tipped.