Redmi 9-series officially entered into the African smartphone market in the close of July last month. The series includes the entry-level Redmi 9A, Redmi 9C and the vanilla Redmi 9, which have the upper spec sheet in the trio. We were able to get a unit of the standard Redmi 9, and this is our review of the device.
Redmi 9 Key Specifications and Features
> Dimensions; weight: 163.3 x 77 x 9.1 mm; 198 grams
> Display: 6.53-inch IPS LCD 1080 x 2340px FHD+ with 19.5:9 ratio and Corning Gorilla Glass 3 protection
> CPU: 2.0GHz octa-core MediaTek Helio G80 with Mali-G52 MC2 GPU
> Storage and RAM: 64 GB and 4GB RAM; expandable up to 256GB via microSD
> OS: Android 10.0 with MIUI v12
> Camera: Quad-cameras: 13MP f/2.2 main camera; 8MP f/2.2 wide lens; 5MP macro and 2MP depth lens
> Front camera: 8MP f/2.0 Selfie
> Video recording: 1080p/[email protected]
> Connectivity: Dual Nano-SIM: 

GSM 

/

 HSPA 

/ LTE
> Other Features: Fingerprint scanner (rear), USB Type-C
> Colors: Carbon Gray, Sunset Purple, Ocean Green, Pink/Blue
> Battery: 5020mAh with 18W fast charging
What's the box content of the Redmi 9?
The Redmi 9 is available in Carbon Gray, Sunset Purple, Ocean Green and Pink/Blue colors. The box comes with two of those colors plastered atop. Luckily for us, one of the colors on the box, was what we saw when when opened the box. The full box content of the Redmi 9 includes:
> Redmi 9 smartphone
> Wall charger (10W)
> USB Type-C cable
> SIM ejector pin
> Multiple language User manual
Navigation Notice: The review will be broken into sections for ease of navigations, just used the link navigator below to read sections that interests you.
Design and Built Quality
If you are coming to the Redmi 9 from the Redmi 5 or 6, you may notice sharp changes in design, but if you've used the Redmi 8-series, or even the Note 8, you may not notice much changes in design. Generally, I found the Redmi 9 to be far sturdy than the Redmi 5 of 2018, but you might not notice much improvement in built-quality if you've owned a recent Redmi phone. Besides, who makes a crappy, cranky phone in 2020, except the device is sold below $70 USD, which the Redmi 9 is not.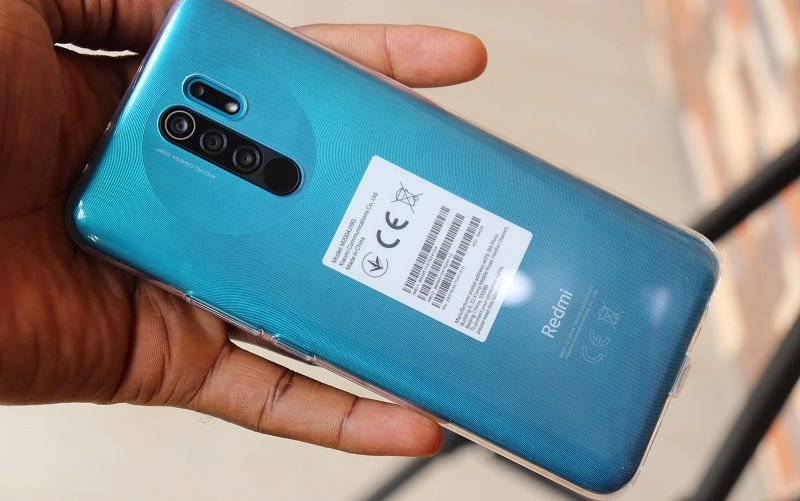 Button placement remains industry stardard; power button and Volume rocker to the right hand side, IR blaster and secondary mic atop the phone, triple card slot to the left hand side and 3.5mm audio jack, USB Type-C and a single loud speaker at the basement.
The back of the device has a circular textured finishing, which help formed the visible circle towards the four rear camera modules at the back.
As far as built quality goes, the device is very sturdy but, it tad weighty too. Official specs mentioned 198 grams, but my review unit peaked at 202 grams without SIM and SD card inserted. But hey, a 5020mAh battery lies on the inside, which should make up for the extra weight.
Redmi has great display, if not for the brightness nit
The Xiaomi Redmi 9 spot a 6.53-inches display with a dew-drop notch above the screen and a 19.5:9 aspect ratio. On paper, the device has Full-HD+ screen with 1080 x 2340 pixels resolution. At the price, the display has great colors, and don't even think of noticing any pixel with your naked eyes. But there is one problem, the screen is not bright enough for outdoor use.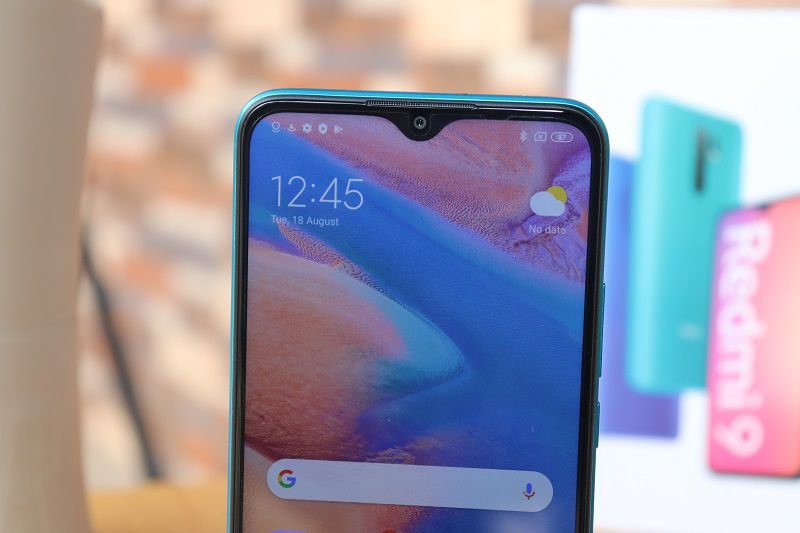 You'll enjoy the display while indoor, and you might need to reduced the brightness at some lighting situations. But this is not the case during outdoor use, and you might need to shade the screen with your palm, especially under direct sunlight use. Surprsingly, a smaller, cheaper device with HD+ screen did better under direct sunlight than the Redmi 9.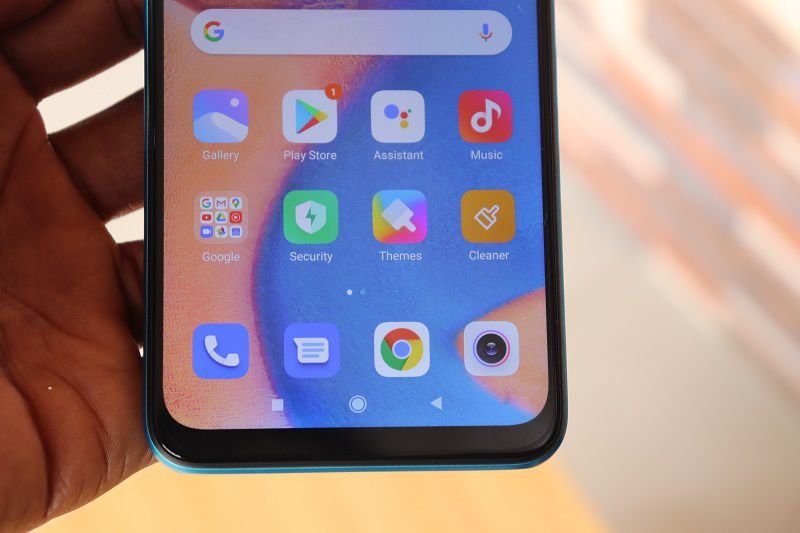 A 1080p juicy screen marred with weaker brightness nit
I think Xiaomi is being careful not to strain users eyes with overpowering brightness. They even did include Reader Mode which ultimately alter display color reproduction and overall brightness for a better indoor use.
So display wise, the Redmi 9 is a win for some, and rather 'not-win' for others, sort of. The outdoor busy guys might not enjoy covering the display of their device while in use during sunny days, but for indoor loners like myself, the Redmi 9 screen is much more enough, considering other great features that this device offers, like the ones below.
Hardware can't get any better at this price!
Intel inside!, Sorry I meant Mediatek inside!. The CPU inside the Redmi 9 is Helio G80 chip from Mediatek. The Helio G-series are Mediatek gaming CPU for not just mid-range smartphones anymore, but also for entry level device like the Redmi 9A and 9C.
So is the Xiaomi Redmi 9 a gaming smartphone? Yes, sort of. But should I be having the likes of Blackshark phone or, Asus ROG Phone or even the recent Lenovo Legion Phone on my table right now, I would never call the Redmi 9, a gaming phone (I'm looking at you Infinix Note 7). But since I don't have those phones, and to anyone who don't have any of those phones, well, the Xiaomi Redmi 9 is of course a gaming phone.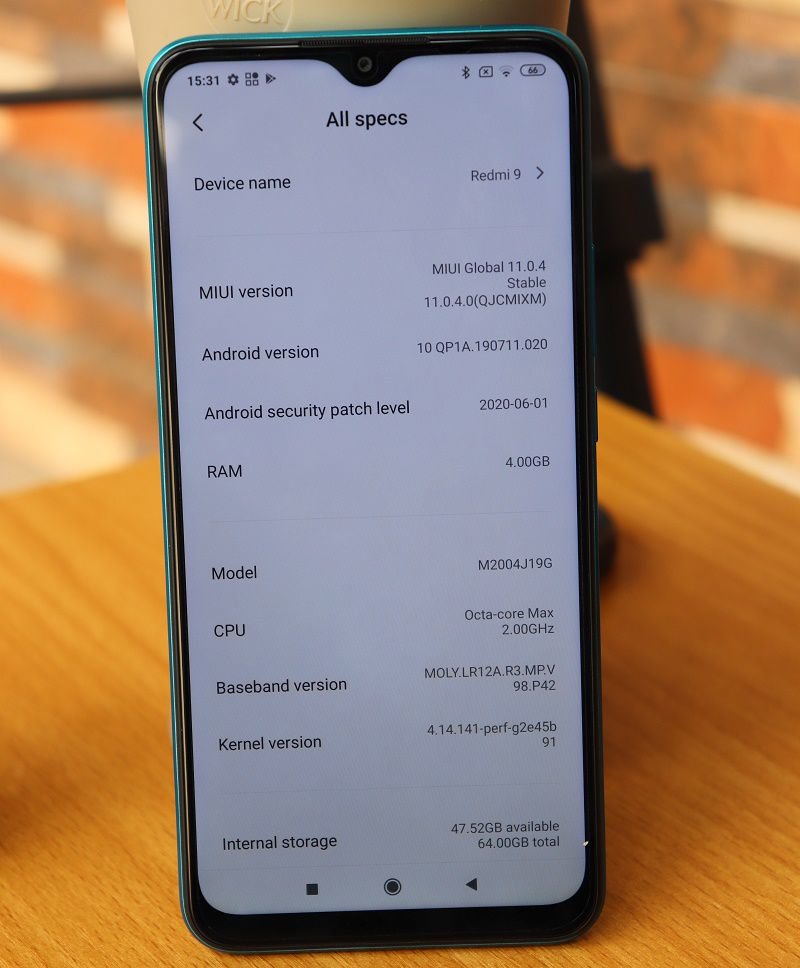 On paper, the Mediatek Helio G80 in the Redmi 9 has Octa-core CPU in all. There is a dual 2.0 GHz from Cortex-A75, and Six 1.7 GHz from Cortex-A55, pegged with Mali-G52 GPU (up to 950MHz). Our review unit has 4GB RAM and 64GB of internal storage.
Sadly, I don't play games, for now, so I did not run any gaming performance test. But we'll surely start doing gaming tests when we resume back on YouTube, hopefully soon. You can check out our long abandoned channel here, and if it is okay by you, please subscribe to it. We are surely coming back soon.
Talking about testing, we did run few benchmarking test though, and our results are shown below.
Xiaomi Redmi 9 Benchmarking Tests
AnTuTu V8: 200,007
GeekBench v5.1: Single-core: 361
GeekBench v5.1: Multi-core: 1,320
3DMark SSE – OpenGLES 3.1: 1,332
3DMark SSE – Vulkan: 1,323
Even though we did not run any practical gaming performance test, no one would expect a smartphone touching 200k in Antutu benchmark to stutter while surfing even the heaviest web page on the internet. Thankfully, the Redmi 9 and it Helio G80 CPU did not stutter during all our basic test.
But we wanted to see the limit of the phone, so we loaded 10 different web pages in 10 Google Chrome tabs, to see how many tabs will refresh when we switch back and forth between the tabs. Interestingly, the Redmi 9 and it 4GB RAM handled all the 10 tabs without a single refresh on any page. But when we pushed it to 20 tabs, some of the initial tabs started refreshing when revisited.
In all, the Helio G80 is a worthy mid-range offer, and offers hug and notable improvement over the Snapdragon 439 CPU used in the Redmi 8-series. to be, the CPU is one of the major stand-out specs of the Xiaomi Redmi 9.
Camera Performance of the Redmi 9
There are four camera modules at the back of the Redmi 9. The main 13-megapixel snapper, with 8-megapixel wide lens, 5-megapixel macro snapper and a 2-megapixel depth shooter, while a single 8-megapixel selfie seats upfront.
We tried out all the sensors above, and they all worked as intended. The 13-megapixel main snapper can capture crisp images in outdoor shots. As for indoor snaps, well, good images are assured with good lightening condition and stable hands. But on the contrary, images get grainy with high noise level.
Sadly, the single LED flash at the back did not really help much as well. I'm not even sure whether there is a software glitch here or something else. For example, when the LED light is set to auto, it won't fire during some low-light shoots especially when the object is bright, but not adequately bright.
One other issue I have with the LED flash is, it use same focusing light as capture light. This is what I mean, usually, a smartphone LED light is fine-tuned to produced low light during image focusing, then fire a more stronger and bright light to capture the image. But the Redmi 9 is not so, same focusing light captures the image without even a blink, leading to sharp-less indoor images. But again, images taken under good lightening conditions are great.
Sincerely, I enjoy playing around with the camera on Redmi 9. You could also capture a larger filed of field on the device, that is where the bundled 8-megapixel ultra-wide lens comes in, but it can't go above 118 degrees.
Then, there is the isolated 5-megapixel macro lens, which performed incredible well in my test. Thanks to the lens, I was able to count the legs of this House Fly, or is this Bush Fly?
Finally, the frontal selfie snapper, which can shoot in normal mode or AI portrait mode, and surpsingly, even though there is no LED flash upfront, the frontal 8-megapixel lens is still able to capture decent images.
Software is MIUI 11 Above Android 10.
The Redmi 9 runs on MIUI 11 out of the box with Android 10 underneath. Usually, with MIUI, you get all apps on the home screen without additional drawer, and the app drawer fans mostly resort to a third party launcher to get their beloved feature. Well, with MIUI 11, extra launcher may not be needed as the OS now have two home screen interface, of which the second interface is app drawer based.
One major argument for MIUI is the customization features. Through the MIUI theme app on the Redmi 9, users can access and download almost unlimited skin and themes of varying customization, given that viewing and interacting with Adsense Ads is okay with you.
Aside the Ads, it is important to note that Xiaomi have it own services and apps, tailored for the Chinese world, a little similar to Google service and apps. Most of these apps and services are preloaded even on the international variants of Redmi and Xiaomi Mi devices. And for phones like the Redmi 9 that come with Google Services and apps, as well as Xiaomi Services and apps, expect a handful number of bloatware.
Aside the two issues above, MIUI is a great OS. Yes, you read that well, MIUI isn't just a User Interface (UI) but an Operating System (OS), and when combined with Google's fastest OS till-date (the Android 10), the result is a smooth and buttery fluid User Experience (UX). Although the combination took out above 12GB ROM from the built in 64GB of storage.
I don't really like the old 'all apps on the home screen' feature of MIUI, so after setting up the device, I instantly switch to the App drawer version of the interface. For what it worth, OS alone won't amount to a smoother interface, the hardware department also has it role to play, thankfully, the Helio G80 CPU plays it game very well. And if there is any area I did not encounter any issue with the Redmi 9, is in the software department.
The notification drawer is kept very minimal, and a single click (inside phone setting), will switch you from normal to dark mode in seconds. Software connecting the peripherals of the phone are will optimized as well. The phone will guide you to set up the fast fingerprint scanner, the built-in speaker is loud enough for my Parlor. The camera components are connected fairly well, except for the LED flash talked above earlier.
How About Battery Performance?
One of the reason while the Redmi 9 is a bit weighty, is due to the built-in 5020mAh battery. After a whole 24 hours of pushing and pressing the Redmi 9, I had to, reluctantly, charge it remaining 30% juice this morning for charging sake, and not because I know the device might be going off anytime soon.
The Redmi 9 also come with great battery management app, which when turned on, gives you almost twice your battery run time, but to the detriment of background running apps, like emails, chat notifications etc.
Charging the device from 30% to 100% this morning took around 1H:37M. Kinda slow right? Well, perhaps, and that is because even though the Redmi 9 support 18W fast charger, a 10W charger is what you'll get out of the box, and not the faster 18W charger.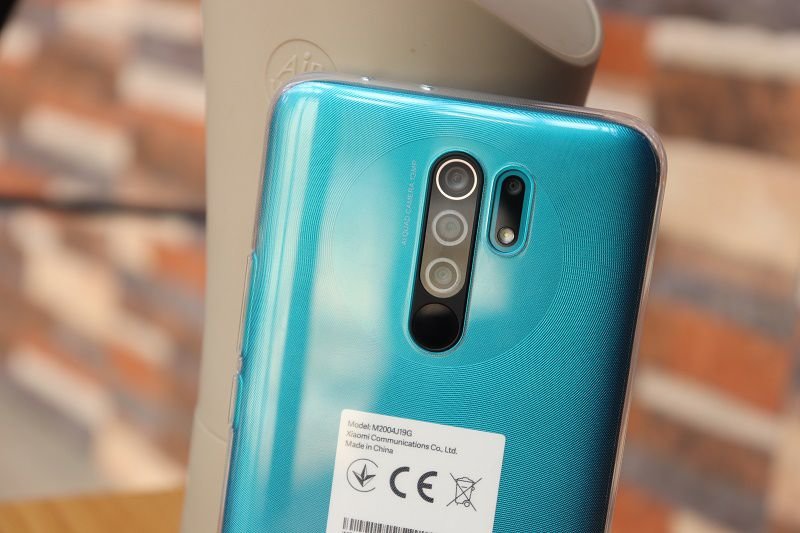 Xiaomi Redmi 9 Pricing, Alternative and Conclusion
On the international front, the Redmi 9 starts at around $119 for the base model with 3GB RAM and 32GB of storage. But in local market, Nigeria for example, the device is available with 4GB RAM and 64GB of storage and price at N66,000.
Phones with similar specs you can get at this price includes: Infinix Note 7 Lite, Samsung Galaxy M11, Tecno Camon 15, Huawei Y7p and the OPPO A31 smartphone.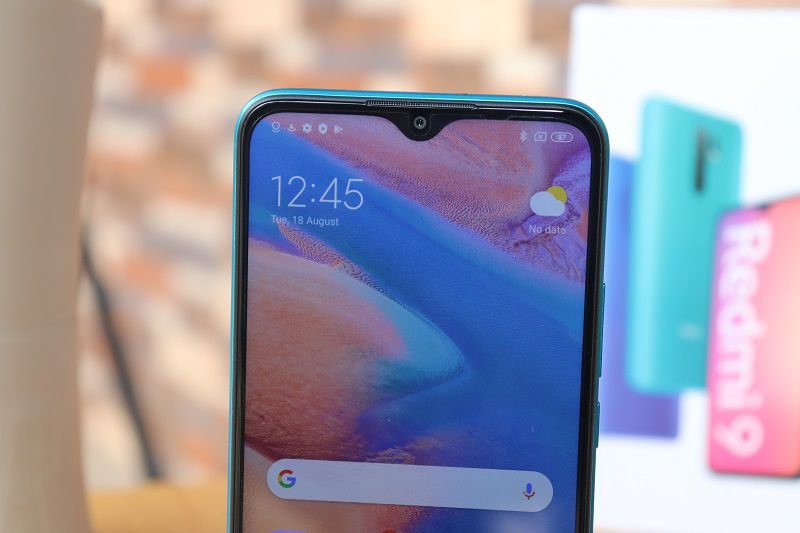 When I got the Redmi 9, I wasn't expecting the device to tick all spec box, knowing fully well that it a mid-range offer, but it did, sort of. Seriously, it interesting to see how much specs and features Xiaomi has pack into the Redmi 9, and despite the little hitches we noticed in the camera department and the less-bright LCD screen, the Redmi 9 is still a big bang for the buck, offering Mediatek Helio G80 under $120 dollars.
The Review
Xiaomi Redmi 9
The Redmi 9 is the cheapest Mediatek Helio G80 from Xiaomi. The device offers great value for money, and even priced lower than competitors offer.
PROS
Great Battery
Value for money
Fluid OS
CONS
Camera can be better
Screen can be brighter
Review Breakdown
Built Quality

Display

Performance

Battery

Camera