Tap Titans 2 is one of the finest RPG games on mobile. It is also one of the most popular downloaded RPG games out there! The game is aimed at RPG lovers who want to tap their way to victory.
Tap Titans 2 is the successor of Tap Titans — which is already a popular game.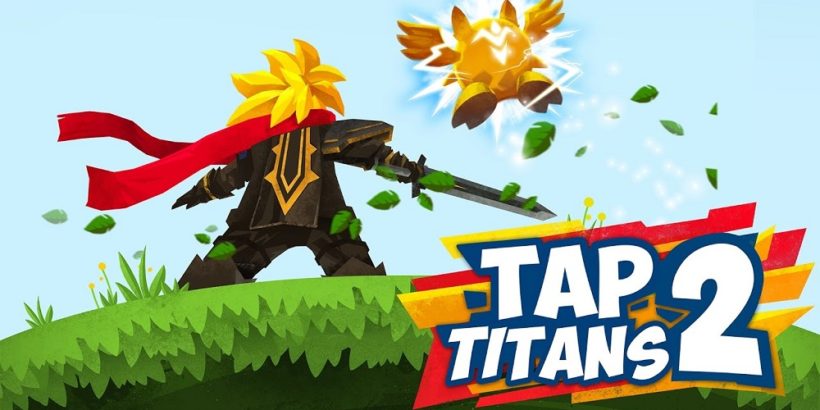 Tap Titans 2: An Overview
In Tap Titans 2, you play as a Sword Master who needs to go on his quest to defeat the bad forces, i.e., Titans. The game mechanics are designed to kill your leisure time! If you think you are feeling bored or have a lot of time to burn, you can pick up Tap Titans 2 and watch hours pass by!
The game offers more than 70,000 levels which means that you never go out of content! Moreover, Game Hive Corporation, the developers of games, release new content periodically.
As a hero, your job is to kill as many titans as you can! It also has multiplayer aspects to it if you are interested. You can enter multiplayer raids with other players across the world and create the Ultimate Sword Master.
Great Upgrading Path
When you start playing the game, you have a very basic hero. As you start killing more Titans, you become strong. The Titans drop gold which then can be used to buy skills and team members(Heroes )that automatically attack the Titans even when you are not playing! Moreover, you can also level up your Heroes and make your party as strong as possible!
If you love pets, you will also not be disappointed as the game lets you buy pets to help you in your quest to defeat the Titans. 
Spells, Perks, and Talent
You, as a Sword Master, also get access to spells and powerups. These spells are unlocked after you hit Level 100. The spells take mana to cast and can also be upgraded using gold. However, spell casting is limited as your hero has limited mana, and it regenerates slowly. But, if you use skills tactically, you can easily kill big Titans with ease!
Similarly, you also get perks and talents. Perks need to be bought using diamonds which you can get by doing the in-game activities. The talent further empowers your character, your pet, and your team members. To unlock them, you need dust.
You also get access to old artifacts, which you can get with improved prestige.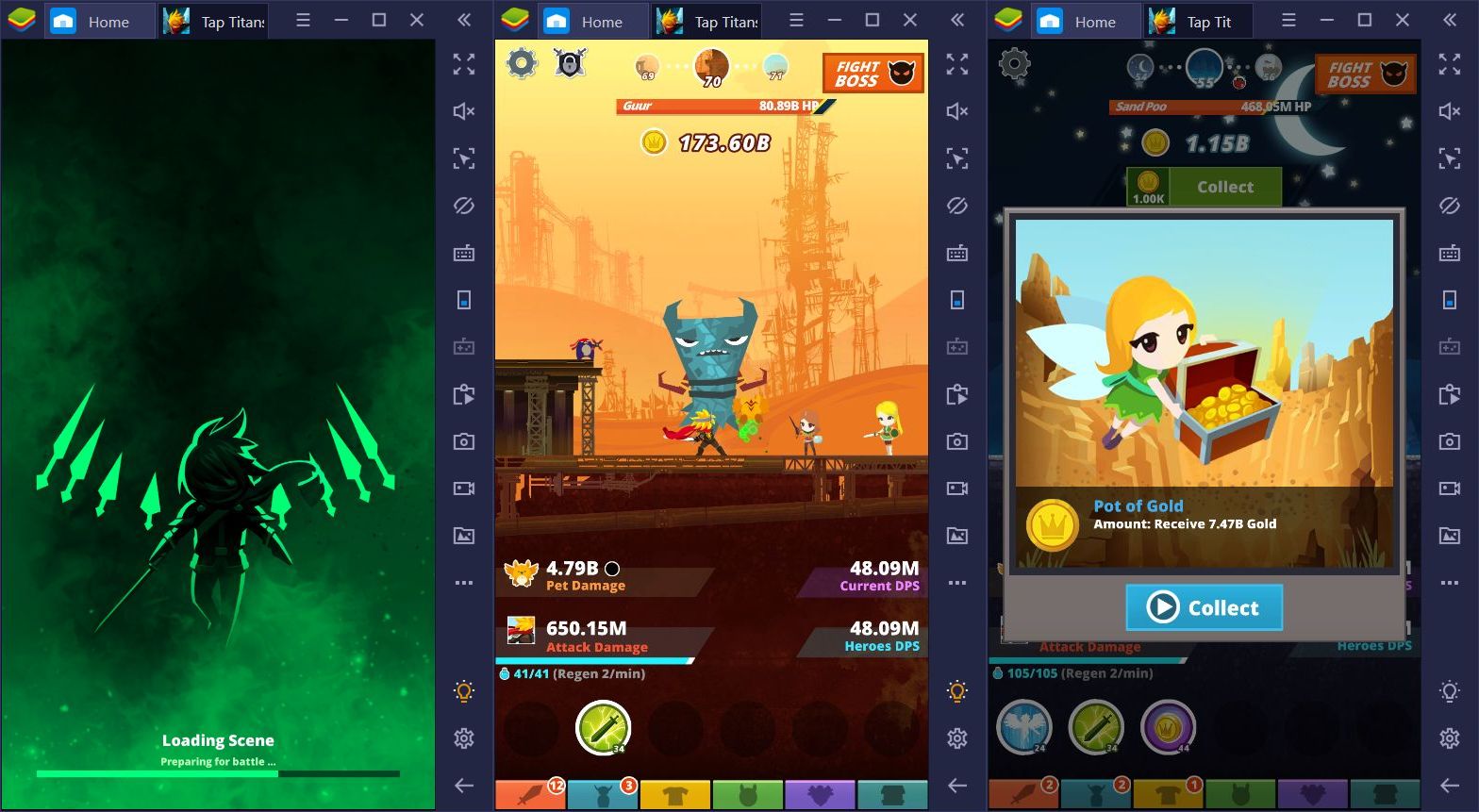 Gears
The RPG experience is never complete without gears. As you kill Titans, you get drops in the form of armor and blade. Other equipment includes hats, suits, auras, and swords.
Some of the other notable Tap Titans 2 features include:
Do raids with your clans

Collect cards

Do clan upgrades

Attend global tournaments to show your mantle to other players
How to Play Tap Titans 2 on PC
Tap Titans 2 is a mobile game for smartphones. If you own an iTel, or Tecno or any other Android smartphone, you can simply download the game from Google Play store and battle your way to victory.
However, there is an article over at Tarski Theme website, where you can learn how to play Tap Titans 2 on PC. But to do so, you need to use an Android emulator on your PC.
Playing Tap Titans 2 on PC is a different experience compared to mobile. Here, you need to click to execute your attacks. Apart from that, you get everything similar to what you experience on mobile.
To get started, you need to download BlueStacks. It is one of the best Android gaming emulators out there according to TechRadar.
Once downloaded, you need to install BlueStacks on your machine. Make sure that you meet the minimum requirement set by BlueStacks. Next, you need to open up BlueStacks. It will then ask you to complete your Google Sign-in so that you can access the Play Store. You can also opt to do it later; however, it is recommended that you do it as it will help you save your game progress.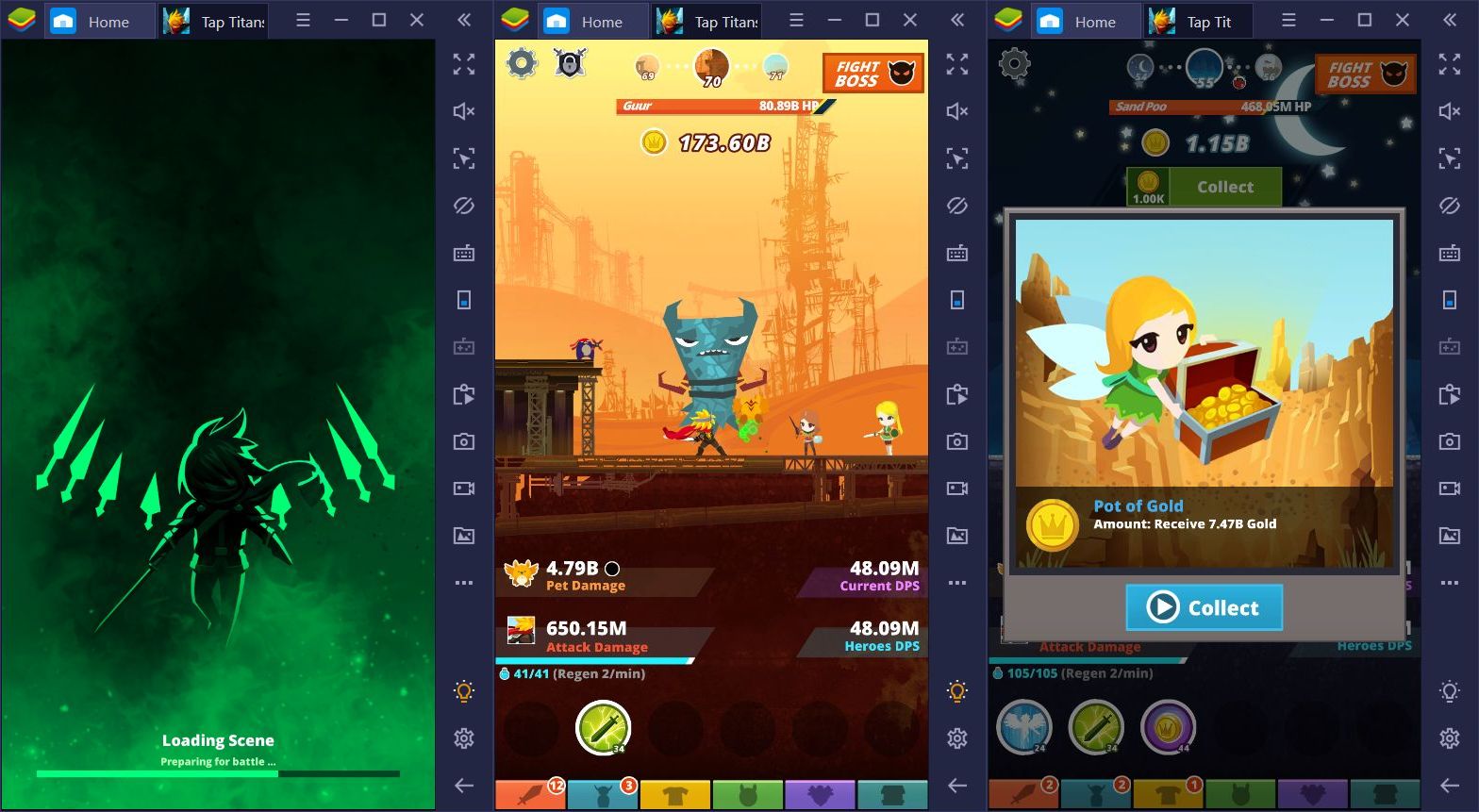 Now search for "Tap Titans 2" in the play store. The search result will list the game. Now install the Tap Titans 2. 
The game should be installed and ready to play!. Click on the Tap Titans 2 icon on the home screen to start the game, and you are good to go! Enjoy the Tap Titans 2 game.