Ulefone has unveiled its latest smartphone, the Ulefone Power Armor 19T, a device belonging to the Armor 19 series. It shares almost identical specifications with the standard Armor 19, with the primary difference being the presence of a thermal chamber on the 19T instead of a thermometer on the standard 19.
All two devices in the series boast impressive security features, including IP68, IP69K, and MIL-STD-810H certifications, allowing them to be used even during harsh weather. And thanks to its IP ratings, the duo is both dust and water resistant.
The Power Armor 19 and 19T utilize the brand new MediaTek Helio G99 chipset, while the 5G versions feature the MediaTek Dimensity 900 chipset. With 12GB of RAM and 256GB of storage, all devices in the series offer ample memory, with support for memory cards also available. The Power Armor 19 and 19T feature a capacious 9600mAh battery, and both are paired with a 66-watt wired charging and 15-watt wireless charging.
The screens of all devices in the series are capped at 6.58 inches, with a refresh rate of up to 120Hz. The front cameras of the Power Armor 19 and 19T are 16MP, while the rear camera setups include a 108MP main camera with a Samsung ISOCELL HM2 sensor, and a 5 MP macro camera.
Note that the Power Armor 19T feature a thermal camera consisting of a 0.05 MP InfiRay ELF3 thermal sensor and an auxiliary 5 MP camera, which overlays the thermal image, aiding a presentable image quality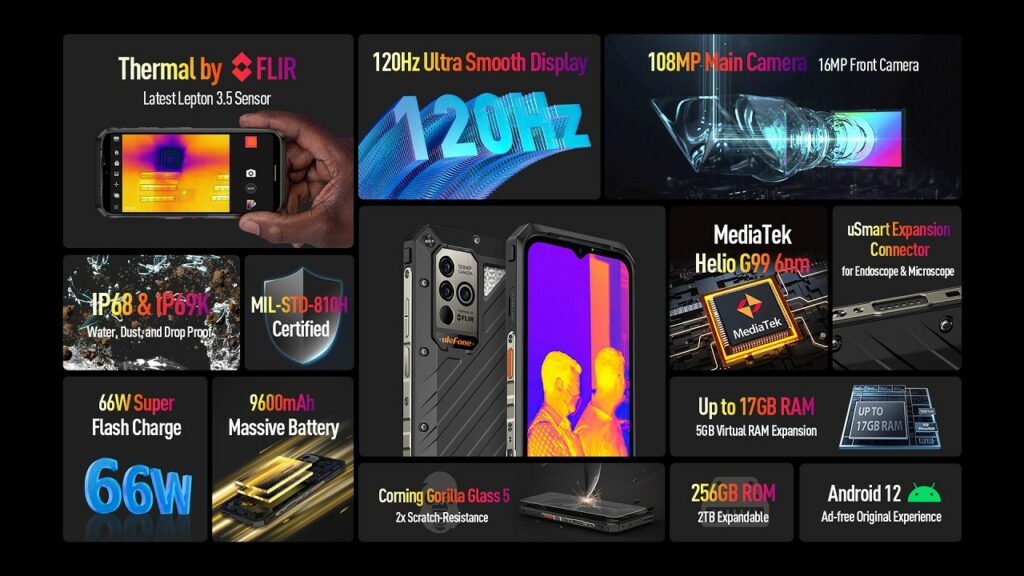 All two Armor 19T will come with an NFC module, Type-C, dual-band Wi-Fi, and a side-mounted fingerprint scanner. Although the Armor 19T is already listed on Aliexpress, but pricing is yet to be revealed. The phone is expected to go on sale along with the Armor 20WT starting on March 20.