UMIDIGI has confirmed that its two new series, shining superstar F3 series and battery monster Power 7 series are on sale now on AliExpress alongside its Fan Festival 2022 which will run from May 19, to 20th. In order to thank UMIDIGI's fans, the company said that not only you can enjoy discounts of up to 70% including hot-selling popular products, such as A13 Pro, A11 Pro Max, BISON X10, BISON PRO, A11, etc., but also more coupons and limited free gifts.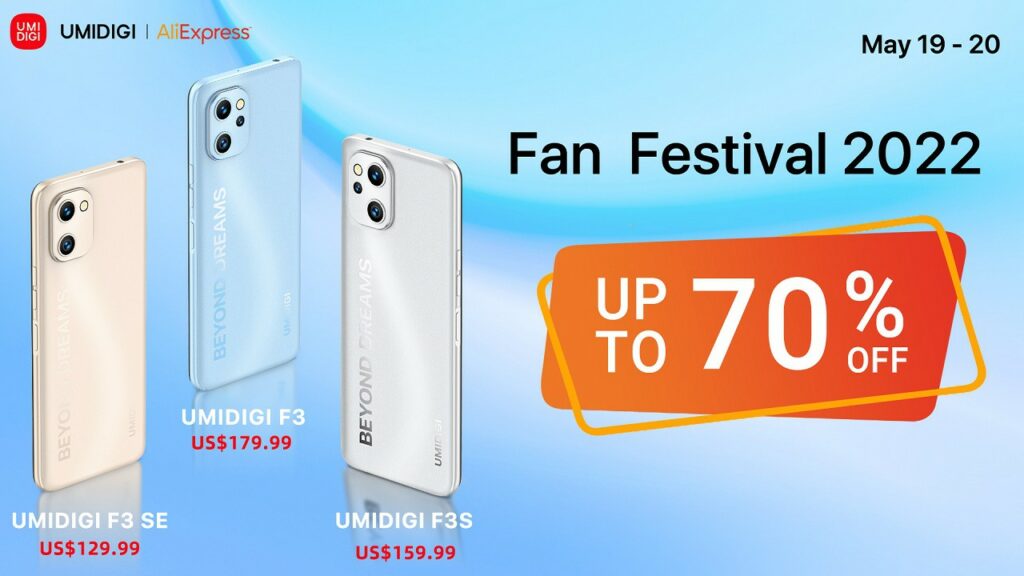 UMIDIGI F3 Series – Shining Superstar
UMIDIGI F3 series was launched last week, which attracted the love of UMIDIGI fans because of its unique dazzling design and extraordinary performance. The family has 3 members currently, F3, F3S, and F3 SE. Although they are similar in appearance, they each have their own strengths.
Some differences in the main specs between them. F3 is powered by MediaTek Helio P70 processor and coupled with 8GB and 128GB storage. However, F3S and F3 SE sport octa-core Unisoc T610, a decent processor, and respectively equipped with 6GB+128GB and 4GB+128GB combos. For camera, F3 and F3S come with a Sony 48MP triple camera setup at the rear and a 16-megapixel camera on the front. Differ that, F3SE is the dual-camera setup.
In terms of battery, the F3 series is equipped with a 5150mAh massive battery, but F3 supports 18W fast charging. What's more, they all have a 6.7-inch ultra-large display for a cinematic visual experience. The F3 and F3S also support multi-function NFC, but the F3 SE does not. The great thing is that both the F3 series support face and side fingerprint unlock, and run Android 11 system.
F3 series is available in 5 colors for different flavors, Hawaii Blue, Matte Silver, Starry Black, Sunglow Gold and Galaxy Blue. Regarding the price on AliExpress until May 20, UMIDIGI F3 is priced at US$179.99, while F3S is US$159.99 and US$129.99 for F3 SE.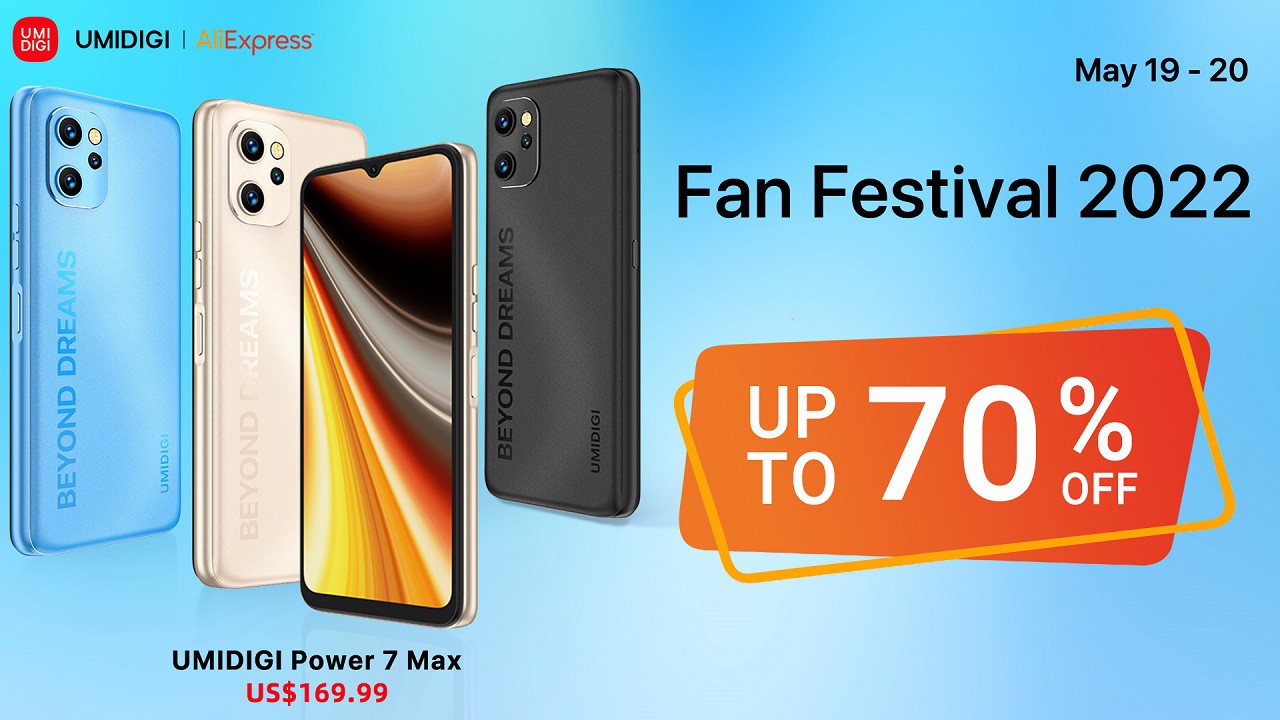 UMIDIGI Power 7 Series – Battery Monster
As for the Power 7 series, its parameters have been announced a few days ago, which comprises the Power 7 Max as well as the Power 7 and Power 7S. Among them, UMIDIGI has confirmed that Power 7 Max will be on sale at the Fan Festival, and the other two are still pending.
As seen from its slogan, Power 7 Max houses a mammoth battery capacity – 10000mAh, which is miraculous beyond your imagination and supports 18W fast charging. More than that, it packs an octa-core Unisoc T610 processor with 6GB RAM and 128GB internal storage. Besides, Power 7 Max has the same camera setup as F3, 48MP AI triple cameras and 16MP for selfies. Displays on a 6.7-inch ultra-large screen offer users an immersive visual experience. Running Android 11 and supporting NFC makes the Power 7 Max have a large battery while the experience is improved for users.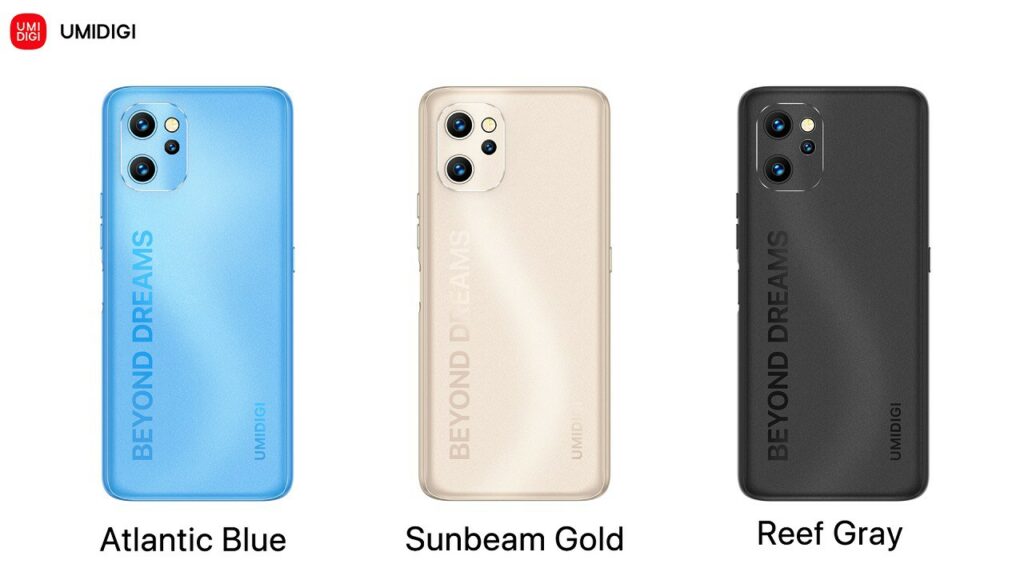 Obviously, Power 7 and Power 7S the two others are a bit of a downgrade from Power 7 Max in main aspects. There are speculations that they also use the same display as Power 7 Max, while both adopt a 6150mAh battery with 10W charging.
Power 7 Max is provided in 3 color options, Reef Grey, Sunbeam Gold, and Atlantic Blue. And its price has been set at US$169.99 on AliExpress on promotion time May 19 – 20. Pricing for the Power 7S and Power 7 has yet to be announced. But one thing is for sure, it will be lower than the Power 7 Max.
Wireless FM Radio
Significantly, two new series still follow the special functions that UMIDIGI has always maintained, in favor of headset-free data-free wireless FM radio and independent shortcut buttons
Giveaway
Bravo, in addition to Fan Festival 2022, the company is running a global giveaway of 3 units of F3, F3S, and F3SE on Facebook until May 27, if you're interested in these devices, you can go to their official website to learn more and join the giveaway.