UMIDIGI use to introduce the super-duper cheap and basic smartphones before. In fact, the current A-series use to be the company's basic phones, priced way below $90. But thanks to the wave of Technology, UMIDIGI grew, and so did the pricing of their smartphones. Although the company still have phones sold under 100 USD, but majority of them jingles between the $89 to $95 price range.
Anyways, it seems UMIDIGI just remembers the real entry-level segment; the company just introduced two dirt cheap smartphones dubbed UMIDIGI C1 and UMIDIGI G1, both of which are priced under 80 USD.
As far as specifications and features are concern, these two are one and the same phone. No much difference is noticeable between the two, except the fact that the company said the G1 is about 3 grams lighter than the C1; reasons: UNKOWN!
It is also worth noting that the UMIDIGI G1 is available in Starry Black, Galaxy Blue and Sunglow Gold, while the C1 comes in Starry Black, Hawaii Blue and Matte Silver color. Aside the above, other aspects of the duo remains the same.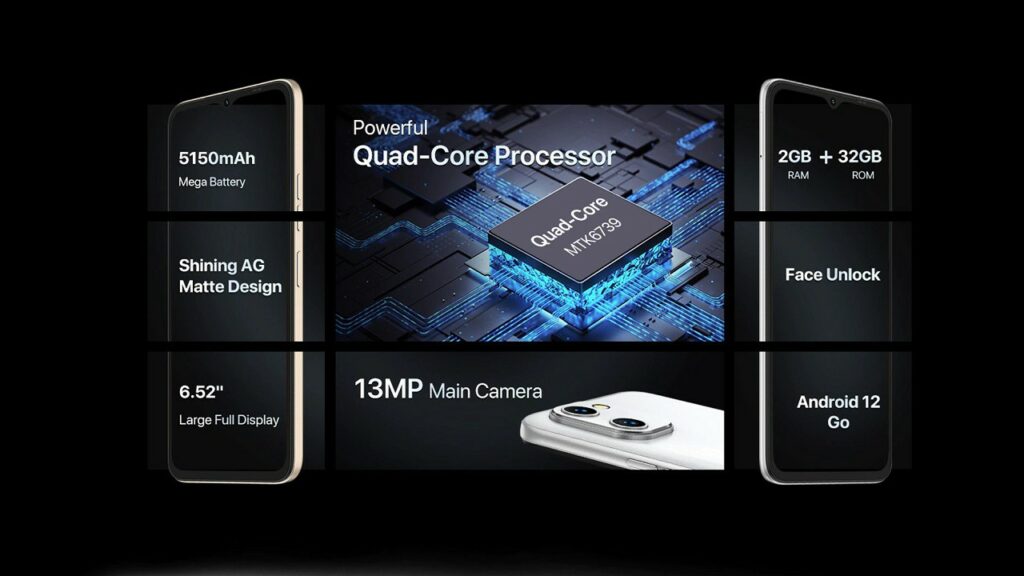 Both phones are given a 6.52-inches screen with 720 x 1600 pixels. Both has a 5150mAh battery with 10W USB-C Charger, and both are booted with Google Android 12 (Go Edition) out of the box.
Powering the UMIDIGI C1 and the G1, is a quad-core MediaTek MT6739 CPU, clocked at 1.5GHz. The Chipset has PowerVR GE8300 GPU, and it is backed by 2GB RAM with a 32-Gigs of built-in storage on both sides.
As far as physical looks are concerned, the UMIDIGI G1 and the C1 looks very similar to the A13s and the F3 SE. Both phones are given dual 13MP + 2MP rear camera, while a frontal 5-megapixel shooter is used on their fronts. Both the UMIDIGI C1 and the UMIDIGI G1 are already listed on AliExpress at a discounted price of $79.